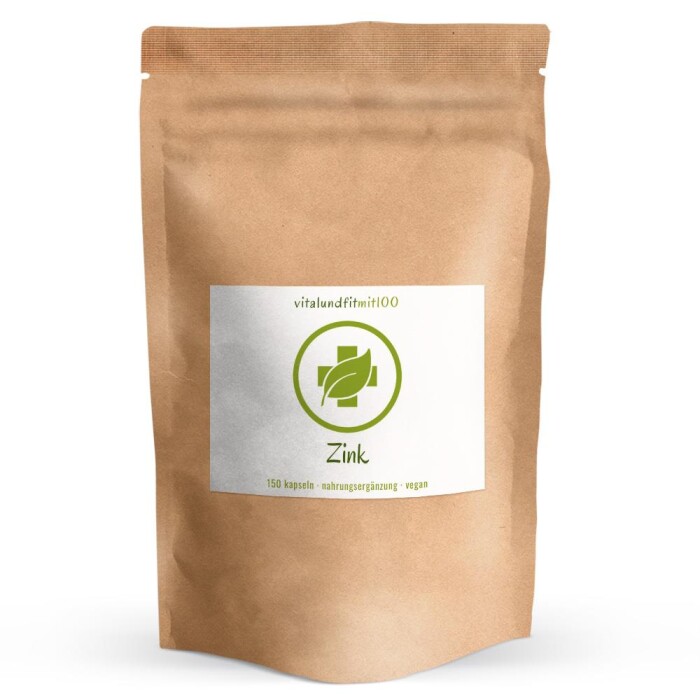 Zinc Capsules - 150 Capsules à 50 mg
Base price
199,33 € per 100 g
Available now!
Place your order within and we ship the goods the next working day.
Zinc citrate capsules - for the immune system and the acid-base balance. 100% vegan and free from gluten and lactose. Filled in resealable kraft paper bag.
---
---
Item no.: 1135
Content/amount: 7.5 g
EAN: 4251097505633
Country of origin: Deutschland
Natural & certified ingredients
Carefully & conscientiously selected raw ingredients
Fair quality at fair prices
For over 10 years, healthy trust
developed and handcrafted with plenty of

❤

in Germany.
Zinc Capsules - xx pieces à xx mg
Zinc is a trace element and is present in almost every cell in the body. It is a component of many enzymes and is required for numerous biochemical processes. The essential trace element occurs in bones, muscles, hair, skin and liver, among other things.
Zinc is found in small amounts in foods such as liver, poultry, cheese, nuts, cereals and seafood.
Through the use of vegetable capsule casings (Hydroxypropylmethylcellulose, HPMC for short), our zinc citrate capsules are also ideally suited for vegetarians and vegans.
No use of bovine or porcine gelatine! no use of bovine or porcine gelatine!
Health claims on zinc from the European Food Safety Authority:
Zinc contributes ...
  to a normal acid-base metabolism with
  to a normal carbohydrate metabolism with
  to normal cognitive function in
  to normal DNA synthesis at
  to normal fertility and normal reproduction at
  to normal metabolism of macronutrients at
  to normal fatty acid metabolism at
  to a normal vitamin A metabolism at
  to normal protein synthesis at
  for the preservation of normal bones, hair, nails, skin and vision in
  to maintain normal testosterone levels in the blood at
  to a normal function of the immune system with
  helps to protect cells from oxidative stress
=> Zinc also has a function in cell division.
Special features of our zinc capsules:
  100% vegan
  gluten-free/lactose-free
  vegan capsule shell (Hydroxypropylmethylcellulose, HPMC for short)
  especially suitable for vegans and vegetarians
  without genetic engineering
  without artificial additives, colorants, preservatives and flavors
  Guaranteed top quality
Contents: Contains xx vegetarian capsules
Ingredients: Zinc (citrate trihydrate), vegetable capsule casing (HPMC)
Recommendation for use: Take daily x capsule with sufficient (200-300 ml) liquid.
Do not exceed the recommended consumption quantity. Food supplements do not replace a healthy, varied and balanced diet.
Storage instructions: Keep the product dry, out of the reach of small children and away from light.
Food specific substances
per capsule (daily portion XX mg)
%NRV*
>
* Nutrient Reference Values NRV (%) according to Regulation (EU) No 1169/2011 Annex XIII NRV: Nutrient Reference Values
Packaging: Doypack / stand-up pouch made of kraft paper with pressure closure, resealable
Contents / quantity: Contains XX vegetarian capsules (50 g)
Country of origin: Germany
EAN: 4251097505633
Manufacturer: vitalundfitmit100 GmbH, Siemensstr. 10, 41363 Jüchen
Why can not I find information on the mode of action of this product? Click here