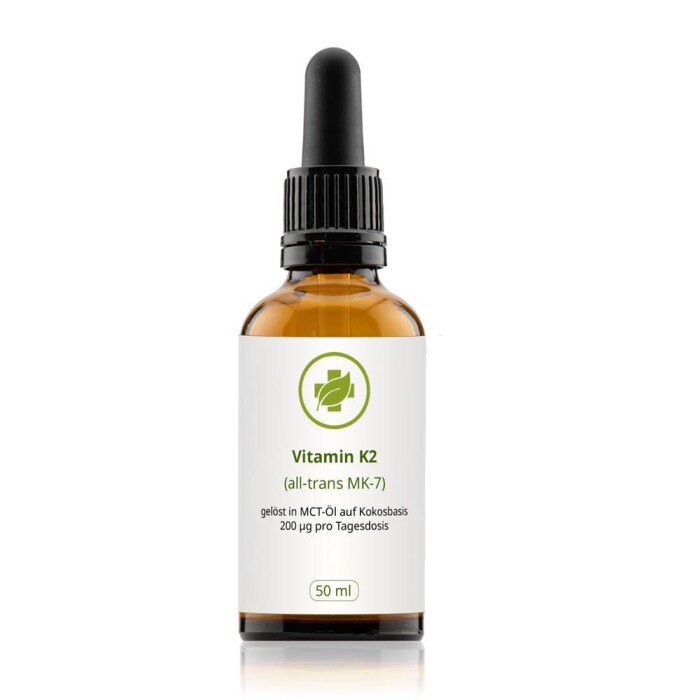 Vitamin K2 drops 50ml
Base price
49,90 € per 100 ml
See Best Offers
From 2: 24,45 € (48,90 € per 100 ml)
From 3: 23,95 € (47,90 € per 100 ml)
From 5: 23,45 € (46,90 € per 100 ml)
Available now!
NEUE REZEPTUR!
Vitamin K2 (all-trans MK7) - zur Erhaltung normaler Knochen. Aktives Vitamin K2, 100% vegan und rein. Produktionsfrische Ware - 50 ml ausreichend für 5 Monate.
---
---
Item no.: 0540
Content/amount: 50 ml
EAN: 4251097501208
Country of origin: Deutschland
Natural & certified ingredients
Carefully & conscientiously selected raw ingredients
Fair quality at fair prices
For over 10 years, healthy trust
developed and handcrafted with plenty of

❤

in Germany.
Vitamin K2 contributes to normal blood clotting. To maintain normal bone.
Additives: MCT-Öl based on coconut, vitamin K2 (all-trans MK7)
Dosage recommendation: 1 x 10 drops per day corresponding to 200 µg menachinone (active vitamin K2)
The recommended daily intake must not be exceeded. Food supplements do not replace a healthy, varied and balanced diet. Keep out of the reach of small children.
Disposal form and package size: A bottle of vitamin K2 drops contains approx. 170 portions (50 ml) sufficient for 5 months.
Food specific substances
Pro 100 drops
Pro daily dose
(10 drops)
Vitamin K2
2000 µg
200 µg (= 267 %)*
* Reference values for nutrients NRV (%) according to Regulation (EU) No 1169/2011
Packaging: Pharmaceutical amber glass bottle with dropper insert, child safety cap and originalitätsring
Type: food supplements
Contents / quantity: 50 ml
Country of origin: Germany
EAN: 4251097501208
Pharma central number (PZN): 13583730
Manufacturer: vitalundfitmit100 GmbH, Siemensstr. 10, 41363 Jüchen
Why can not I find information on the mode of action of this product? Click here