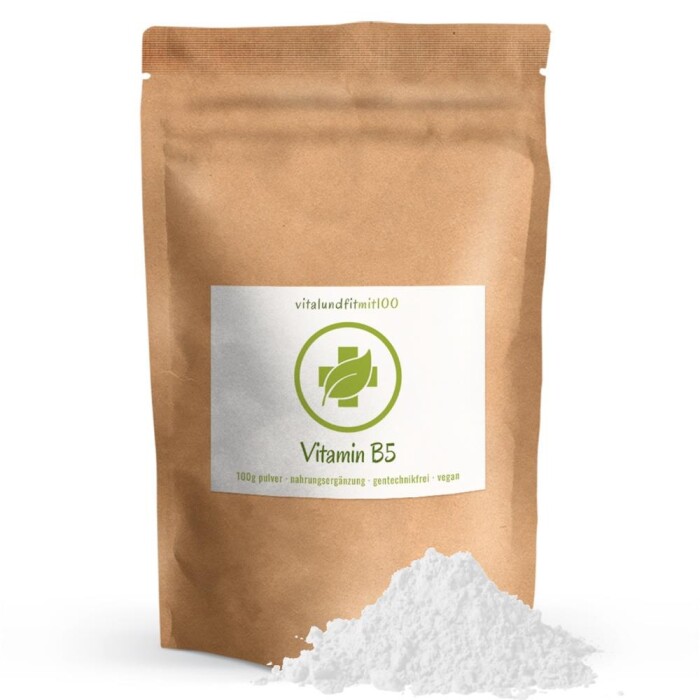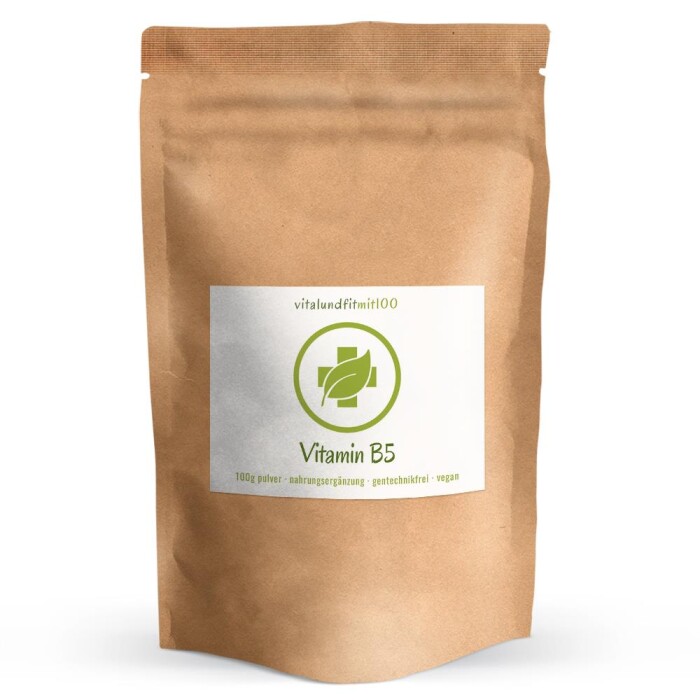 Vitamin B5 (pantothenic acid) powder 100 g
Base price
17,95 € per 100 g
Available now!
Place your order within and we ship the goods the next working day.
Vitamin B5, also known as pantothenic acid, is a water-soluble vitamin and an essential nutrient. Available in resealable kraft paper bag.
---
---
Item no.: 1134
Content/amount: 100 g
EAN: 4251097505657
Country of origin: China
Natural & certified ingredients
Carefully & conscientiously selected raw ingredients
Fair quality at fair prices
For over 10 years, healthy trust
developed and handcrafted with plenty of

❤

in Germany.
The water vitamin B5 (pantothenate) from the series of eight B vitamins is one of the most important vitamins for a smooth energy metabolism. It is required for the formation of coenzyme A, which plays an important role in numerous physical processes, such as the metabolism of carbohydrates, proteins and lipids (fats). B5 also helps to convert the ingested food into usable energy. Calcium pantothenate is also particularly important for the immune and nervous systems.
Vitamin B5 is contained in almost all plant and animal foods, whereby animal products are regarded as particularly valuable sources of vitamin B5. Pantothenic acid is found particularly in offal, beef and pork, fish and dairy products. Vegetable sources are avocado, eggs, wholemeal products, nuts, rice, fruit and vegetables.
Our vitamin B5 (calcium D-pantothenate) powder meets the highest quality standards. For further processing, our B5 powder is gently finely ground so that it can be absorbed particularly well.
Special characteristics of our vitamin B5 powder:
  Vitamin B5 (pantothenic acid) from calcium D-pantothenate
  100% vegan
  gluten-free/lactose-free
  without genetic engineering
  finely ground
  without artificial additives, dyestuffs and flavors
  free from artificial colours and preservatives
  Guaranteed top quality
Contents: Contains vitamin B5 (pantothenic acid) from calcium D-pantothenate
Recommendation: Take 1 x 500 mg powder or 1 x 1 ½ vital-Messlöffel (enclosed) in plenty (200-300ml) of liquid and drink. The powder can also be mixed with food.
The recommended daily intake must not be exceeded. Food supplements cannot replace a healthy, varied and balanced diet.
Storage instructions: Keep the product dry, out of the reach of small children and away from light.
Food specific substances
Pro daily portion (500 mg)
Vitamin B5 (Calcium-D-Pantothenate)
500 mg (8333%*)
* Nutrient Reference Values NRV (%) according to Regulation (EU) No 1169/2011 Annex XIII NRV: Nutrient Reference Values
Packaging: Doypack / stand-up pouch made of kraft paper with pressure closure, resealable
Contents / volume: 100 g
Country of origin: Asia
EAN: 4251097505657
Manufacturer: vitalundfitmit100 GmbH, Siemensstr. 10, 41363 Jüchen
Why can not I find information on the mode of action of this product? Click here