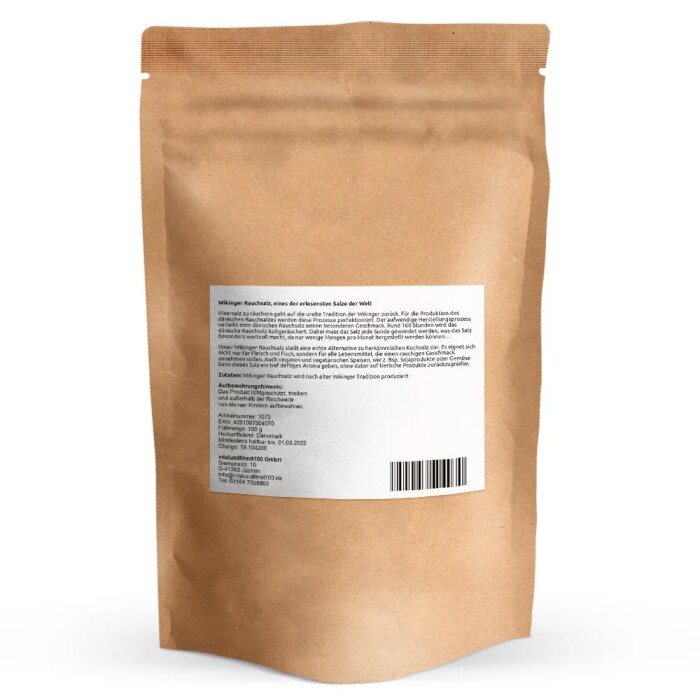 Viking smoked salt 100 g
Base price
14,95 € per 100 g
See Best Offers
From 2: 14,75 € (14,75 € per 100 g)
From 3: 14,55 € (145,50 € per 1 kg)
From 5: 14,35 € (143,50 € per 1 kg)
Available now!
Place your order within and we ship the goods the next working day.
One of the finest salts in the world. Strong taste, smoky aroma. Grain size 1-3mm
---
---
Item no.: 1072
Content/amount: 100 g
EAN: 4251097504070
Country of origin: Dänemark
Natural & certified ingredients
Carefully & conscientiously selected raw ingredients
Fair quality at fair prices
For over 10 years, healthy trust
developed and handcrafted with plenty of

❤

in Germany.
Viking smoked salt, one of the finest salts in the world
Smoking sea salt goes back to the ancient traditions of the Vikings. For the production of Danish smoked salt perfected these processes. The elaborate manufacturing process gives the Danish Smoked salt its special taste. The Danish smoked salt is cold smoked for about 160 hours. The salt has to be turned every hour, which makes the salt particularly valuable, as only a few quantities are used. per month can be produced..
Special features of our Wickinger smoked salt
  vegan
  suitable for vegetarians
  very aromatic
  strong in taste
Contents: Viking smoked salt is produced according to old Viking tradition (Grain size 1-3mm)
Our Viking smoked salt represents a genuine alternative to conventional table salt. It is not only suitable for meat and fish, but also for all foods that are supposed to have a smoky taste. Also veganen and vegatarischen meals, like e.g. Sojaprodukte or vegetable can give this salt a deeply substantial flavour, without thereby to fall back on animal products.
Other properties of our Viking smoked salt
Why can not I find information on the mode of action of this product? Click here