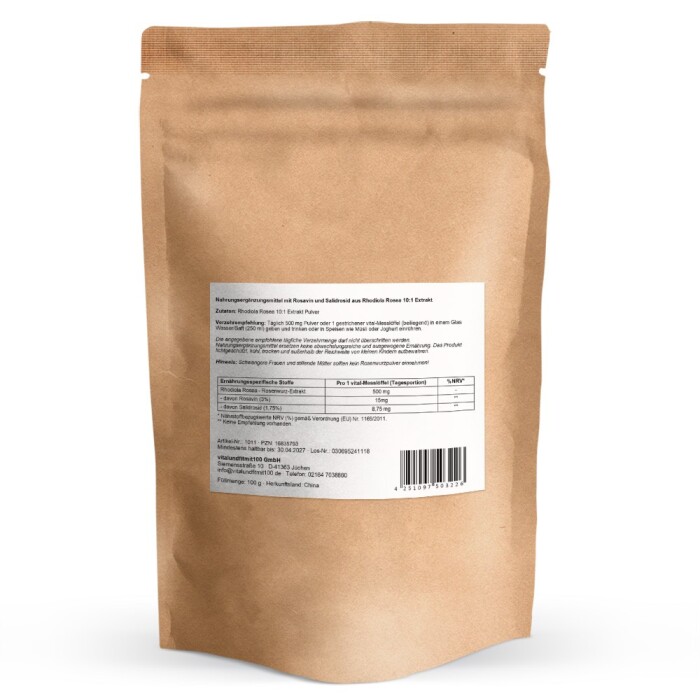 Rhodiola rosea 10:1 extract powder 100g
Base price
169,50 € per 1 kg
See Best Offers
From 2: 16,45 € (164,50 € per kg)
From 3: 15,95 € (159,50 € per kg)
From 5: 15,45 € (154,50 € per kg)
Available now!
Place your order within and we ship the goods the next working day.
Rhodiola rosea extract powder (10:1) - a botanical with a long history of use.
---
---
Item no.: 1011
Content/amount: 100 g
EAN: 4251097503226
Country of origin: Russland
Natural & certified ingredients
Carefully & conscientiously selected raw ingredients
Fair quality at fair prices
For over 10 years, healthy trust
developed and handcrafted with plenty of

❤

in Germany.
Rhodiola rosea
Rhodiola rosea is a plant from the stonecrop family (crassulaceae) that grows high up in the mountains and on the damp cliffs of the Arctic/northern Europe, Asia and North America.
Also called "golden root†in Siberia, rhodiola rosea grows to up to 30cm high, develops thick, fleshy roots over time and produces yellow blossoms in spring.
The roots of the rhodiola rosea are gently ground to a fine powder so it can be easily absorbed.
The concentration - 100g rosea extract is equivalent to 1kg powder - means that the amount of active ingredients in a small dose is hugely increased.
Special features of our rhodiola rosea powder:
  100% Vegan & Pure
  Gluten-free
  Lactose-free
  No artificial additives
  Raw quality
  Guaranteed quality - MADE IN GERMANY!
Contains: Contains 100% pure rhodiola rosea 10:1 extract powder
Recommended intake: Add 500mg powder or 1 vital spoonful (included) to water, juice or meals such as muesli, yoghurt or fruit salad each day.
500mg root extract powder contains 15mg rosavin (3%) and 8.75mg salidroside.
Do not exceed the recommended daily dose. Dietary supplements cannot replace a healthy, varied and balanced diet.
Please note: Pregnant and breastfeeding women should not take rhodiola rosea powder!
Storage: This product should be kept in a dry, dark place out of the reach of children.
Made in Germany!
Dietary specific agents
per 1/2 vital spoonful
(daily serving 500mg)
NRV*
Rhodiola rosea 10:1 extract powder
500mg
**
- contains 3% rosavin
15mg
**
- contains salidroside
8.75mg
**
* Nutrient reference values (%) in accordance with (EU) No. 1169/2011 Attachment XIII of the NRV: Nutrient reference values
** No recommendation available
More features of our rhodiola rosea powder
Why can not I find information on the mode of action of this product? Click here