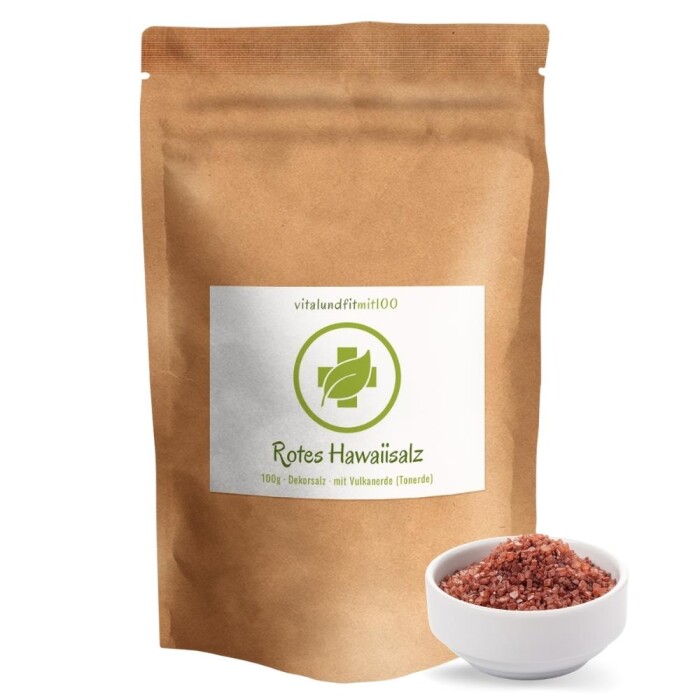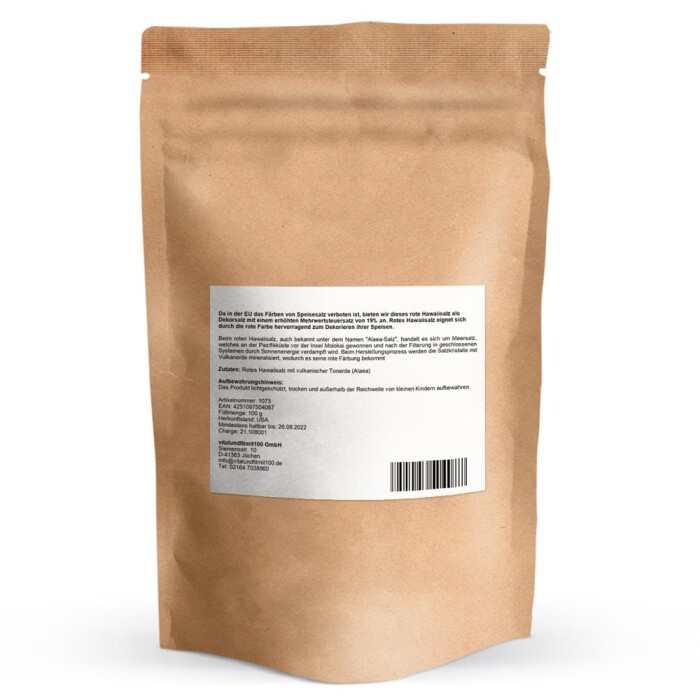 Hawaiisalz Alaea Rot Gold 100 g
Base price
7,95 € per 100 g
See Best Offers
From 2: 7,75 € (7,75 € per 100 g)
From 3: 7,55 € (75,50 € per 1 kg)
From 5: 7,35 € (73,50 € per 1 kg)
Available now!
Place your order within and we ship the goods today.
Red Hawaiian salt, also known as Alaea salt. Mild taste with a slightly sweet aftertaste. Fine grain 1-2mm
---
---
Item no.: 1073
Content/amount: 100 g
EAN: 4251097504087
Country of origin: USA
Natural & certified ingredients
Carefully & conscientiously selected raw ingredients
Fair quality at fair prices
For over 10 years, healthy trust
developed and handcrafted with plenty of

❤

in Germany.
Red Hawaiian salt, also known as Alaea salt, is a traditional sea salt and a 100% natural product.
The salt, already appreciated by the indigenous people and used for ritual use, seasoning and conservation, is today obtained on the island of Molokai in an extremely modern and unique production process. After harvesting, it is combined with the red volcanic alumina Alaea in a special process.
Special characteristics of our Red Hawaiian Salt Alaea Red Gold
  vegan
  over 80 minerals and trace elements
  mild in taste
  slight sweetish tinge
  100 % natural product
Contents: Red Hawaiian salt with volcanic clay (Alaea) - Fine grain 1-2mm
Our red Hawaiian salt is highly appreciated by gourmets worldwide due to its colour and taste. Not only fish and meat, but also vegetables as well as soups, marinades and sauces can be refined with it.
Multi-purpose use, for example for cooking or as bath salt
Other properties of our red Hawaiian salt
Why can not I find information on the mode of action of this product? Click here