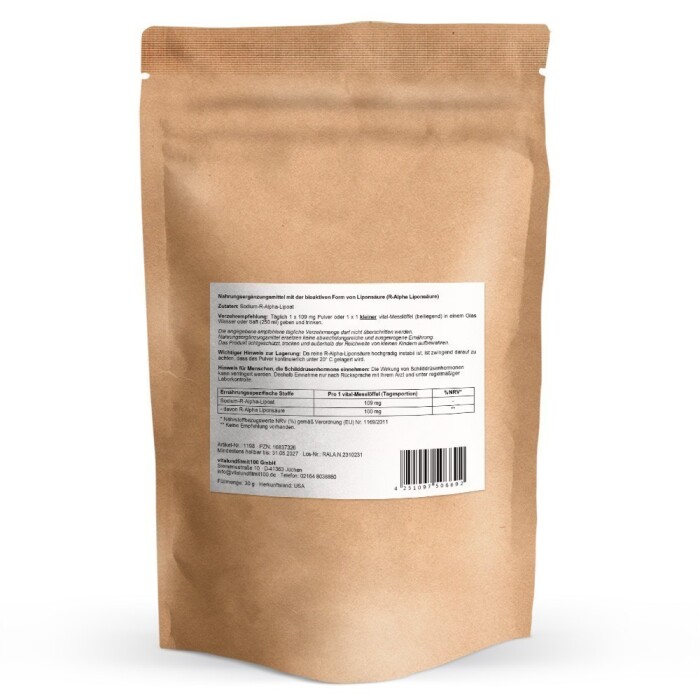 R-Alpha Liponsäure Pulver 30 g
Base price
109,67 € per 100 g
See Best Offers
From 2: 32,40 € (108,00 € per 100 g)
From 3: 31,90 € (106,33 € per 100 g)
From 5: 31,40 € (104,67 € per 100 g)
Available now!
Place your order within and we ship the goods today.
Vegetarian R-Alpha Lipoic Acid "ALA" powder, practical to use, versatile antioxidant. Fresh from production, absolutely pure, without residues
---
---
Item no.: 1198
Content/amount: 30 g
EAN: 4251097506692
Country of origin: USA
Natural & certified ingredients
Carefully & conscientiously selected raw ingredients
Fair quality at fair prices
For over 10 years, healthy trust
developed and handcrafted with plenty of

❤

in Germany.
R-Alpha Lipoic Acid Powder (R-Form)
R-alpha lipoic acid, also abbreviated "ALA", is counted among the coenzymes. ALA is soluble in both fat and water. Our R-alpha lipoic acid powder is available in the valuable sodium R-lipoate form. It is the sodium salt of lipoic acid, which is rarely found, as conventional suppliers usually sell a mixture of the RS-form and not the pure R-form.
Alphaliponic acid is produced in the body by the amino acid cysteine and several fatty acids. However, as the body can only produce this in small quantities, the supply of R-alpha lipoic acid can be extremely important.
Recommended intake:1 x daily 100 mg powder or 1 x daily 1 vital measuring spoon (enclosed) mixed with water or juice.
Ingredients:pure R-alpha lipoic acid powder
Do not exceed the recommended daily intake. Food supplements are no substitute for a healthy, varied and balanced diet. Keep out of reach of small children.
Nutritional substances
per daily portion
NRV*
R-Alpha Lipoic Acid Powder
100 mg
**
* Nutrient Reference Values NRV (%) according to Regulation (EU) No 1169/2011
** No recommendation available
Packaging:: Doypack / stand-up pouch made of kraft paper with pressure seal, reclosable
Type: Food supplements
Contents / filling quantity: pure R-Alpha Lipoic Acid powder
Country of origin: China
EAN: 4251097506692
Manufacturer: vitalundfitmit100 GmbH, Siemensstr. 10, 41363 Jüchen
Why can not I find information on the mode of action of this product? Click here