Persian blue salt finely ground 200 g
Persian blue salt, also known as indigo salt, is one of the rarest salts in the world and has an intense salty taste.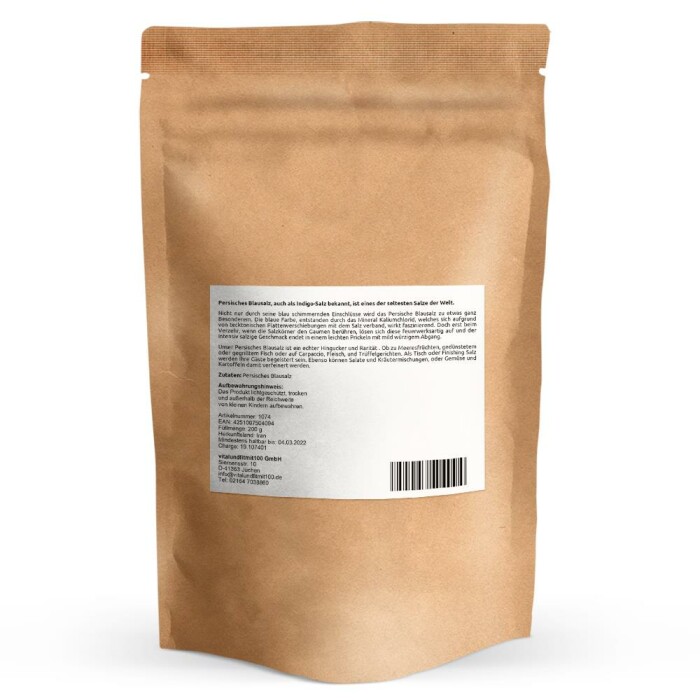 My advantages
Natural & certified ingredients
Carefully & conscientiously selected raw ingredients
Fair quality at fair prices
For over 10 years, healthy trust
developed and handcrafted with plenty of

❤

in Germany.
Shipping information
Place your order within and we ship the goods today.
Delivery status: Available now!

Shipping time: 1 - 2 workdays**
You need the goods guaranteed the next working day? For a surcharge, we send the goods gladly with DHL Express. No delivery by DHL Express on a Saturday
Persian blue salt, also known as indigo salt, is one of the rarest salts in the world.
Not only by its blue shimmering inclusions the Persian blue salt becomes something very special. The initially alienating impression becomes a true experience when consumed at the latest due to the strong salty taste and the slightly tingling note. The blue colour, created by the mineral potassium chloride, which was bound to the salt due to tecktonic plate shifts, has a fascinating effect. But only when consumed, when the salt grains touch the palate, they dissolve like fireworks and the intensely salty taste ends in a slight tingling with a mildly spicy finish.
Special Features of our Persian Blue Salt
  vegan
  intensive salty
  Fascinating by its colour
  prickeld mild outlet
  100 % Natural product
Contents: Persian blue salt
Our Persian blue salt is a real eye-catcher and rarity due to its color and its taste development. Whether with seafood, steamed or grilled fish or on carpaccio, meat, and truffle dishes. As table or finishing salt, your guests will be delighted. Also salads and herb mixtures, or vegetables and potatoes can be refined with it.
Other properties of our Persian Blue Salt
Why can not I find information on the mode of action of this product? Click here