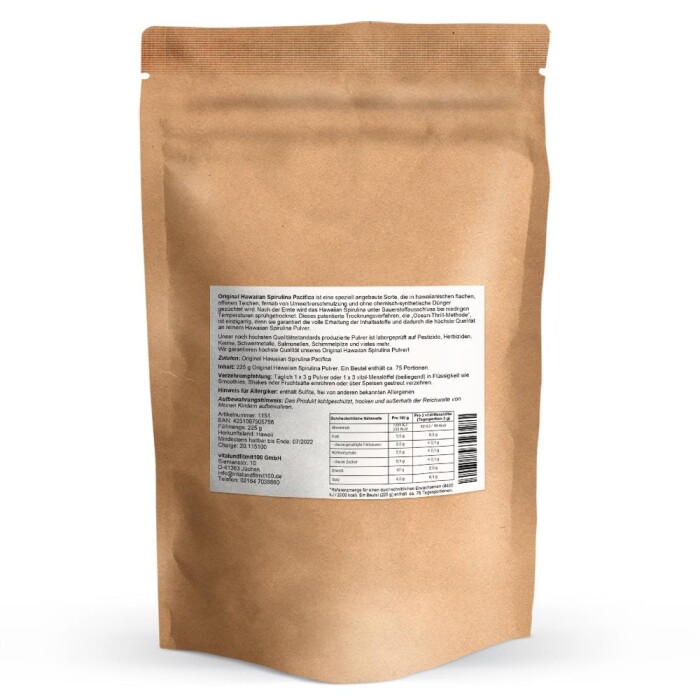 Original Hawaiian Spirulina powder 225 g
Base price
13,29 € per 100 g
See Best Offers
From 2: 29,40 € (130,67 € per 1 kg)
From 3: 28,90 € (128,44 € per 1 kg)
From 5: 28,40 € (126,22 € per 1 kg)
Available now!
Place your order within and we ship the goods the next working day.
The green power from nature: Original Hawaiian Spirulina in powder form to mix and blend in delicious smoothies, shakes and fruit juices. Ultrapure premium quality and 100% vegan!
---
---
Item no.: 1151
Content/amount: 225 g
EAN: 4251097505756
Country of origin: USA
Natural & certified ingredients
Carefully & conscientiously selected raw ingredients
Fair quality at fair prices
For over 10 years, healthy trust
developed and handcrafted with plenty of

❤

in Germany.
Hawaiian Spirulina Pacifica is one of the highest quality algae products in the world, a specially cultivated variety grown in Hawaiian shallow, open ponds, far away from pollution and without chemical synthetic fertilizers. The microalgae is one of the richest protein food sources in nature.
After harvesting, the Hawaiian Spirulina is spray dried at low temperatures under exclusion of oxygen. This patented drying process, the "Ocean-Thrill-Method", is unique because it guarantees the full preservation of the ingredients and therefore the highest quality of pure Hawaiian Spirulina powder.
Our high quality Hawaiian Spirulina powder is highly soluble in liquids and can be absorbed by the body very well. For example, the powder can be stirred into smoothies, shakes and other drinks or consumed sprinkled over food. For children and elderly people our Hawaiian Powder is very suitable.
In addition, our powder, produced to the highest quality standards, is laboratory tested for pesticides, herbicides, germs, heavy metals, salmonella, moulds and much more.
We guarantee highest quality of our original Hawaiian SpirulinaPowder!
Special features of our Hawaiian Spirulina powder:
  100% vegan
  unique quality and purity from Hawaii
  naturally grown
  cultivated in cleanest water without chemical-synthetic fertilizer
  sun-kissed
  gently spray-dried in the Ocean-Thrill process
  finely ground powderr
  to mix and blend in smoothies, shakes and fruit juices
  also suitable for children and older people
  ohne künstliche Farb- und Konservierungsstoffe
  without artificial colourings and preservatives
  free of: gluten, lactose, pesticides, herbicides, added sugar
Ingredients: Original Hawaiian Spirulina Pacifica
Contents: 225 g Original Hawaiian Spirulina powder. One bag contains about 75 portions.
Recommended intake: Daily 1 x 3 g powder or 1 x 3 vital measuring spoons (enclosed) in liquid such as smoothies, shakes or fruit juices stir in or scattered over food.
Note for allergy sufferers: contains sulphites, free from other known allergens
Storage advice: Store the product away from light, dry and out of reach of small children
Durchschnittliche Nährwertangaben
pro 100 g
pro 11 vital-Messlöffel
(Tagesportion 10 g)
Calorific value
1399 kJ / 333 kcal
42 kJ / 10 kcal
- thereof saturated fatty acids
2,0 g
<0,1 g
Carbohydrates
2,0 g
<0,1 g
- from which sugar
0,1 g
<0,1 g
* Reference quantity for an average adult (8400 kJ / 2000 kcal).
One sachet (225 g) contains about 75 portions.
Why can not I find information on the mode of action of this product? Click here