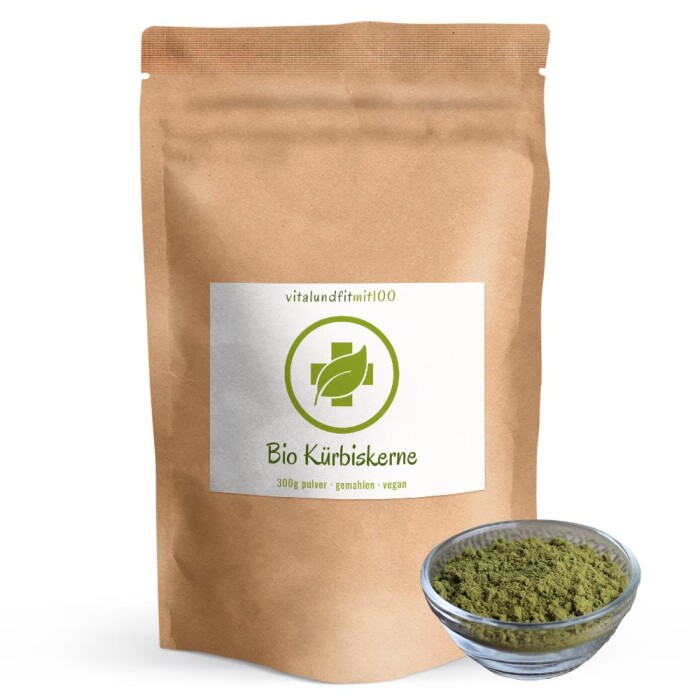 Organic Pumpkin seeds ground 300 g
Base price
29,83 € per 1 kg
See Best Offers
From 2: 8,45 € (28,17 € per kg)
From 3: 7,95 € (26,50 € per kg)
From 5: 7,45 € (24,83 € per kg)
Available now!
Place your order within and we ship the goods the next working day.
Protein-rich pumpkin seeds finely ground, from controlled organic cultivation. Vegan, gluten-free. Ideal ingredient for the production of bread and rolls, but also for refining mueslis, smoothies, desserts, soups, bakery products, biscuits, etc.
---
---
Item no.: 1051
Content/amount: 300 g
EAN: 4251097503851
Country of origin: Asien
Natural & certified ingredients
Carefully & conscientiously selected raw ingredients
Fair quality at fair prices
For over 10 years, healthy trust
developed and handcrafted with plenty of

❤

in Germany.
Organic pumpkin seeds ground
Colour: yellow, beige to light green
Odour: characteristic
Taste: characteristic
Consistency: powder
At no time was the product treated with ionizing radiation.
The product has never been fumigated.
suited for vegetarian & vegan diets
Ingredients: Contains 100% ground pumpkin seeds from controlled organic cultivation
Storage instructions: Store product in a dark place, dry and out of the reach of young children.
Nutritional values
per 100 g
calorific values
866 KJ/207Kcal
saturated fatty acids
0 g
Packaging: Doypack / stand-up pouch made of kraft paper with pressure closure, resealable
Contents / Capacity: 300 g
Organic farming: DE-ÖKO-039
Country of origin: Asia
EAN: 4251097503851
Manufacturer: vitalundfitmit100 GmbH, Siemensstr. 10, 41363 Jüchen
Why can not I find information on the mode of action of this product? Click here