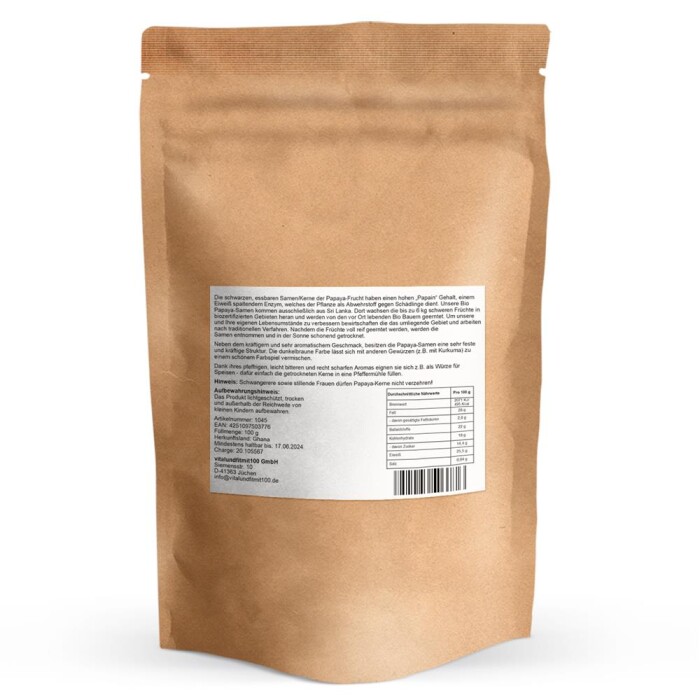 Organic papaya kernels / seeds 100 g
Base price
20,95 € per 100 g
See Best Offers
From 2: 20,45 € (20,45 € per 100 g)
From 3: 19,95 € (199,50 € per 1 kg)
From 5: 19,45 € (194,50 € per 1 kg)
Available now!
Place your order within and we ship the goods today.
Papaya kernels / seeds in best organic quality, harvested fully ripe, sun drying.
---
---
Item no.: 1045
Content/amount: 100 g
EAN: 4251097503776
Country of origin: Sri Lanka
Natural & certified ingredients
Carefully & conscientiously selected raw ingredients
Fair quality at fair prices
For over 10 years, healthy trust
developed and handcrafted with plenty of

❤

in Germany.
The black, edible seeds/kernels of the papaya fruit have a high "papain" content, a protein-splitting enzyme that serves as a defense against pests.
Our organic papaya seeds come exclusively from Sri Lanka. There they grow up to 6 kg. heavy fruits in certified organic areas and are harvested by the local organic farmers. In order to improve our and your own living conditions, the organic farmers surrounding area and work according to traditional procedures.
After the fruits are harvested fully ripe, the seeds are removed and placed in the sun. gently dried.
In addition to the strong and very aromatic taste, the papaya seeds have a very firm and strong structure. The dark brown colour can be mixed with other spices (e.g. turmeric) to create a beautiful play of colours.
Thanks to their peppery, slightly bitter and quite sharp aroma, they are suitable, for example, as a seasoning for Food - simply fill the dried seeds into a pepper mill.
Average nutritional values
per 100 g
- of which fatty acids
28 g
Why can not I find information on the mode of action of this product? Click here