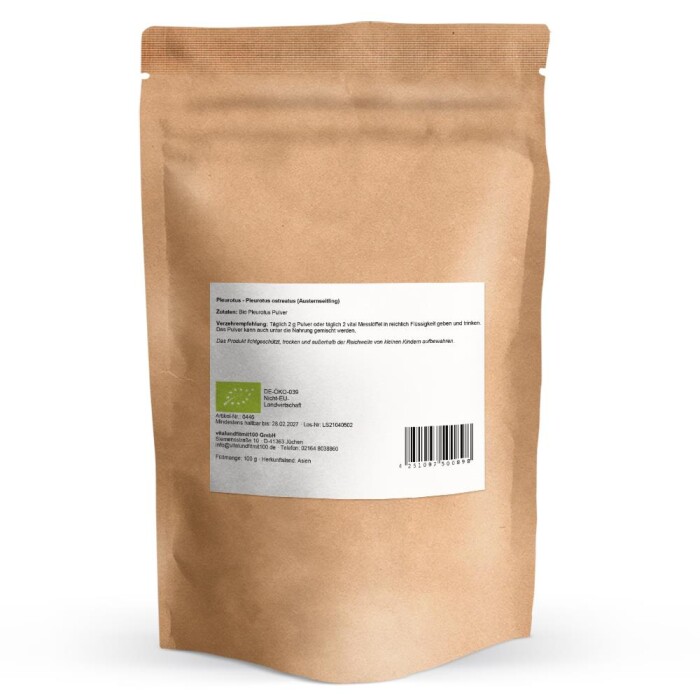 Organic pleurotus powder 100g
Base price
189,50 € per 1 kg
See Best Offers
From 2: 18,45 € (184,50 € per kg)
From 3: 17,95 € (179,50 € per kg)
From 5: 17,45 € (174,50 € per kg)
Available now!
Place your order within and we ship the goods today.
Pleurotus ostreatus (oyster mushroom)
---
---
Item no.: 0446
Content/amount: 100 g
EAN: 4251097500898
Country of origin: Asien
Natural & certified ingredients
Carefully & conscientiously selected raw ingredients
Fair quality at fair prices
For over 10 years, healthy trust
developed and handcrafted with plenty of

❤

in Germany.
Pleurotus ostreatus (oyster mushroom)
The oyster mushroom mostly feeds off dead fallen trees. Alongside the shitake, it's one of the most important edible mushrooms in Japan. It even beats the common button mushroom to top spot as the most popular edible mushroom. Its very high levels of B vitamins makes the oyster mushroom stand out. This medicinal mushroom has plenty of vitamin B1, B2, B5, B6, B7 and B12 to offer. It also has folic acid, vitamin C, vitamin D, all eight essential amino acids, enzymes, minerals and trace elements as well as a high fiber content. And it's not low on polysaccharides. Its high level of protein makes it especially popular in vegan and vegetarian cuisine. To sum it up: the oyster mushroom is a real gift from Mother Nature.
Recommended intake
Add 2g powder or 2 vital spoonfuls to plenty of liquid and drink daily. The powder can also be mixed into food (2 vital spoonfuls are equivalent to 2g powder).
Storage
This product should be kept in a dry place out of the reach of children and away from direct sunlight.
Why can not I find information on the mode of action of this product? Click here