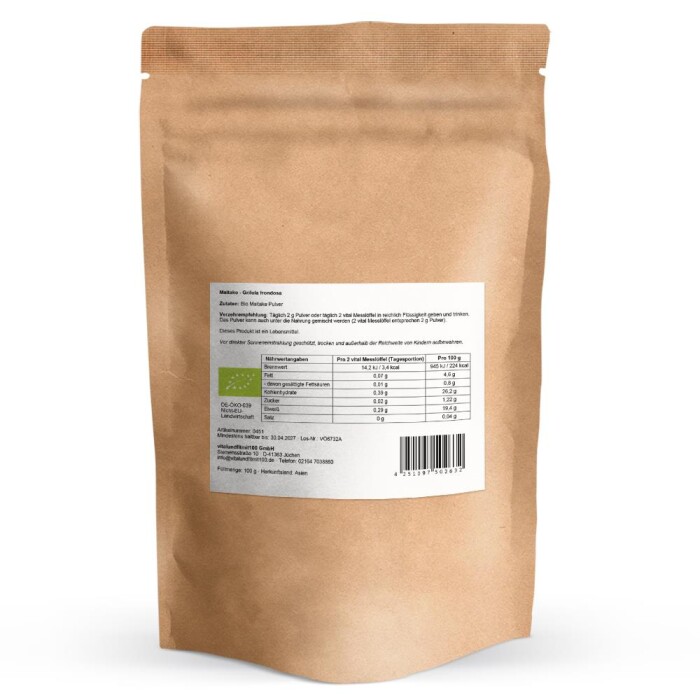 Organic maitake powder 100g
Base price
189,50 € per 1 kg
See Best Offers
From 2: 18,45 € (184,50 € per kg)
From 3: 17,95 € (179,50 € per kg)
From 5: 17,45 € (174,50 € per kg)
Available now!
Place your order within and we ship the goods the next working day.
Grifola frondosa: Maitake, also known as "dancing mushroom" or "rattling sponge". 100 g finely ground, gluten-free powder in proven organic and raw food quality. Without additives.
---
---
Item no.: 0451
Content/amount: 100 g
EAN: 4251097502632
Country of origin: China
Natural & certified ingredients
Carefully & conscientiously selected raw ingredients
Fair quality at fair prices
For over 10 years, healthy trust
developed and handcrafted with plenty of

❤

in Germany.
Grifola frondosa
To the question of how nature succeeds again and again in a wonderful way in intervening to regulate, vital fungi are undoubtedly one of the answers. The Bio-Maitake Vitalpilz, also known as rattle sponge, belongs to it. In Asia, it has long been appreciated as a delicacy because of its special aroma. Hippocrates' statement "Let your food be your medicine" has been taken to heart in traditional Asian cuisine since time immemorial. Maitake has its place in traditional Chinese medicine as well. "Maitake" means something like "dancing mushroom". According to tradition, this "nomination" comes from the fact that mushroom pickers used to literally dance with joy when they came across this vital mushroom.
Recommendation for use: Daily 2 g powder or daily 2 vital measuring fields in plenty of liquid give and drink. The powder can also be mixed with the food (2 vital tablets correspond to 2 g powder).
Ingredients: Contains 100% pure maitake powder from controlled organic cultivation
This product is a foodstuff.
Storage instructions: Store away from direct sunlight, dry and out of the reach of children.
Nutritional values
per 2 vital measuring spoons (= 1 serving)
each 100 g
Calorific value
14,2 kJ / 3,4 kcal
945 kJ / 224 kcal
of which saturated fatty acids
0,01 g
0,8 g
Carbohydrates
0,39 g
26,2 g
of which sugar
0,02 g
1,22 g
Packaging: Doypack / stand-up pouch made of kraft paper with pressure closure, resealable
Contents / volume: 100 g
Öorganic farming: DE-ÖKO-039
Country of origin: China
EAN: 4251097500287
Manufacturer: vitalundfitmit100 GmbH, Siemensstr. 10, 41363 Jüchen
Why can not I find information on the mode of action of this product? Click here