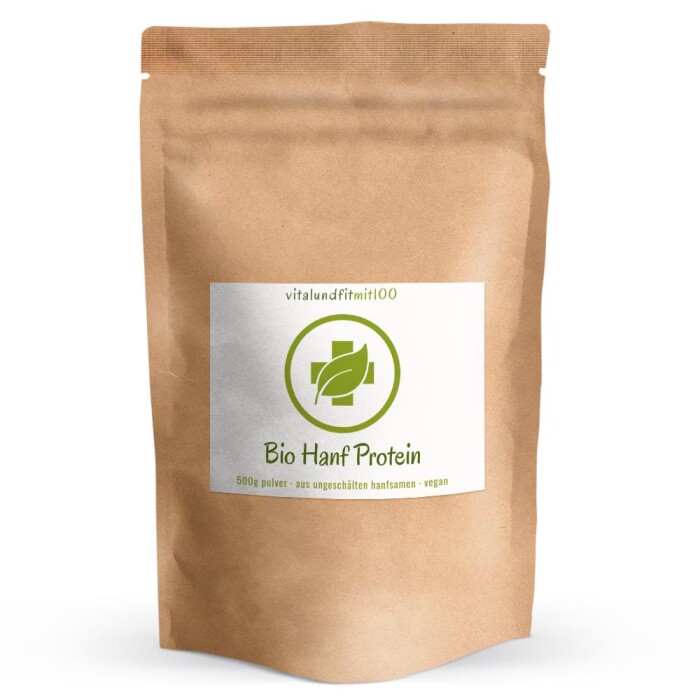 Organic Hemp Protein Powder 500 g
Base price
29,90 € per 1 kg
See Best Offers
From 2: 14,45 € (28,90 € per kg)
From 3: 13,95 € (27,90 € per kg)
From 5: 13,45 € (26,90 € per kg)
Available now!
Place your order within and we ship the goods today.
100% natural & vegetable hemp protein powder from controlled organic cultivation. Ideal as an ingredient for smoothies, but also perfect for baking, because it can be used wonderfully as gluten-free flour.
---
---
Item no.: 1057
Content/amount: 500 g
EAN: 4251097503912
Country of origin: Deutschland
Natural & certified ingredients
Carefully & conscientiously selected raw ingredients
Fair quality at fair prices
For over 10 years, healthy trust
developed and handcrafted with plenty of

❤

in Germany.
Organic Hemp Protein Powder from EU-Agriculture
suited for vegetarian & vegan diets
Ingredients: Contains 100% pure hemp protein powder from controlled organic cultivation
nutritional values
pro 100 g
calorific valuet
1385 KJ/ 331 Kcal
Also contain in 100 g: Vitamin E 0,6 mg, Potassium 1880 mg, Calcium 196 mg, Magnesium 1060 mg, Iron 20,6 mg, Asparagins acid 2,92 g, Threonin 1,05 g, Serin 1,28 g, Glutamin 4,49 g, Prolin 1,36 g, Glycin 1,42 g, Alanin 1,45 g, Cystin 0,21 g, Valin 1,61 g, Methionin 0,65 g, Isoleucin 1,29 g, Leucin 2,17 g, Tyrosin 0,94 g, Phenylalanin 1,43 g, Histidin 1,13 g, Lysin 1,17 g, Arginin 3,73 g
Packaging: Doypack / stand-up pouch made of kraft paper with pressure closure, resealable
Contents / Capacity: 500 g
Organic farming: DE-ÖKO-039
Country of origin: Europe
EAN: 4251097503912
Manufacturer: vitalundfitmit100 GmbH, Siemensstr. 10, 41363 Jüchen
Why can not I find information on the mode of action of this product? Click here