Organic green cabbage powder 100 g
Kale is rich in various nutrients. Our organic kale powder in raw kale quality is an enrichment for green smoothies. Especially suitable for vegetarians and vegans.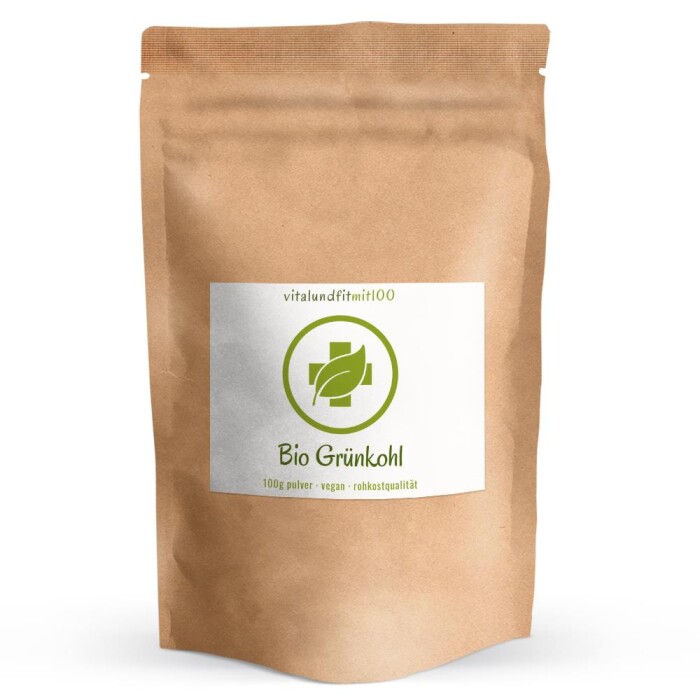 My advantages
Natural & certified ingredients
Carefully & conscientiously selected raw ingredients
Fair quality at fair prices
For over 10 years, healthy trust
developed and handcrafted with plenty of

❤

in Germany.
Shipping information
Place your order within and we ship the goods the next working day.
Delivery status: Available now!

Shipping time: 1 - 2 workdays**
You need the goods guaranteed the next working day? For a surcharge, we send the goods gladly with DHL Express. No delivery by DHL Express on a Saturday
Organic green cabbage powder from EU agriculture
Color: green, light and darker pieces
Odour: typical of cabbage
Taste: typical of cabbage
Consistency: powder
Ingredients: Contains 100% pure kale powder from controlled organic cultivation
At no time was the product treated with ionizing radiation.
The product has never been fumigated.
Suited for vegetarian & vegan diets
Nutritional values
per 100 g
calorific valuet
1234 KJ/296 Kcal
Packaging: Doypack / stand-up pouch made of kraft paper with pressure closure, resealable
Content / Filling quantity: 100 g
Organic farming: DE-ÖKO-039
Country of origin: Germany
EAN: 4251097504032
Manufacturer: vitalundfitmit100 GmbH, Siemensstr. 10, 41363 Jüchen
Why can not I find information on the mode of action of this product? Click here
This might also interest you