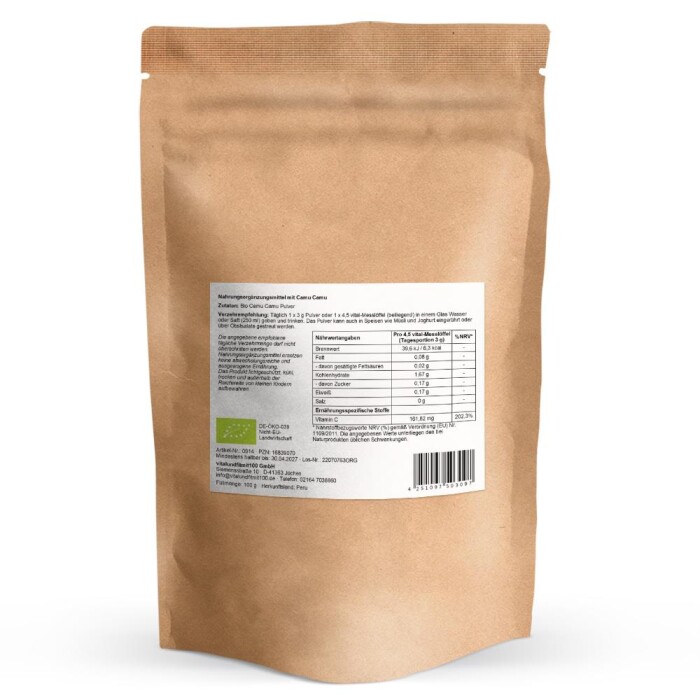 Organic camu camu powder 100g
Base price
149,50 € per 1 kg
See Best Offers
From 2: 14,45 € (144,50 € per kg)
From 3: 13,95 € (139,50 € per kg)
From 5: 13,45 € (134,50 € per kg)
Available now!
Place your order within and we ship the goods today.
Organic camu camu powder with a high vitamin C content.
---
---
Item no.: 0914
Content/amount: 100 g
EAN: 4251097503097
Country of origin: Peru
Natural & certified ingredients
Carefully & conscientiously selected raw ingredients
Fair quality at fair prices
For over 10 years, healthy trust
developed and handcrafted with plenty of

❤

in Germany.
Organic camu camu powder 100g
The camu camu fruit (myrciaria dubia) is a small orange-red fruit that almost exclusively grows on the floor of the rainforest.
This unusual fruit contains a very high level of natural vitamin C.
Use our organic camu camu powder to pep up your smoothies, shakes & meals. In Peru, it's often used to flavor ice cream and soft drinks.
Special features of our ORGANIC camu camu powder:
100% Organic, vegan & pure
Gluten-free
Lactose-free
No artificial additives
Raw quality
Optimal solubility
Naturally high in vitamin C
Ideal in smoothies, yoghurt and drinks
Country of origin: Peru
Guaranteed quality - MADE IN GERMANY!
Ingredients: Contains 100% pure ORGANIC camu camu powder
Recommended intake: Add 3g powder or 4.5 vital spoonful (included) to water, juice or meals such as muesli, yoghurt or fruit salad each day.
Do not exceed the recommended daily dose. Dietary supplements cannot replace a healthy, varied and balanced diet.
Storage: This product should be kept in a dry, dark place out of the reach of children.
Nutritional values
per 100g
per 4.5 vital spoonfuls
(daily serving 3g)
Energy
1320kJ / 314kcal
39.6kJ / 6.3kcal
of which fatty acids
0.4g
0.02
Carbohydrates
55.6g
1.67g
of which sugar
5.6g
0.17g
Vitamin C
6068mg
182.04mg (=227,6%)*
* Nutrient reference values (%) in accordance with (EU) No. 1169/2011 Attachment XIII of the NRV: Nutrient reference values
These values are subject to the usual deviations to be expected in natural products.
More features of our organic camu camu powder
Why can not I find information on the mode of action of this product? Click here