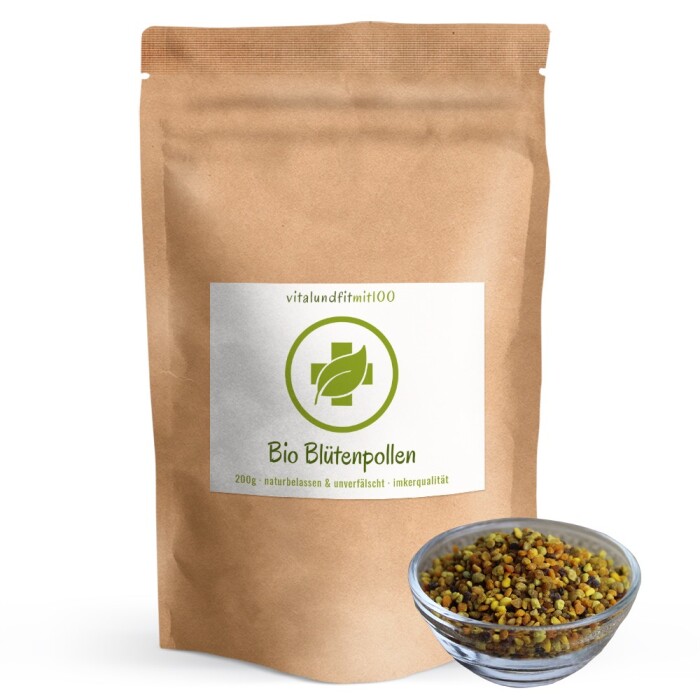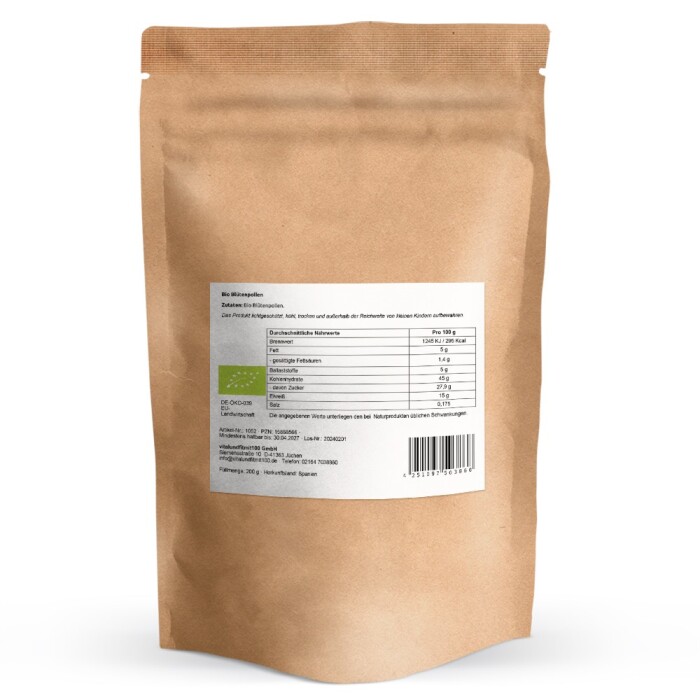 Organic Bee Pollen 200 g
Base price
5,48 € per 100 g
See Best Offers
From 2: 10,45 € (52,25 € per 1 kg)
From 3: 9,95 € (49,75 € per 1 kg)
From 5: 9,45 € (47,25 € per 1 kg)
Available now!
Place your order within and we ship the goods the next working day.
Organic pollen in tested beekeeper quality from Spain and carefully dried. Absolutely natural and rich in nutrients. As a healthy addition to food and beverages.
---
---
Item no.: 1052
Content/amount: 200 g
EAN: 4251097503868
Country of origin: Spanien
Natural & certified ingredients
Carefully & conscientiously selected raw ingredients
Fair quality at fair prices
For over 10 years, healthy trust
developed and handcrafted with plenty of

❤

in Germany.
Organic Bee Pollen from EU-agriculture
Nutritional values
per 100 g
calorific values
1245 KJ/295 Kcal
saturated fatty acids
1,4 g
Also contain in 100 g bee pollen: Vitamin E 18 mg, Vitamin C 31,5 mg, Thiamin 0,95 mg, Riboflavin 1,6 mg, Niacin 9,2 mg, Vitamin B6 0,45 mg, Folic Acid 650 µg, Biotin 60 µg, Pantothenic Acid 1,25 mg, Potassium 556 mg, Phosphorus 242,44 mg, Iron 4,8 mg, Copper 0,78 mg, Calcium 52,78 mg
Bee pollen is the perfect gift of nature. They contain a wide range of nutrients that make it a unique type of food.
Our pollen is collected by beekeepers in Spain. After harvesting, they are gently dried to retain most of their nutrient content. Our flower pollen is of polifloral botanical origin. Only this type of pollen is able to provide a balanced nutrient profile.
Flower pollen is versatile, can be eaten raw or added to all types of food and beverages, including bakery products and salads.
Why can not I find information on the mode of action of this product? Click here