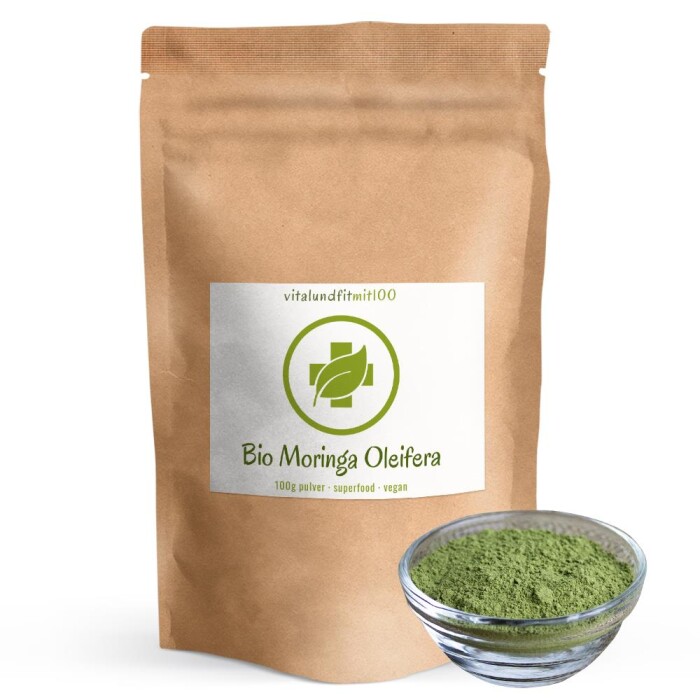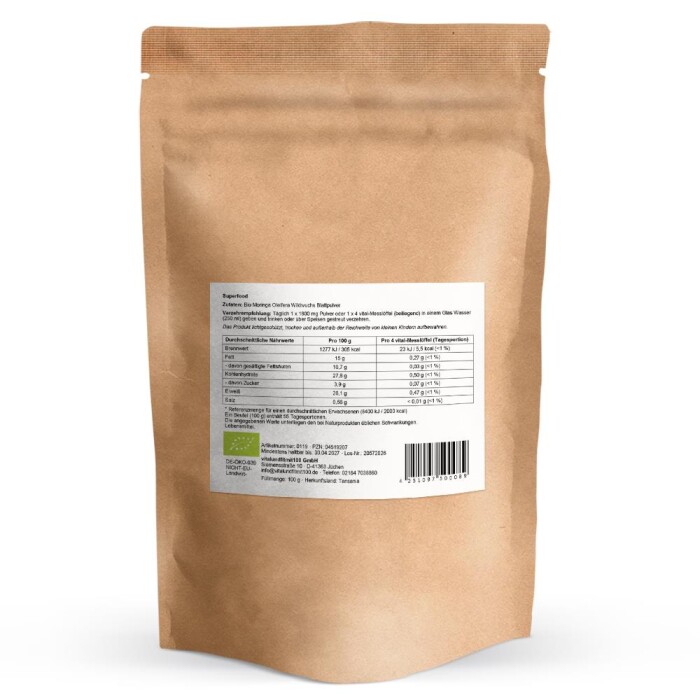 Organic moringa oleifera wild leaf powder, extra finely ground 100g
Base price
199,00 € per 1 kg
See Best Offers
From 2: 17,90 € (179,00 € per kg)
From 3: 15,90 € (159,00 € per kg)
From 5: 13,90 € (139,00 € per kg)
From 7: 11,90 € (119,00 € per kg)
From 10: 9,90 € (99,00 € per kg)
Available now!
Place your order within and we ship the goods today.
100g pure moringa oleifera wild leaf powder.
---
---
Item no.: 0119
Content/amount: 100 g
EAN: 4251097500089
Country of origin: Tansania
Natural & certified ingredients
Carefully & conscientiously selected raw ingredients
Fair quality at fair prices
For over 10 years, healthy trust
developed and handcrafted with plenty of

❤

in Germany.
Certified premium fairly traded moringa
Moringa oleifera is also known as the "tree of lifeâ€.
  Moringa in certified raw quality
  Moringa gathered in the wild
  Fairtrade moringa
  Without chemical additives
The moringa powder in our capsules comes from Africa (Tanzania), where it is cultivated under sustainable conditions. Hand-picked, gently dried and ground, our product stands for the highest quality.
100% pure natural moringa powder from plants that are at least three years old.
Dietary specific agents
per 100g
per 5 vital spoonfuls
(daily serving 2.5g)
Vitamin A
16 300µg
407.5µg (= 50.9%)*
Riboflavin (vitamin B2)
20.5mg
0.513mg (= 36.6%)*
Vitamin E
113mg
2.825mg (= 23.5%)*
* Nutrient reference values (%) in accordance with (EU) No. 1169/2011 Attachment XIII of the NRV: Nutrient reference values
These values are subject to the usual deviations to be expected in natural products.

More features of our moringa oleifera leaf powder
Wildwuchs Moringa Oleifera Blattpulver
Unser Moringa Pulver kommt direkt aus Afrika (Tansania) und wird dort unter nachhaltigen Bedingungen angebaut. Handgeerntet, schonend getrocknet und gemahlen, steht unser Produkt für höchste Qualität.
Moringapulver zur Verfeinerung von Speisen und Getränken
Der Extrakt aus der afrikanischen Moringa-Pflanze eignet sich nicht nur zur direkten Einnahme, sondern auch als wertvoller Zusatz zu einer bewussten und ausgeglichenen Ernährung. Mit unserem praktischen Pulver können Sie beispielsweise Speisen verfeinern oder auch Getränken das besondere Stück Natur verleihen. Das Pulver ist wasserlöslich und damit ideal für die tägliche Portion dieses einzigartigen Extrakts.
Moringa als Pulver zum Selberdosieren
Jede Dose Moringapulver enthält 100 Gramm reines, natürliches Blattpulver von mindestens drei Jahre alten Pflanzen aus Tansania, die in nachhaltiger und umweltbewusster Tradition angebaut und geerntet werden. So erhalten Sie die volle Vielfalt an Inhaltsstoffen wie Vitaminen, Mineralien und Antioxidantien. Durch das praktische Pulver können Sie selbst spielend einfach dosieren und haben immer einen Vorrat im Haus.
Nachhaltigkeit und Umweltbewusstsein sind uns wichtig
Nicht nur vor Ort in Tansania werden unsere natürlichen Produkte besonders umweltschonend und nachhaltig behandelt. Auch in Handel und Transport sind uns faire Bedingungen und möglichst geringer Schadstoffausstoß wichtig. Deswegen versenden wir unsere Produkte an Sie aufschlagsfrei mit einem CO2-neutralen Logistikpartner.
Why can not I find information on the mode of action of this product? Click here