Organic Moringa Oleifera Capsules 100 x 400mg
100 veggie capsules of 400mg organic moringa oleifera wild leaf powder.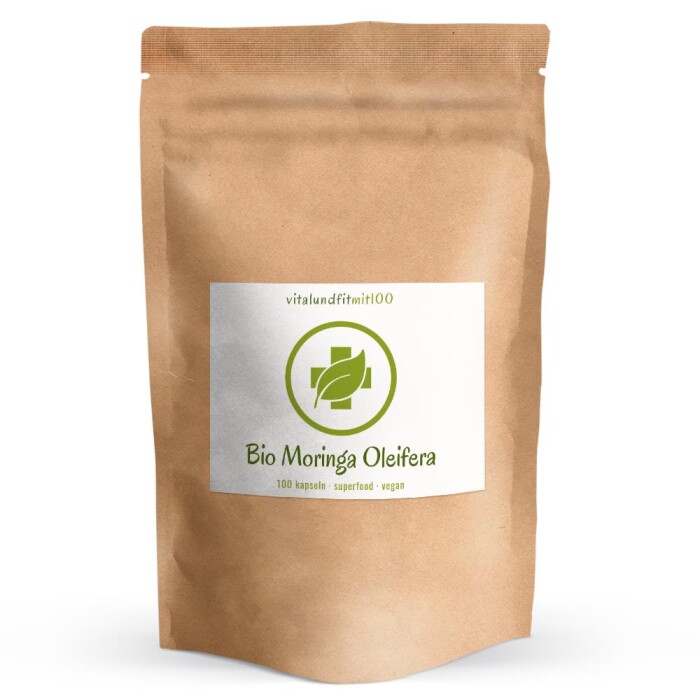 My advantages
Natural & certified ingredients
Carefully & conscientiously selected raw ingredients
Fair quality at fair prices
For over 10 years, healthy trust
developed and handcrafted with plenty of

❤

in Germany.
Shipping information
Place your order within and we ship the goods the next working day.
Delivery status: Available now!

Shipping time: 1 - 2 workdays**
You need the goods guaranteed the next working day? For a surcharge, we send the goods gladly with DHL Express. No delivery by DHL Express on a Saturday
Certified premium moringa
Moringa oleifera is also known as the "Wonder Tree" or "Tree of Life."
Moringa in certified raw quality
Moringa gathered in the wild
Fairtrade moringa
Without chemical additives
The moringa powder in our capsules comes from Africa (Tanzania), where it is cultivated under sustainable conditions. Hand-picked, gently dried and ground, our product stands for the highest quality.
100% pure natural moringa powder from plants that are at least three years old.
Dietary specific agents
per 1 capsule (400 mg)
per 6 capsules (2400 mg)
Vitamin A
65.2 µg
391.2 µg (= 48.9%)*
Riboflavin (vitamin B2)
0.082 mg
0.492 mg (= 35.1%)*
Vitamin E
0.452 mg
2.712 mg (= 22.6%)*
* Nutrient reference values (%) in accordance with (EU) No. 1169/2011 Attachment XIII of the NRV: Nutrient reference values
These values are subject to the usual deviations to be expected in natural products.

More features of our organic moringa oleifera capsules
Why can not I find information on the mode of action of this product? Click here
This might also interest you