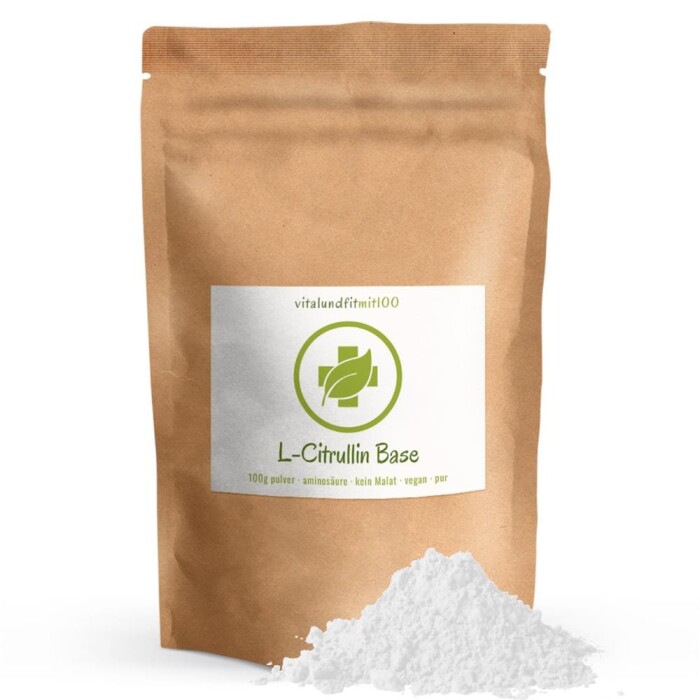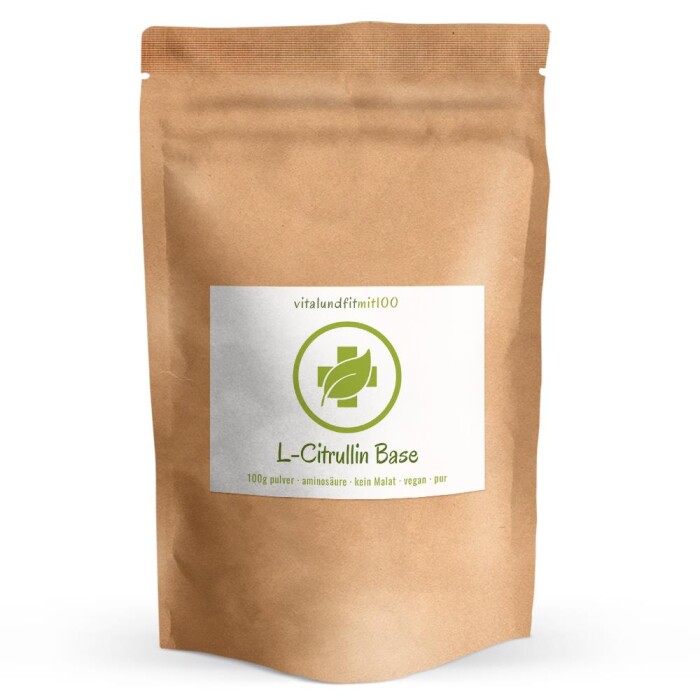 L-Citrulline base powder 100g
Base price
99,50 € per 1 kg
See Best Offers
From 2: 9,45 € (94,50 € per kg)
From 3: 8,95 € (89,50 € per kg)
From 5: 8,45 € (84,50 € per kg)
Available now!
Place your order within and we ship the goods the next working day.
The amino acid l-citrulline is very popular and very well tolerated.
---
---
Item no.: 0910
Content/amount: 100 g
EAN: 4251097503066
Country of origin: Deutschland
Natural & certified ingredients
Carefully & conscientiously selected raw ingredients
Fair quality at fair prices
For over 10 years, healthy trust
developed and handcrafted with plenty of

❤

in Germany.
L-citrulline base - the natural amino acid
Citrulline is named after the watermelon (citrullus vulgaris), which contains an especially high level of citrulline in its skin. L-citrulline is found in many plants of the gourd family.
The amino acid (alpha amino acid) l-citrulline plays an important role in the human body. It's a kind of "precursor†of l-arginine, meaning that citrulline is turned into arginine in our bodies. So this amino acid can increase our levels of arginine.
Our citrulline base powder is ground to a fine consistency so that it can be easily absorbed.
Natural citrulline from watermelons!
Special features of our l-citrulline powder:
100% Vegan & Pure
Gluten-free
Lactose-free
No artificial additives
Optimal solubility
No malates!
From fermentation
Ideal ingredient for smoothies
Guaranteed quality - MADE IN GERMANY!
Contains: Contains 100% pure l-citrulline base powder
Recommended intake: Add 3g powder or 3 vital spoonfuls (included) to plenty of liquid or stir into a smoothie or shake and drink once to twice daily.
The powder can also be mixed into food. Take with food.
Do not exceed the recommended daily dose. Dietary supplements cannot replace a healthy, varied and balanced diet. This product should be kept out of the reach of small children.
Storage: This product should be kept in a dry, dark place out of the reach of children.
Dietary specific agents
per 3 vital spoonfuls
(daily serving 3g)
NRV*
L-citrulline base powder
3g
**
* Nutrient reference values (%) in accordance with (EU) No. 1169/2011 Attachment XIII of the NRV: Nutrient reference values
** No recommendation available
Packaging: Doypack / stand-up pouch made of kraft paper with pressure closure, resealable
Type: Food Supplements
Content / Filling quantity: 100 g
Country of origin: Germany
EAN: 4251097503066
Manufacturer: vitalundfitmit100 GmbH, Siemensstr. 10, 41363 Jüchen
Why can not I find information on the mode of action of this product? Click here