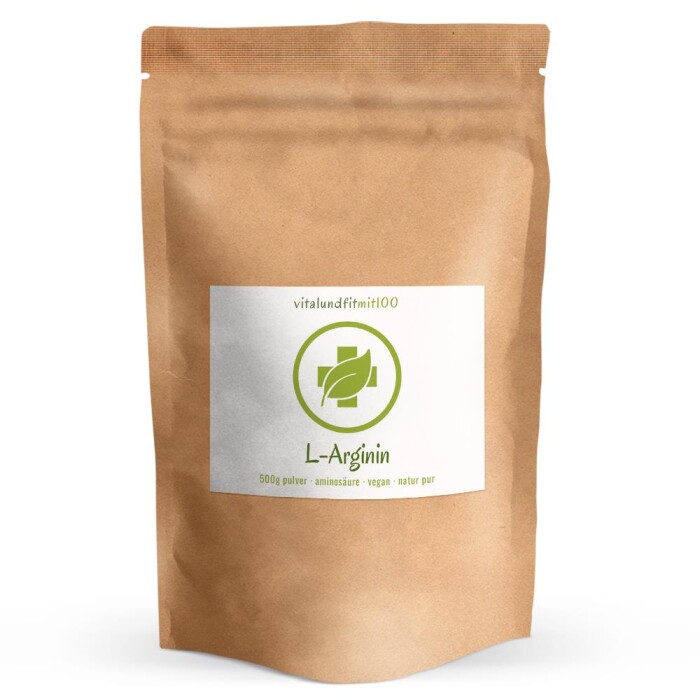 L-Arginine base powder 500g
Base price
33,90 € per 1 kg
See Best Offers
From 2: 16,45 € (32,90 € per kg)
From 3: 15,95 € (31,90 € per kg)
From 5: 15,45 € (30,90 € per kg)
Available now!
Place your order within and we ship the goods the next working day.
L-arginine is a non-essential amino acid (free amino acid). Plant-based, from fermentation, 500g bag.
---
---
Item no.: 0402
Content/amount: 500 g
EAN: 4251097501567
Country of origin: Deutschland
Natural & certified ingredients
Carefully & conscientiously selected raw ingredients
Fair quality at fair prices
For over 10 years, healthy trust
developed and handcrafted with plenty of

❤

in Germany.
L-Arginine has the highest nitrogen mass fraction of ALL
proteinogenic amino acids
and is involved in the body's own production of nitric oxide.
L-arginine is a non-essential amino acid.
It is found in many foods, such as pork, salmon, chicken eggs, pine nuts, wheat and wholegrains, rice and peas.
Our product is a freely flowing
micronized powder
and is very soluble.
You can find useful information in specialist literature or online.
Special features of our l-arginine powder
100% Vegan & 100% pure natural
Free from gluten and lactose
No artificial additives
Optimal solubility
From fermentation
Guaranteed quality - MADE IN GERMANY!
Ingredients:
Contains 100% pure l-arginine base powder
Recommended intake:
Add 5g powder
or
7 vital spoonfuls (included) to water or juice and drink daily.
Do not exceed the recommended daily dose. Dietary supplements cannot replace a healthy, varied and balanced diet. This product should be kept out of the reach of small children.
Dietary specific agents
per 7 vital spoonfuls
(daily serving 5g)
NRV*
L-arginine base powder
5g
**
* Nutrient reference values (%) in accordance with (EU) No. 1169/2011 Attachment XIII of the NRV: Nutrient reference values
** No recommendation available
Packaging: Doypack / stand-up pouch made of kraft paper with pressure closure, resealable
Flavour: sular
Type: food supplements
Contents / quantity: 500 g
Country of origin: Germany
EAN: 4251097501567
Manufacturer: vitalundfitmit100 GmbH, Siemensstr. 10, 41363 Jüchen
Nahrungsergänzungsmittel mit L-Arginin Base
ARGININ Zählt zu den semi- essentiellen Aminosäuren...
L-Arginin besitzt den höchsten Stickstoff-Masseanteil von ALLEN proteinogenen Aminosäuren und ist an der körpereigenen Produktion von Stickstoffmonoxid beteiligt. L-Arginin zählt zu den semi-essentiellen Aminosäuren. Es ist in vielen Lebensmitteln wie Schweinefleisch, Lachs, Hühnerei, Pinienkerne, Weizen- und Vollkornmehl, Reis und Erbsen enthalten. Unsere Qualität liegt als frei fließendes micronized Pulver vor und lässt sich sehr gut auflösen.
Wer kennt das nicht? Das tägliche Hamsterrad kann zu reichlich körperlichem und seelischem Stress führen. Anforderungen im Beruf, belastende Phasen im Privatleben, Zeiten der Rekonvaleszenz oder auch ausgeprägtes Training im Sport haben mitunter einen Mangel an L-Arginin zur Folge. Das ist eine Aminosäure, die der Körper zwar selbst herstellen kann, aber durch verschiedene äußere Faktoren kann durch diese körpereigene Produktion oft nicht ausreichend L-Arginin zur Verfügung gestellt werden.
Was liegt da näher, als L-Arginin von außen zur Verfügung zu stellen? Als Quelle energiereicher Stickstoff-Phosphat-Verbindungen ist diese Aminosäure an vielen biologischen Funktionen beteiligt. L-Arginin ist insbesondere für Menschen, die regelmäßig und vor allem ausdauernd Sport treiben, eine gute Ergänzung auf dem Speiseplan.
Das L-Arginin Base Pulver kann dank seiner Premiumqualität einen wesentlichen Beitrag zu Ihrer Gesundheit leisten!
Die besondere Aminosäure für mehr Wohlbefinden
Tagtäglich ist es für uns möglich, unseren Körper mit wertvollen Inhaltsstoffen zu versorgen. Diese können ausschließlich durch die Nahrung aufgenommen werden. Aber auch vorteilhafte Nahrungsergänzungsmittel spielen mittlerweile eine immer größere Rolle, um die Aufnahme von wichtigen Stoffen zu unterstützen. Das L-Arginin Base Pulver bietet Ihnen eine Möglichkeit, den Spagat zwischen optimaler Nährstoffzufuhr und einfacher Handhabung im Alltag zu verbinden.
Verlässliche Qualität durch L-Arginin Base Pulver
Unser vielfältig einetzbares L-Arginin Pulver sollte in keinem Haushalt fehlen. Die semi-essenzielle Aminosäure L-Arginin kann vom menschlichen Organismus oft nicht in ausreichenden Mengen selbständig gebildet werden. Daher kann es wichtig sein, diese Aminosäure durch die Nahrung regelmäßig und in entsprechender Menge aufzunehmen. Fisch, Fleisch, Eier, Gemüse und Vollkornprodukte sind bestens geeignet, um diese Aminosäure dem Körper zuzuführen. Darüber hinaus biete unser L-Arginin Base Pulver eine konstante Basis, im Ihren Körper optimal versorgen zu können.
Hochwertige Lösbarkeit für den Organismus
Mit dem L-Arginin Base Pulver gelingt es Ihrem Organismus körpereigenes Muskelgewebe aufzubauen. Nur wenn derlei Prozesse gewährleistet sind, können sämtliche Abläuft reibunslos funktionieren. Das L-Arginin Base Pulver kann eine Lücke in Ihrem Ernähtungsplan schließen. Unser eriebiges Pulver enthält keinerlei tierische Inhaltesstoffe.
Why can not I find information on the mode of action of this product? Click here