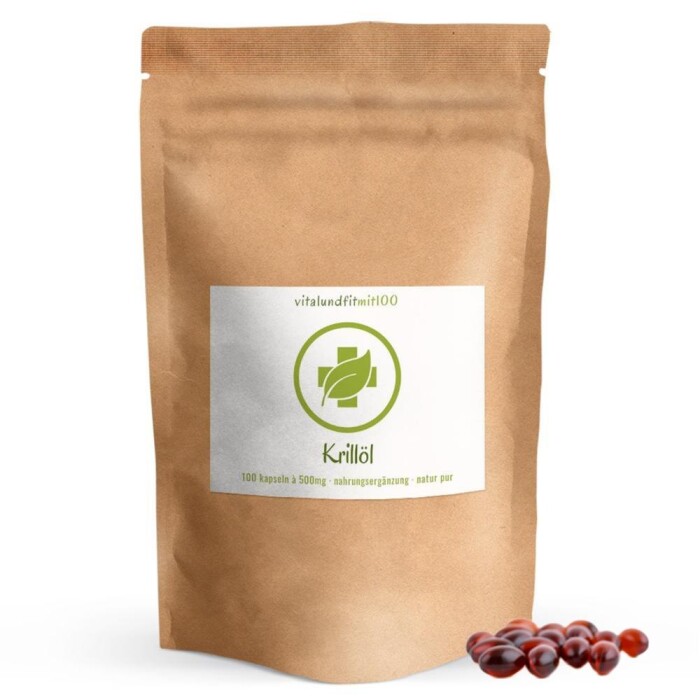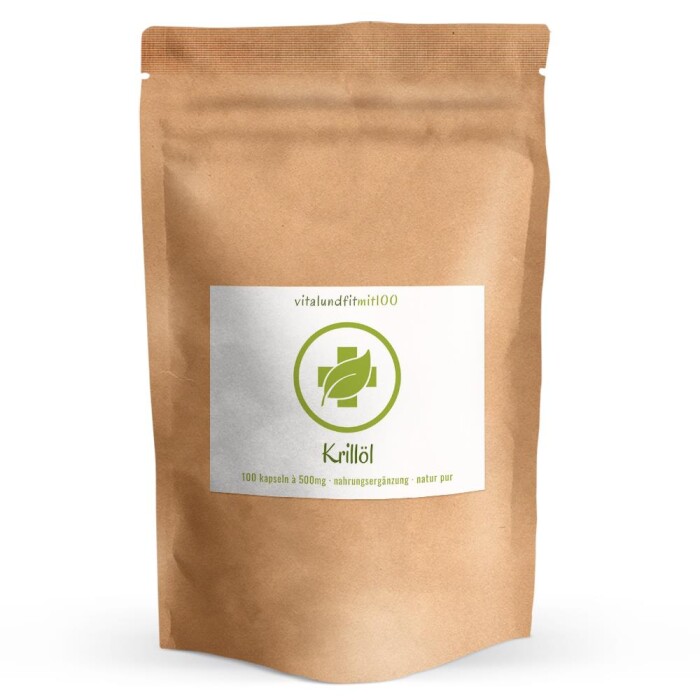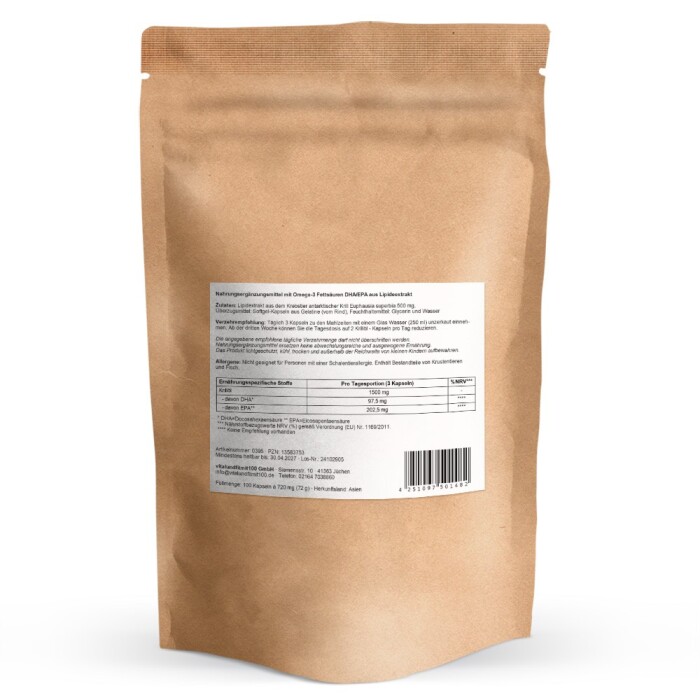 Krill oil 100 x 500mg soft gel capsules
Base price
32,81 € per 100 g
See Best Offers
From 2: 22,95 € (31,44 € per 100 g)
From 3: 21,95 € (30,07 € per 100 g)
From 5: 20,95 € (286,99 € per 1 kg)
Available now!
Place your order within and we ship the goods today.
From the depths of the Antarctic Ocean
---
---
Item no.: 0395
Content/amount: 73 g
EAN: 4251097501482
Country of origin: China
Natural & certified ingredients
Carefully & conscientiously selected raw ingredients
Fair quality at fair prices
For over 10 years, healthy trust
developed and handcrafted with plenty of

❤

in Germany.
Krill oil is made from small shellfish. In the Antarctic Ocean, they form the biggest living biomass on Earth.
Dietary specific agents
per 1 capsule (500mg)
per daily serving (3 capsules)
NRV*
Krill oil
500mg
1500mg
**
- of which DHA
37.5mg
112.5mg
**
- of which EPA
62.5mg
187.5mg
**
* Nutrient reference values (%) in accordance with (EU) No. 1169/2011 Attachment XIII of the NRV: Nutrient reference values
** No recommendation available.
More features of our krill oil capsules
Sehr hoher Anteil an OMEGA-3 Fettsäuren. In Kombination mit Astaxanthin. Aus den Tiefen des antarktischen Ozeans
Krillöl wird aus Kleinkrebsen gewonnen. Sie bilden im antarktischen Ozean die größte Biomasse von Lebewesen auf der Erde und zeichnen sich durch ihren hohen Anteil an OMEGA-3-Fettsäuren aus.
Nahrungsergänzungsmittel mit mehrfach ungesättigten Fettsäuren stellen einen wertvollen Beitrag zu einer ausgewogenen, gesundheitsbewussten Lebensweise dar.
Mit dem Krillöl aus den Tiefen des antarktischen Ozeans bereichern Sie Ihre Ernährung kraftvoll! Die Kleinkrebse bilden die größte summierte Biomasse von Lebewesen auf dem Planeten. Das aus ihnen gewonnene Öl weist eine ideale Balance wertvoller ungesättigter OMEGA-3-Fettsäuren auf.
Wichtige Produktdetails zum Krillöl
Das Öl hat einen hohen Anteil an OMEGA-3-Fettsäuren, Astaxanthin, Calcium, Vitamin B1Thiamin und Vitamin D. Im Lieferumfang enthalten sind 100 Softgelkapseln im 100 % biologisch abbaubaren BIO-Doypack (Standbodenbeutel mit Druckverschluss). Eine Kapsel enthält 500 mg des Krillöls (davon 37,5 mg DHA, 62,5 mg EPA). Die empfohlene Tagesration beträgt 3 Kapseln (1500 mg Krillöl, 112,5 mg DHA, 187,5 mg EPA), zu Mahlzeiten mit reichlich Flüssigkeit eingenommen. Bitte beachten Sie, dass die angegebene und empfohlene tägliche Verzehrmenge nicht überschritten werden darf und dass Nahrungsergänzungsmittel keine gesunde, abwechslungsreiche und ausgewogene Ernährung ersetzen. Bewahren Sie die Kapseln außerhalb der Reichweite von kleinen Kindern auf. Aus den Tiefen des antarktischen Ozeans. Einer kleinen Krebsart, die in den klarsten und zugleich kältesten Gewässern der Antarktis ihre Heimat hat, ist ein wahres Lebenselixier zu verdanken, nämlich das Krill-Öl. Obwohl der Krebs mit dem imposanten lateinischen Namen Euphausua superba einen riesigen Anteil Biomasse im Ozean der Antarktis bildet, dürfen jährlich nur etwa 0,03 Prozent davon gefangen werden. Der Krill aus dieser Region liefert Omega-3- und Omega-6-Fettsäuren in einem beeindruckenden Verhältnis von 15 zu 1.
Fischöl ist nicht gleich Fischöl. Bei Krill-Öl ist das Verhältnis der Fettsäuren optimal. Im Gegensatz zu vielen herkömmlichen Fischöl-Präparaten, in denen das Fischöl als Triglyceride vorliegt, sind die Fettsäuren darüber hinaus bei Krill-Öl an Phospholipide gebunden, was bedeutet, dass sie vom Organismus deutlich besser aufgenommen werden können.
Why can not I find information on the mode of action of this product? Click here