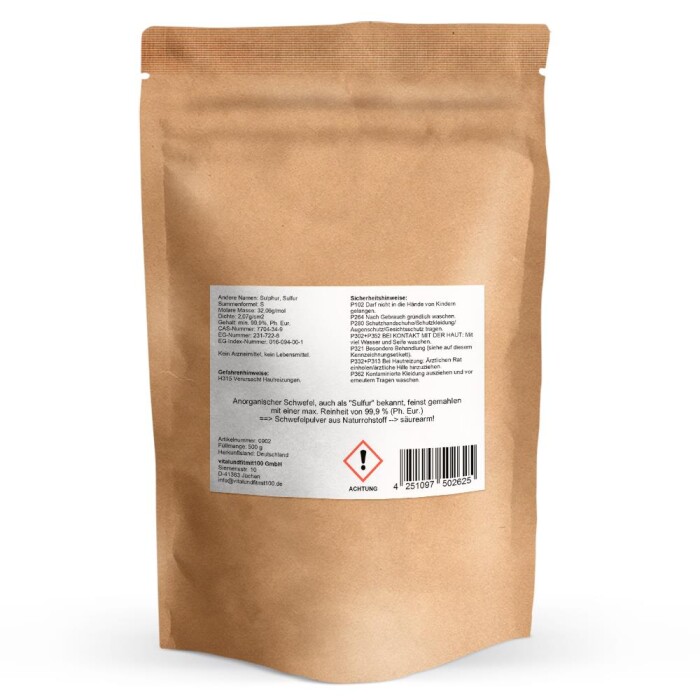 Inorganic sulfur 99.9% Ph. Eur. finely ground 500g
Base price
1,16 € per 100 g
See Best Offers
From 2: 5,60 € (11,20 € per 1 kg)
From 3: 5,40 € (10,80 € per 1 kg)
From 5: 5,20 € (10,40 € per 1 kg)
Available now!
Place your order within and we ship the goods today.
Inorganic sulfur (sulfur, sulphur) - pharmaceutical grade (Ph. Eur.) Also known as sulphur.
---
---
Item no.: 0902
Content/amount: 500 g
EAN: 4251097502625
Country of origin: Deutschland
Natural & certified ingredients
Carefully & conscientiously selected raw ingredients
Fair quality at fair prices
For over 10 years, healthy trust
developed and handcrafted with plenty of

❤

in Germany.
Inorganic sulfur (sulfur) - pharmaceutical grade (Ph. Eur.)
Exclusive top quality, MADE in GERMANY
Finely ground
Other names: sulphur, sulfur
Chemical formula: S
Molar mass: 32.06g/mol
Density: 2,07g/cm2
Contains: at least 99,9%, Ph. Eur.
CAS number: 7704-34-9
EG number: 231-722-6
EG index number: 016-094-00-1
Not a food, not a medicine.
Hazard statement:
H315 Causes skin irritation.
Safety statement:
P102 Keep out of reach of children.
P264 Wash thoroughly after handling.
P280 Wear protective gloves/protective clothing/eye protection/face protection.
P302+P352 IF ON SKIN: Wash with plenty of soap and water.
P321 Specific treatment (see on this label).
P332+P313 If skin irritation occurs: Get medical advice/attention.
P362 Take off contaminated clothing and wash before reuse.
Why can not I find information on the mode of action of this product? Click here