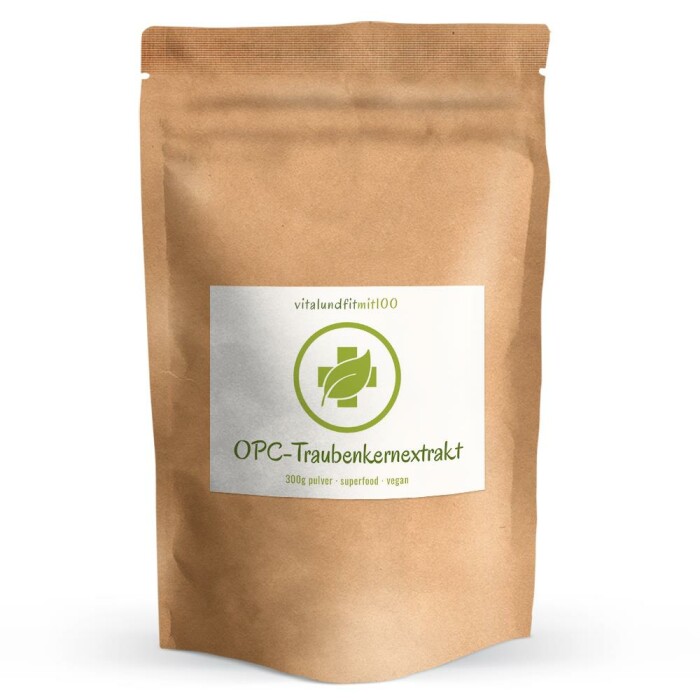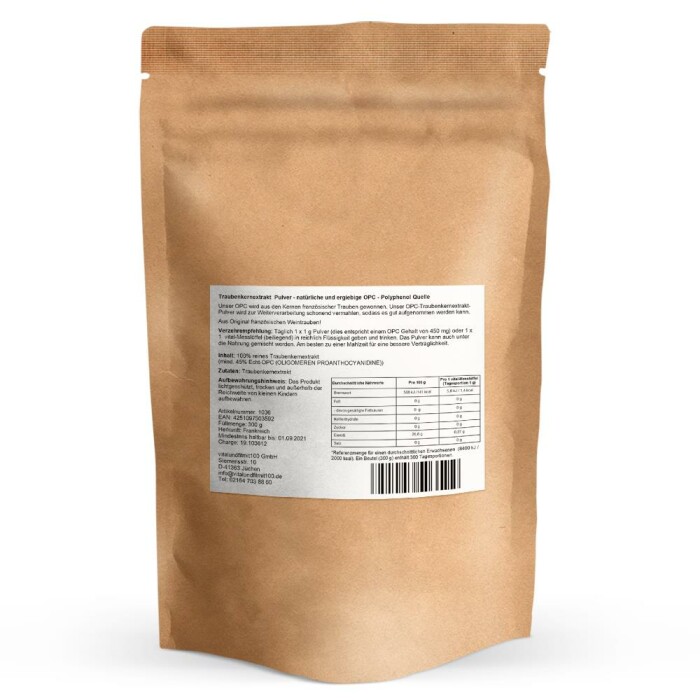 Grape seed extract OPC powder 300g
Base price
116,50 € per 1 kg
See Best Offers
From 2: 33,95 € (113,17 € per kg)
From 3: 32,95 € (109,83 € per kg)
From 5: 31,95 € (106,50 € per kg)
Available now!
Place your order within and we ship the goods the next working day.
New! Pure OPC grape seed extract powder!
---
---
Item no.: 1036
Content/amount: 0.3 kg
EAN: 4251097503592
Country of origin: Frankreich
Natural & certified ingredients
Carefully & conscientiously selected raw ingredients
Fair quality at fair prices
For over 10 years, healthy trust
developed and handcrafted with plenty of

❤

in Germany.
OPC stands for "oligomeric proanthocyanidins" or "oligomeric procyanidin". They are natural plant products belonging to the flavonoid group, extracted from grape seeds.
Our OPC is extracted from the seeds of French grapes. Our high-quality OPC grape seed extract powder is finely ground so it can be easily absorbed.
Save money by filling your own capsules or simply taking the powder directly.
Special features of our OPC grape seed extract
100% Vegan
Gluten-free / lactose-free
No artificial additives
Fresh product
Extracted from French grape seeds
Contains: Contains 100% pure grape seed extract (at least 45% real OPC (OLIGOMERE PROANTHOCYANIDINE))
Ingredients: Grape seed extract
Recommended intake:
Add 1 x 1g of powder (constitutes 450mg of OPC) or 1 x 1 vital spoonful (included) to plenty of liquid and drink each day. The powder can also be mixed into food. Take with food to improve tolerance.
Do not exceed the recommended daily dose. Dietary supplements cannot replace a healthy, varied and balanced diet.
Storage: This product should be kept in a dry, dark place out of the reach of children.
Nutritional values
per 1 vital spoonful (= 1 serving, 1g)
per 100g
Energy
5.8kJ / 1.4kcal
588 kJ /141 kcal
of which fatty acids
0g
0g
More features of our OPC grape seed extract powder
Why can not I find information on the mode of action of this product? Click here