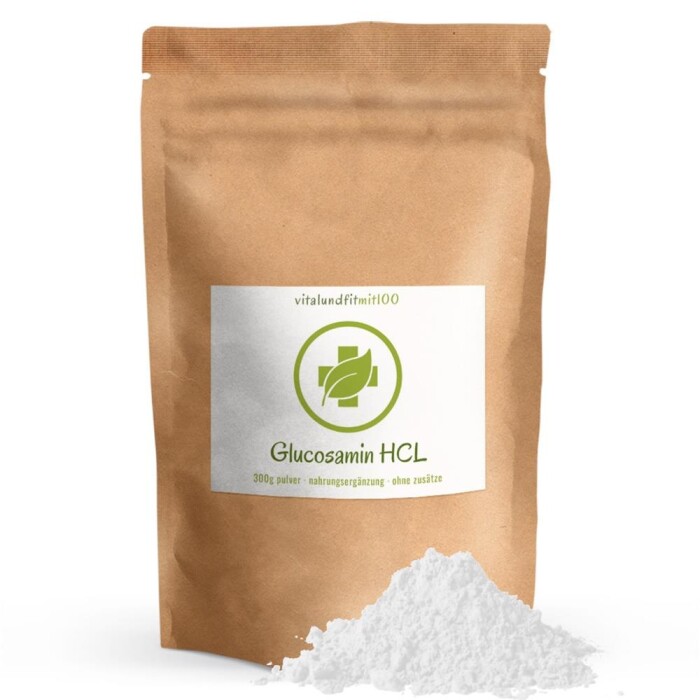 Glucosamine HCL powder 300g
Base price
53,17 € per 1 kg
Available now!
Place your order within and we ship the goods the next working day.
A highly concentrated amino sugar found in cartilage.
---
---
Item no.: 1025
Content/amount: 300 g
EAN: 4251097503394
Country of origin: Deutschland
Natural & certified ingredients
Carefully & conscientiously selected raw ingredients
Fair quality at fair prices
For over 10 years, healthy trust
developed and handcrafted with plenty of

❤

in Germany.
Dietary supplement with purest glucosamine
Glucosamine is a highly concentrated amino sugar naturally found in the human body. It's part of connective tissue, cartilage and synovial fluid.
Our glucosamine HCL (hydrochloride) is a white, crystalline powder extracted from the shells of shellfish. Glucosamine HCL can be absorbed by the body especially easily.
Special features of our glucosamine HCL powder:
  From natural sources
  Tested for toxins and microbiology
  No artificial additives
  Free from colorants and flavorings
  In resealable paper bag
  Finely ground
  Guaranteed quality - MADE IN GERMANY!
Contains: Contains 100% pure glucosamine HCL powder
Recommended intake: Add 1g powder or 1 vital spoonful (included) to plenty of liquid and drink daily. The powder can also be mixed into food.
Do not exceed the recommended daily dose. Dietary supplements cannot replace a healthy, varied and balanced diet. This product should be kept out of the reach of small children.
Storage: This product should be kept in a dry, dark place out of the reach of children.
Dietary specific agents
per 1 vital spoonful
(daily serving 1g)
NRV*
* Nutrient reference values (%) in accordance with (EU) No. 1169/2011 Attachment XIII of the NRV: Nutrient reference values
** No recommendation available
More features of our glucosamine HCL powder
Why can not I find information on the mode of action of this product? Click here