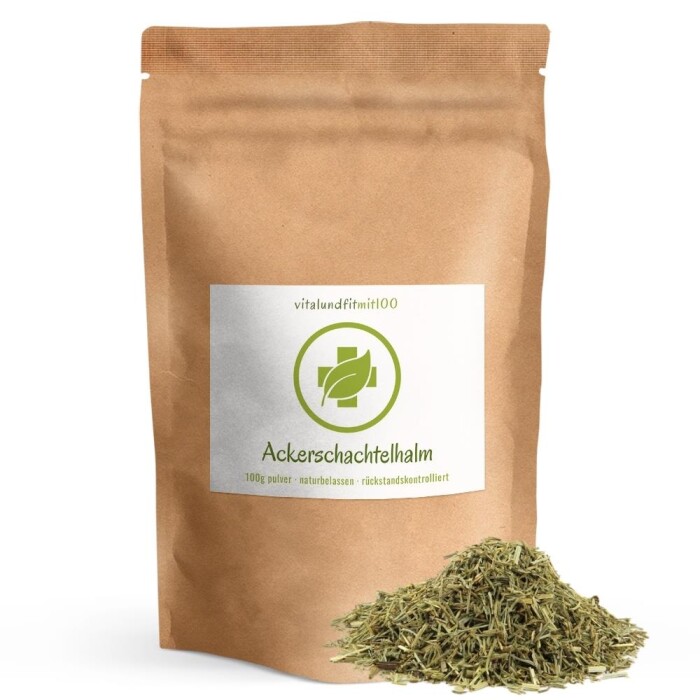 Field horsetail 100 g
Base price
4,95 € per 100 g
See Best Offers
From 2: 4,45 € (4,45 € per 100 g)
From 3: 3,95 € (39,50 € per 1 kg)
From 5: 3,45 € (34,50 € per 1 kg)
Available now!
Place your order within and we ship the goods the next working day.
Fine cut and carefully dried horsetail herb (horsetail) as a tasty horsetail tea; absolutely natural, residue-controlled and without additives. Filled in resealable kraft paper bag.
---
---
Item no.: 1142
Content/amount: 100 g
EAN: 4251097505749
Country of origin: Deutschland
Natural & certified ingredients
Carefully & conscientiously selected raw ingredients
Fair quality at fair prices
For over 10 years, healthy trust
developed and handcrafted with plenty of

❤

in Germany.
Ackerschachtelhalm 100 g
Acker-Schachtelhalm (Equisetum arvense), also known as "horsetail herb" or "horsetail weed", is a plant that grows on loamy, moist meadows, in grasslands and on horsetails and can reach a growth height of up to 50 cm. Field horsetail is naturally rich in pebbles and also contains flavonoids.
Our dried and very finely cut field horsetail is used mainly as tea. If required, you can also add a little honey to your horsetail tea.
Recommendation for use: For the preparation of horsetail tea, 2 teaspoons of horsetail herb should be covered with 200 ml of boiling water. The tea should not be brewed for more than 10 minutes.
Our finely chopped, gently dried and untreated horsetail herb from wild collection is rice-controlled, without admixtures and free from additives, colourings and artificial fragrances. You thus receive a natural product of the highest quality
.
Special features of our field horsetail:
  100% pure natural product
  from wild collection
  gently dried
  naturally rich in pebblesäure
  also contains flavonoids
  fresh herbs guaranteed
  for drinking after preparing a tea infusion
  rudder level controlled
  free of additives, dyes and artificial fragrances
Additives: 100% pure, cut and dried horsetail
Note: Not suitable for raw consumption.
Storage instructions: Keep product out of light, dry, cool and out of the reach of young children.
Packaging: Doypack / stand-up pouch made of kraft paper with pressure closure, resealable
Type: Tea
Contents / quantity: 100 g
Country of origin: Germany
EAN: 4251097505749
Manufacturer: vitalundfitmit100 GmbH, Siemensstr. 10, 41363 Jüchen
Why can not I find information on the mode of action of this product? Click here