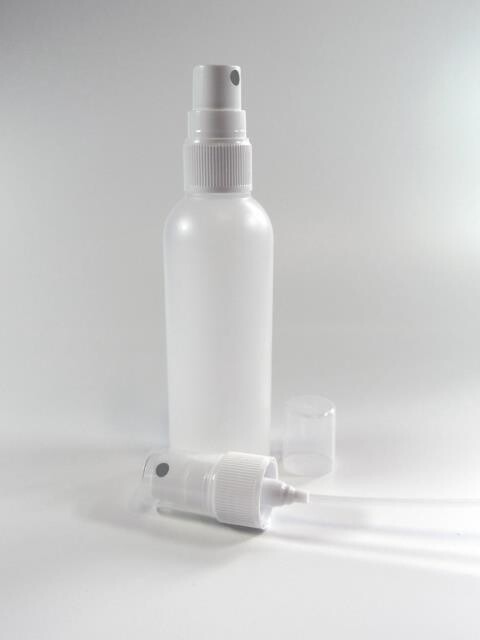 100ml empty transparent spray bottle in HDPE including pump and atomizer (sprayer)
Available now!
Place your order within and we ship the goods the next working day.
Important: bottle is made from HDPE, not PET! HDPE... Polyethylene is especially resistant to acids, bases and chemicals!
---
Natural & certified ingredients
Carefully & conscientiously selected raw ingredients
Fair quality at fair prices
For over 10 years, healthy trust
developed and handcrafted with plenty of

❤

in Germany.
100ml empty spray bottle in HDPE (transparent)
including pump and atomizer (sprayer)
Special features:
There is a metal spring (that facilitates the spraying) in the center of our pump/atomizer that is coated with a plastic as metals should not come into contact with the active ingredient.
Note on use with materials that should not be in extended contact with metal (DMSO, colloidal silver etc.)
The interior features a special HDPE coating, allowing longer/extended storage of materials such as DMSO or colloidal silver. An inner coating of the spring and ball is not possible as the mechanism would no longer function.
Tip: After one or more pumps, remove the pump/atomizer and pump until empty. If required, rinse with clean water and replace onto the bottle, twisting to secure. Thanks to the coating on the inside, the contents will not come into contact with the spring/ball.
Why can not I find information on the mode of action of this product? Click here