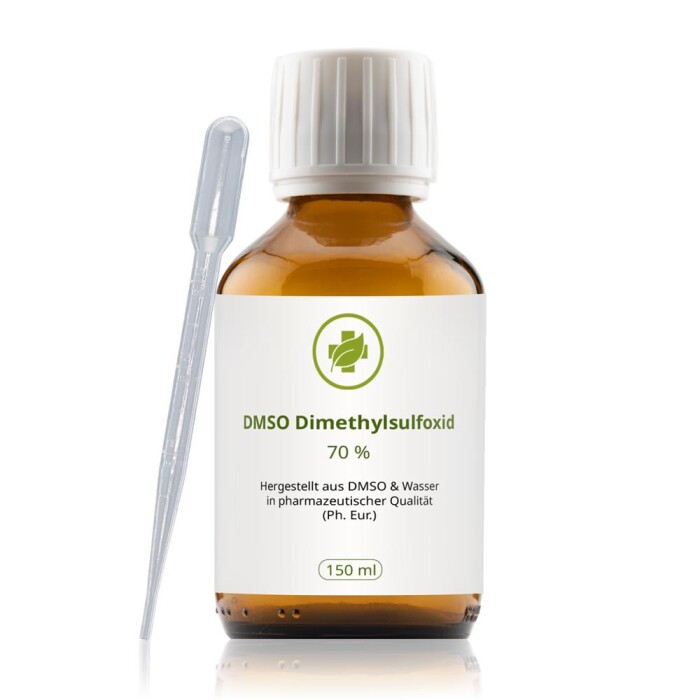 Dimethyl sulfoxide (DMSO) (70%, made from DMSO in compliance with Ph. Eur.) Brown glass 150ml
14,95 € 10,47 €
Base price
69,77 € per 1 l
You save:
30%, that is 4,49 €
Available now!
Place your order within and we ship the goods today.
Dimethyl sulfoxide (DMSO) (70%, made from DMSO in compliance with Ph. Eur.) 150ml brown glass bottle with dropper.
---
---
Item no.: 0575
Content/amount: 150 ml
EAN: 4251097502090
Country of origin: Deutschland
Natural & certified ingredients
Carefully & conscientiously selected raw ingredients
Fair quality at fair prices
For over 10 years, healthy trust
developed and handcrafted with plenty of

❤

in Germany.
  70%ige DMSO solution made from DMSO in compliance with Ph. Eur. and water Ph. Eur.
DMSO is a transmitter and enhancer, universal all-purpose solvent and organic solvent.
Dimethyl sulfoxide is a liquid that smells like garlic and features exceptional properties.
The properties and applications of DMSO are manifold.
Note: DMSO diluted to 70% is produced using DMSO (min. 99.9%, Ph. Eur.) and water according to Ph. Eur. Due to the dilution, the freezing point drops from 18.2°C to below -40°C.
Certificate of Analysis: Download
CAS number: 67-68-5
EG number: 200-664-3
Ingredients: 99,9 % DMSO (dimethylsulfoxide) pharmaceutically pure, 70% dimethylsulfoxide, produced from DMSO according to Ph. Eur. and 30% water Ph. Eur.
Safety Data Sheet: Safety Data Sheet , Specification DMSO pure substance , Specification water , Specification
Storage instructions: Keep the product out of the reach of children.
Packaging: Pharmaceutical amber glass bottle with dropper insert, child safety cap and originalitätsring
Content / Volume: 150 ml
EAN:4251097502090
Country of origin: Germany
Manufacturer: vitalundfitmit100 GmbH, Siemensstr. 10, 41363 Jüchen
Why can not I find information on the mode of action of this product? Click here