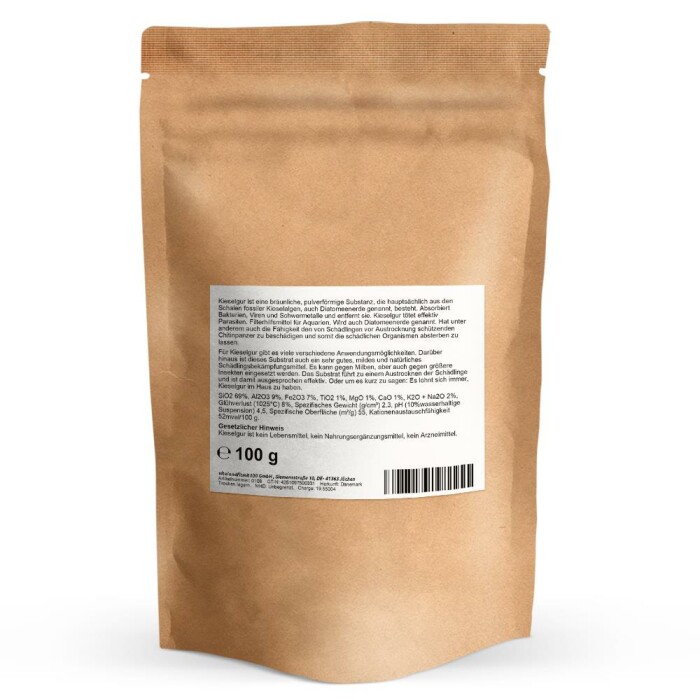 Diatomaceous earth powder 100g
Base price
99,50 € per 1 kg
See Best Offers
From 2: 9,45 € (94,50 € per kg)
From 3: 8,95 € (89,50 € per kg)
From 5: 8,45 € (84,50 € per kg)
Available now!
Place your order within and we ship the goods today.
Top quality. 100g bag.
---
---
Item no.: 0108
Content/amount: 100 g
EAN: 4251097500331
Country of origin: Dänemark
Natural & certified ingredients
Carefully & conscientiously selected raw ingredients
Fair quality at fair prices
For over 10 years, healthy trust
developed and handcrafted with plenty of

❤

in Germany.
Diatomaceous earth powder 100g - top quality
Diatomaceous earth is a natural product made from fossilized algae. Its many properties make it so versatile. We offer you top-quality diatomaceous earth powder in 100g units.
Versatile powder made from fossilized algae
Diatomaceous earth is a white powdery substance with a variety of uses. Diatomaceous earth is mostly made up of fossilized diatom algae, giving it its name. it's highly prized as a filter, natural defense against pests for pets and a filler (e.g. in making tablets and powders with nutritional supplements). It is often mixed up with siliceous earth, which is also a popular product. One of the biggest differences between the two is in the silicon dioxide content.
Diatomaceous earth can be used to absorb bacteria, viruses and heavy metals and is used to repel and kill parasites on pets and livestock. In aquariums, diatomaceous earth is used as a filter in water purification. Diatomaceous earth also boasts the ability to dry out pests that are otherwise hard to kill because of their chitinous exoskeletons. Diatomaceous earth damages the exoskeleton so the pest dies.
Easily order diatomaceous earth online
At vitalundfitmit100, you can buy diatomaceous earth in a resealable 100g bag. Production involves a time-consuming process with manual cleaning (airstream sorting) for the best quality). As your specialist store for natural products, you'll also find top-quality nutritional supplements, beauty products and superfoods in our online shop
An overview of diatomaceous earth's features:
Powder to repel pests
Mild, natural pesticide
Absorbs bacteria, viruses and heavy metals
Helps with pets/livestock (aquariums, chickens etc.)
100g top-quality powder
Special features of diatomaceous earth
Why can not I find information on the mode of action of this product? Click here