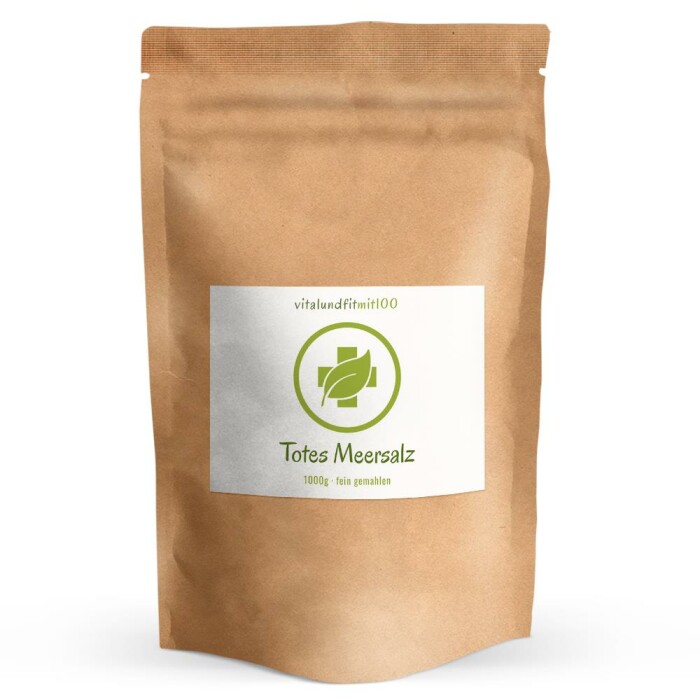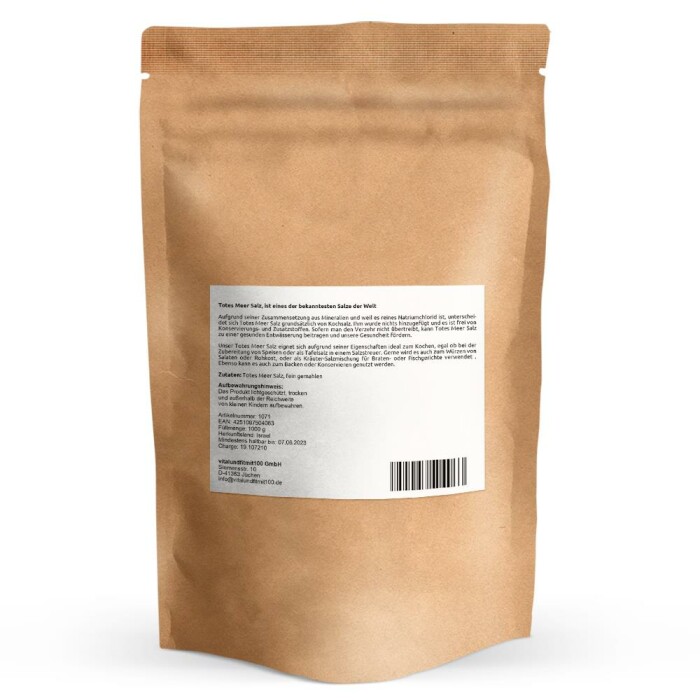 Dead Sea salt finely ground 1000 g
Base price
4,95 € per 1 kg
See Best Offers
From 2: 4,75 € (4,75 € per kg)
From 3: 4,55 € (4,55 € per kg)
From 5: 4,35 € (4,35 € per kg)
Available now!
Place your order within and we ship the goods today.
A true all-rounder: natural Dead Sea salt, extracted from the Dead Sea of Israel. Intense salty taste, ideal for cooking, but can also be used in the salt mill.
---
---
Item no.: 1071
Content/amount: 1000 g
EAN: 4251097504063
Country of origin: Israel
Natural & certified ingredients
Carefully & conscientiously selected raw ingredients
Fair quality at fair prices
For over 10 years, healthy trust
developed and handcrafted with plenty of

❤

in Germany.
Dead Sea salt, by its multifaceted application is one of the most known salts of the world.
Due to its composition of minerals and because it is pure sodium chloride, Dead Sea salt differs fundamentally from table salt. Nothing has been added to it and it is free of preservatives and additives. This salt is just as suitable as table salt as it is for cooking. Unless you exaggerate your consumption, Dead Sea salt can contribute to healthy development and promote our health.
Special features of our Dead Sea salt
  vegan
  intensive salty
  ideal for cooking
  no additives
  100 % Natural product
Contents: Dead Sea salt, finely ground
Our Dead Sea salt is ideal for cooking because of its properties, whether it is used in the preparation of food or as table salt in a salt shaker. It is also used to season salads or raw vegetables, or as a herb-salt mixture for roasts or fish dishes. It can also be used for baking or preserving.
Packaging: Doypack / stand-up pouch made of kraft paper with pressure closure, resealable
Type: Spice
Content / Filling quantity:
1000 g
Country of origin: Israel
EAN: 4251097504063
Manufacturer: vitalundfitmit100 GmbH, Siemensstr. 10, 41363 Jüchen
Why can not I find information on the mode of action of this product? Click here