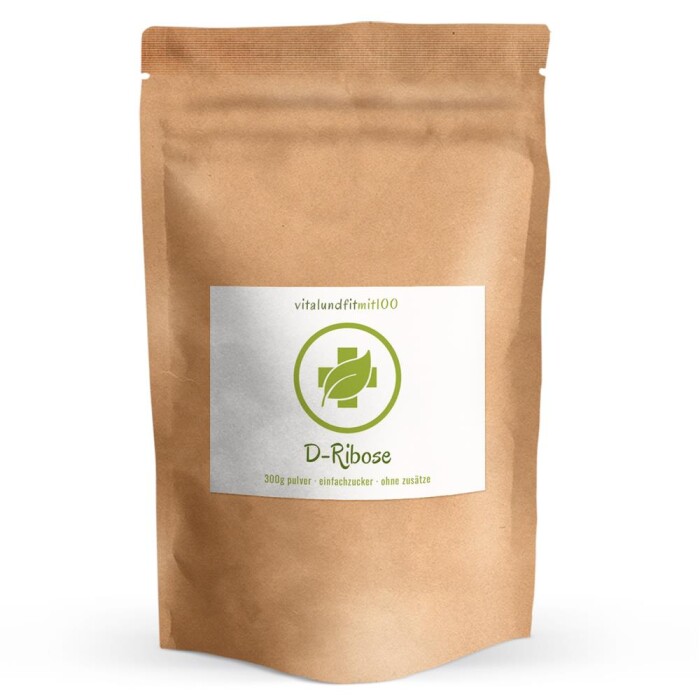 D-Ribose Pulver 300 g
Base price
69,83 € per 1 kg
See Best Offers
From 2: 20,45 € (68,17 € per kg)
From 3: 19,95 € (66,50 € per kg)
From 5: 19,45 € (64,83 € per kg)
Available now!
Place your order within and we ship the goods today.
D-Ribose - A simple sugar to increase your energy sources.
---
---
Item no.: 1196
Content/amount: 300 g
EAN: 4251097506678
Country of origin: Deutschland
Natural & certified ingredients
Carefully & conscientiously selected raw ingredients
Fair quality at fair prices
For over 10 years, healthy trust
developed and handcrafted with plenty of

❤

in Germany.
D-ribose powderr
D-ribose is necessary for the synthesis of ATP (the rebuilding of adenosine triphosphate), which is a very slow process in our body. However, the process is significantly accelerated by the intake of D-ribose. During mental or physical exertion, our cells need the molecule ATP, as this is the most important fuel for energy.
No matter what age, D-ribose can increase the energy of the body's cells. Did you know that the simple sugar D-ribose is found in every single cell of the body? The sugar is part of the nucleotides that are responsible for the composition of your DNA and RNA.
There are two forms of sugar. A distinction is made between the D form and the L form, where the L form refers to synthetic sugar and the D form is the natural form. Our D-ribose powder is therefore a natural monosaccharide that is perfectly suited for vegetarians and vegans.
Special features of our D-Ribose powder:
  100% Vegan & Pure
  Gluten-free
 Without artificial additives
  Optimum solubility
  Guaranteed quality
Content: Contains pure D-ribose powder
Consumption recommendation:Daily 1 x 4000 mg (4g) powder in plenty of liquid and drink.
Do not exceed the recommended daily intake. Food supplements do not replace a healthy, varied and balanced diet.
Storage advice:Store the product away from light, dry and out of reach of small children.
Nutritional substances
Per daily portion (4 g)
NRV*
* Nutrient reference values NRV (%)** No recommendation available
Packaging: Doypack / stand-up pouch made of kraft paper with pressure seal, reclosable
Type: Food supplements
Contents / filling quantity: 300 g
Country of origin: Germany
EAN: 4251097506678
Manufacturer: vitalundfitmit100 GmbH, Siemensstr. 10, 41363 Jüchen
Why can not I find information on the mode of action of this product? Click here