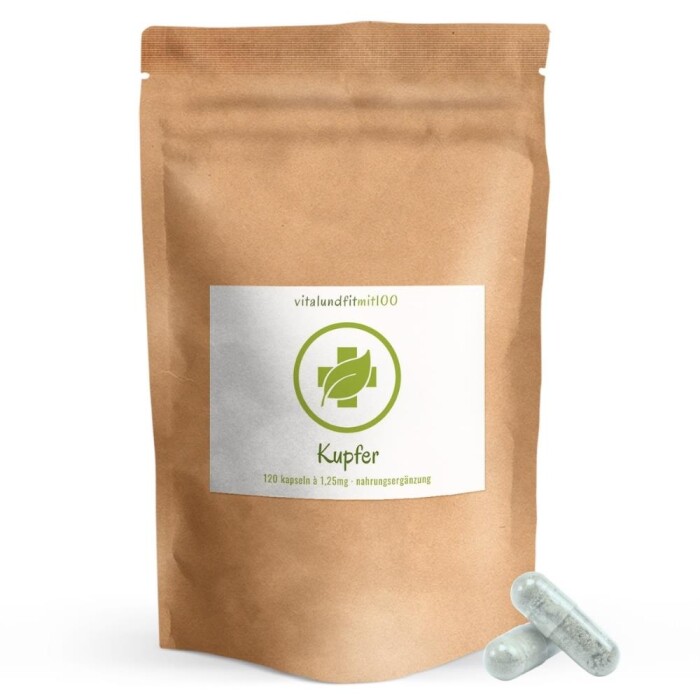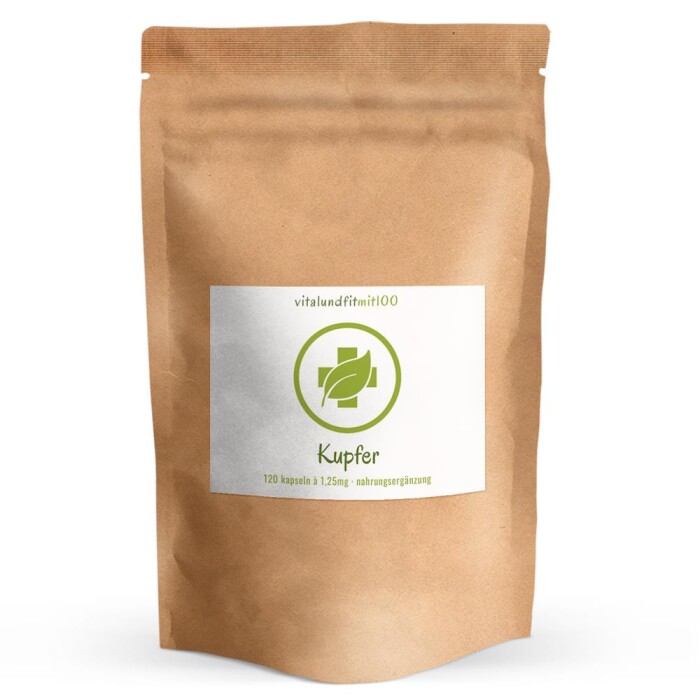 Copper capsules 120 pieces à 2 mg
Base price
74,79 € per 100 g
See Best Offers
From 2: 17,45 € (72,71 € per 100 g)
From 3: 16,95 € (70,63 € per 100 g)
From 5: 16,45 € (68,54 € per 100 g)
Available now!
Place your order within and we ship the goods the next working day.
Copper is a component of enzymes of amino acid and energy metabolism
---
---
Item no.: 1077
Content/amount: 24 g
EAN: 4251097504186
Country of origin: Deutschland
Natural & certified ingredients
Carefully & conscientiously selected raw ingredients
Fair quality at fair prices
For over 10 years, healthy trust
developed and handcrafted with plenty of

❤

in Germany.
Copper is a component of amino acid and energy metabolism enzymes
It is involved in the formation of red blood cells and promotes iron uptake
The trace element copper is essential for our biological systems. It is stored mainly in the bones, muscles and liver. It can help to support the functions of the nervous and immune systems as well as the maintenance of normal connective tissue and energy metabolism.
Special features of our copper capsules
  100% vegan
  gluten-free/lactose-free
  each contain 3 mg copper gluconate
  without magnesium stearate
  Vegi Capsules (HPMC)
  especially suitable for vegans
  Guaranteed quality
Contents: Contains 120 capsules á 3 mg copper gluconate
Ingredients: copper gluconate, rice capsule: Cellulose HPMC
Recommended intake: Take 1 x 1 capsule daily with a meal and a glass of water.

Do not exceed the recommended daily intake. Food supplements do not replace a healthy, varied and balanced diet.
Store the product out of the reach of young children.
Storage instructions: Store in a cool and dry place.
Food specific substances
per 1 capsule)
%NRV*
* Nutrient Reference Values NRV (%) according to Regulation (EU) No 1169/2011 Annex XIII NRV: Nutrient Reference Values
Packaging: Doypack / stand-up pouch made of kraft paper with pressure closure, resealable
Country of origin: Germany
EAN: 4251097504186
Manufacturer: vitalundfitmit100 GmbH, Siemensstr. 10, 41363 Jüchen
Why can not I find information on the mode of action of this product? Click here