Pipette for 100ml brown glass (DIN18)
Pipette closure (DIN 18) for our 100ml brown glass bottle.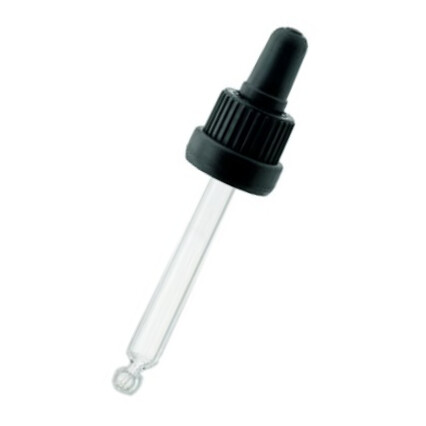 Delivery status: Available now!
Shipping time: 1 - 2 workdays**
Shipping: Mo-Fr Until 14 O'clock
Natural & certified ingredients
Carefully & conscientiously selected raw ingredients
Fair quality at fair prices
For over 10 years, healthy trust
developed and handcrafted with plenty of

❤

in Germany.
Components for pipette mounting
Pipette: clear glass pipette made from III type glass with curved end
Screw cap: polypropylene
Suction bulb: thermoplastic elastomer (TG6AAA)
Pipette features
Weight: 7g
Closure: Tamper-proof closure
Suction volume: 0.6ml
Pipette length: 97mm
Extension into the bottle: 95mm
Total length: 118mm
Thread: DIN 18 (18mm)
Why can not I find information on the mode of action of this product? Click here