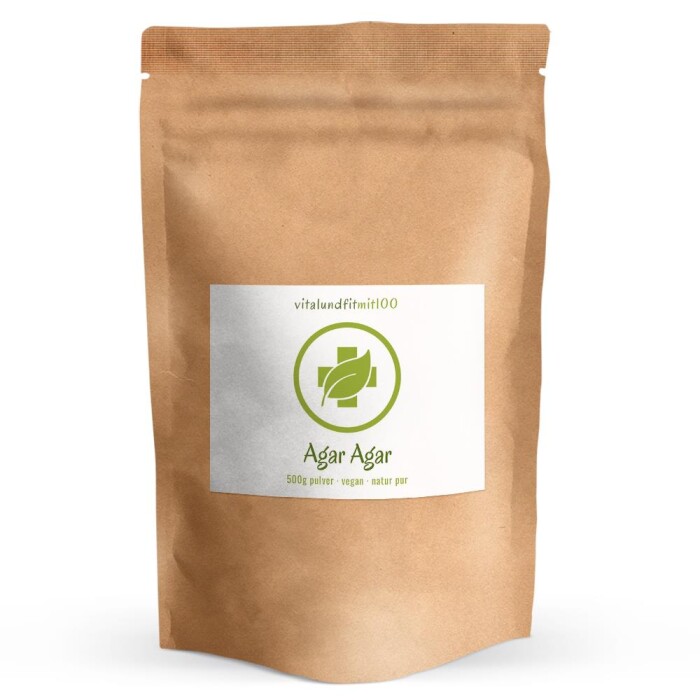 Agar Agar Pulver 500 g
Base price
43,90 € per 1 kg
See Best Offers
From 2: 21,45 € (42,90 € per kg)
From 3: 20,95 € (41,90 € per kg)
From 5: 20,45 € (40,90 € per kg)
Available now!
Place your order within and we ship the goods the next working day.
Pure and vegan Ager Ager powder obtained from cell walls of algae. Neutral in taste and very good for digestion as well as for the increase of the digestive system.
---
---
Item no.: 1139
Content/amount: 500 g
EAN: 4251097505718
Country of origin: Deutschland
Natural & certified ingredients
Carefully & conscientiously selected raw ingredients
Fair quality at fair prices
For over 10 years, healthy trust
developed and handcrafted with plenty of

❤

in Germany.
Agar Agar is a carbohydrate consisting of various simple sugars. It is made from many algae species by removing it from their cell walls. Due to its chemical structure it is very similar to the dietary fibres of domestic fruits and vegetables and cannot be completely digested in the stomach, just like these.
The carbohydrate improves the digestion, because the dietary fibres, which are excreted undigested, are relatively large compared to others, the intestines have to work harder and this promotes and improves the digestive process. Agar Agar also has very good swelling properties and therefore absorbs water. This leads to an increase in the volume of the increased food, which in turn increases the stomach's activity. Agar Agar therefore promotes digestion and increases the risk of saturation.

Our agar agar powder in finest raw food quality is dissolved in hot liquid for use in cooking and can thus be used as a gelling agent or as an ingredient for a cake as well as in many other delicious dishes. Since agar agar is made from blue and red algae and is therefore 100% vegan, vegans can also enjoy all gelatin-rich dishes.
Special features of our agar agar powder:
  gluten-free
  lactose-free
  without artificial additives
  Raw food quality
  guaranteed top quality;



Average Nährwerte

per 100 g

Calorific value

774 KJ / 193 Kcal

Ingredients: pure Agar Agar Powder

Packaging: Doypack / stand-up pouch made of kraft paper with pressure seal, resealable

Contents / Quantity: 500g

Country of origin: Germany

EAN: 4251097505718

Manufacturer: vitalundfitmit100 GmbH, Siemensstr. 10, 41363 Jüchen

Translated with www.DeepL.com/Translator
Why can not I find information on the mode of action of this product? Click here