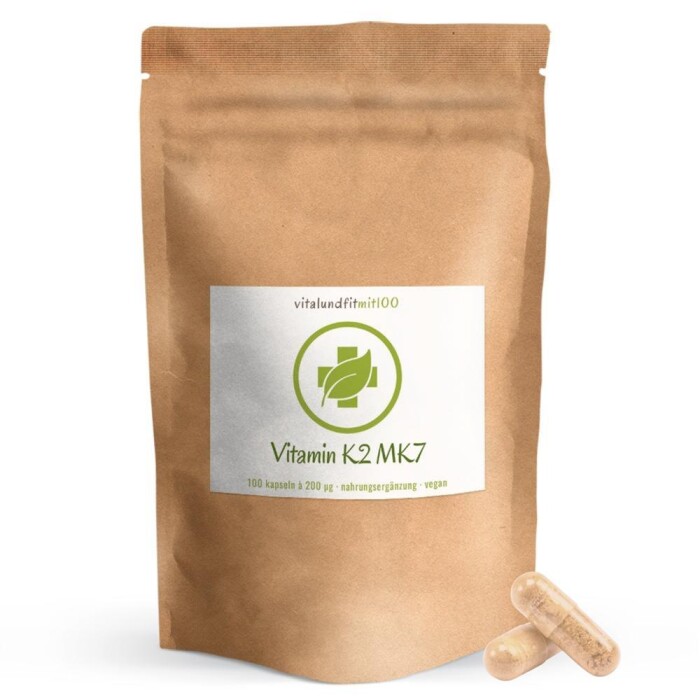 Vitamin K2 (MK7 all-trans) capsules. 100 pieces ą 200 µg
Base price
94,75 € per 100 g
See Best Offers
From 2: 18,45 € (92,25 € per 100 g)
From 3: 17,95 € (89,75 € per 100 g)
From 5: 17,45 € (87,25 € per 100 g)
Not available now!
Place your order within and we ship the goods the next working day.
Vitamin K2 capsules in the form MK7 all-trans. Natural production, fermentatively obtained from bacteria. Highest All-Trans content of 99.7% and high bioavailability. Available in resealable kraft paper bag.
---
---
Item no.: 1101
Content/amount: 20 g
EAN: 4251097504551
Country of origin: Italien
Natural & certified ingredients
Carefully & conscientiously selected raw ingredients
Fair quality at fair prices
For over 10 years, healthy trust
developed and handcrafted with plenty of

❤

in Germany.
Vitamin K2 capsules in the form MK7 all-trans
Vitamin K2 is often underestimated, but it plays an important role in the human body and performs many important functions. Vitamin K2 is a fatty vitamin and exists in the form MK4, MK7 and MK9.
Menachinone-7,
MK7 for short, but is considered the most effective form of vitamin K2. It is more fatty, circulates the longest in the blood and has the highest bioavailability.
Vitamin K2 is mainly found in animal foods. However, fermented foods such as Käse and sauerkraut are also rich in vitamin K2.
The natural production of our vitamin K2 in the form
MK7 all-trans
is fermentatively obtained from bacteria and has an All-Trans content of 99.7% with a high bioavailability. Our capsules are constantly tested for heavy metals, microbiology and K2 content.
Our vitamin K2 capsules contain only 100% pure vitamin K2 and our capsules are made with HPMC (hydroxypropylmethylcellulose) which is water soluble (vegetable capsule material) compared to cellulose. Consequently, our K2 capsules are particularly suitable for vegetarians and vegans.
Special features of our vitamin K2 MK7 capsules:
  100% vegan
  gluten-free/lactose-free
  natural production of vitamin K2 by fermentation from bacteria
  patented raw material from Italy
  highest All-Trans content of 99.7%
  high bioavailability
  laboratory tested for heavy metals, microbiology and K2 content
  vegan capsules (hydroxypropylmethylcellulose, HPMC for short)
  no additives and preservatives
Contents: Contains 100 % pure vitamin K2 MK-7 in capsule form
Ingredients: Vitamin K2 (menachinone), Füllstoff (linseed flour), vegetarian capsule meal (HPMC)
Recommended intake: Take 1 x 1 capsule daily with plenty of liquid (200-300 ml) with a meal.
The recommended daily intake must not be exceeded. Food supplements do not replace a healthy, varied and balanced diet.
Caution: Persons treated with anticoagulants should discuss taking K2 with their physician!
Storage instructions: Keep the product dry, away from light and out of the reach of small children.
Dietary specific agents
per capsule (daily intake)
NRV*
Vitamin K2 (Menachinone)
200 µg
267%
* Nutrient Reference Values NRV (%) according to Regulation (EU) No 1169/2011 Annex XIII NRV: Nutrient Reference Values
Packaging: Doypack / stand-up pouch made of kraft paper with pressure closure, resealable
Contents / quantity: 100 Vegi capsules ą 200 µg (20 g)
Country of origin: Italy
EAN: 4251097504551
Manufacturer: vitalundfitmit100 GmbH, Siemensstr. 10, 41363 Jüchen
Why can not I find information on the mode of action of this product? Click here