Vitamin C capsules buffered 150 pieces à 600 mg
Buffered vegan vitamin C as stomach-friendly calcium ascorbate in tested quality. A sensible substitute especially for sensitive persons who have problems with conventional ascorbic acid. Finely ground powder filled in resealable bags.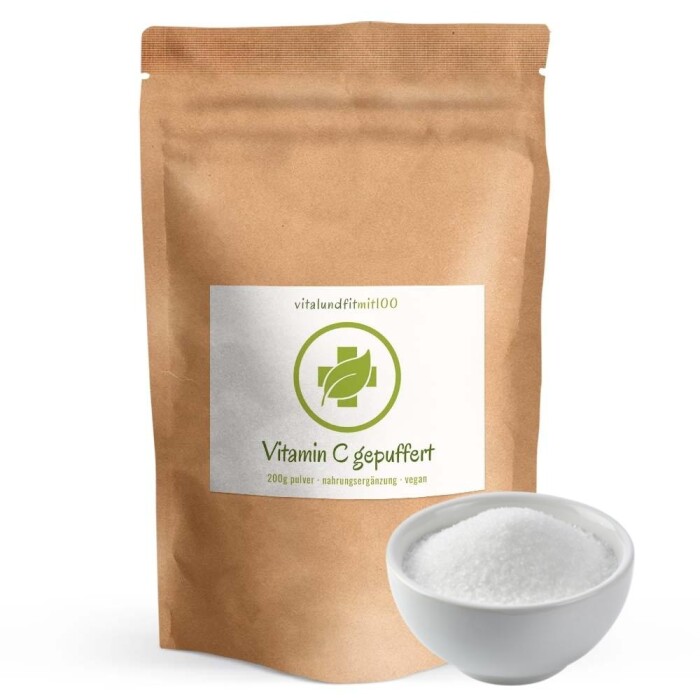 My advantages
Natural & certified ingredients
Carefully & conscientiously selected raw ingredients
Fair quality at fair prices
For over 10 years, healthy trust
developed and handcrafted with plenty of

❤

in Germany.
Shipping information
Delivery status: Available now!

Place your order within and we ship the goods the next working day.
Shipping time: 1 - 2 workdays**
You need the goods guaranteed the next working day? For a surcharge, we send the goods gladly with DHL Express. No delivery by DHL Express on a Saturday
Buffered vitamin C as a stomach-friendly calcium ascorbate
Vitamin C is probably the best known and most important vitamin ever, because it is involved in many processes in the human body and performs important tasks there. Since the human body cannot produce vitamin C itself, the nutrient must be ingested with food. Vitamin C is a radical. This valuable vitamin is found especially in vegetables and fresh fruit such as apple, kiwis, blackberries, pineapple, strawberries and especially citrus fruit such as mandarins, grapefruit and lemons.
Our vitamin C powder is buffered. Calcium ascorbate consists of ascorbic acid (vitamin C) and calcium (mineral/salt) and is particularly kind to the stomach. A sensible substitute especially for sensitive persons who have problems with the traditional ascorbic acid! For further processing, our buffered vitamin C powder is gently finely ground so that it can be absorbed especially well.
Vitamin C supports normal functioning of the immune system, contributes to normal collagen formation for normal functioning of blood vessels, bones, cartilage, gums, skin and teeth, helps protect cells from oxidative stress;It helps to reduce fatigue and fatigue, increases uptake of iron contributes to normal mental function and function of the nervous system, supports normal energy metabolism, contributes to regeneration of the reduced form of vitamin E.
Special characteristics of our vitamin C powder:
  100% vegan
  gluten-free/lactose-free
  buffered as calcium ascorbate
  especially kind to the stomach
  finely ground
  Optimum clarity
  without artificial additives and dyes
Contents: Contains 100 % pure vitamin C powder
Recommendation for use: Give and drink 1 x 600 mg powder or 1 vital measuring flask (enclosed) in plenty of (200-300ml) liquid daily. The powder can also be mixed with food.
The recommended daily intake must not be exceeded. Food supplements cannot replace a healthy, varied and balanced diet.
Storage instructions: Keep the product dry, out of the reach of small children and away from light.
Food specific substances
per 100 g
per 1 capsule (= daily portion 600 mg)
Calcium ascorbate (buffered ascorbins, uree-free)
10 000 mg
-
- of which vitamin C
8130.1 mg
487 mg (= 609 %)*
* Nutrient Reference Values NRV (%) according to Regulation (EU) No 1169/2011 Annex XIII NRV: Nutrient Reference Values
Packaging: Doypack / stand-up pouch made of kraft paper with pressure closure, resealable
Content / quantity: 200 g
Country of origin: Germany
EAN: 4251097504315
Manufacturer: vitalundfitmit100 GmbH, Siemensstr. 10, 41363 Jüchen
Why can not I find information on the mode of action of this product? Click here
This might also interest you