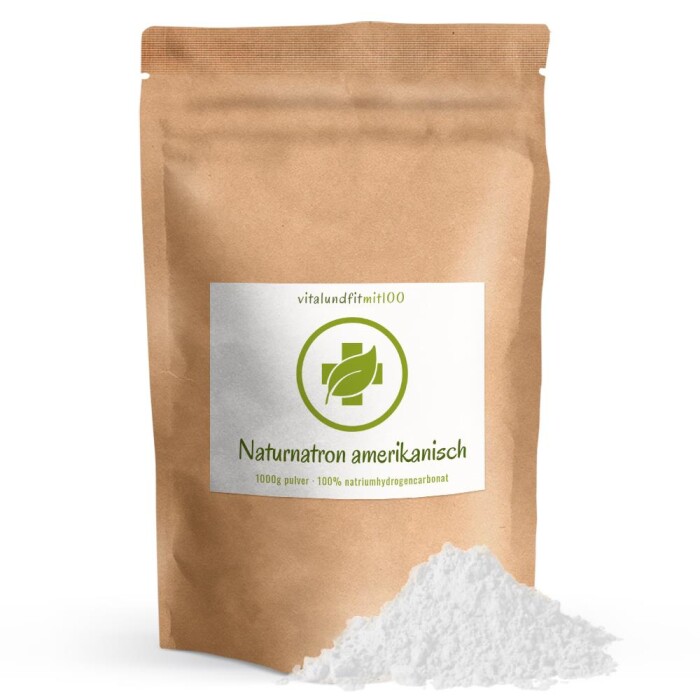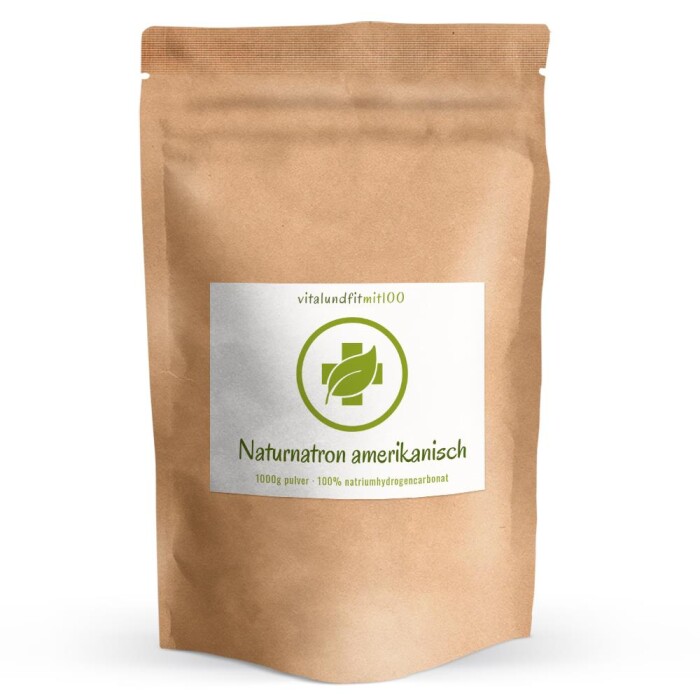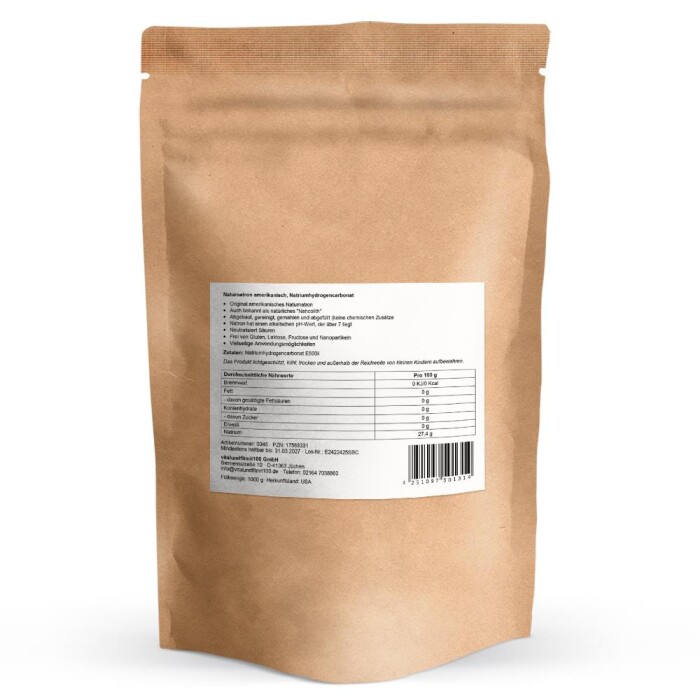 Sodium bicarbonate E500 baking soda 1000g
Base price
7,95 € per 1 kg
See Best Offers
From 2: 7,45 € (7,45 € per kg)
From 3: 6,95 € (6,95 € per kg)
From 5: 6,45 € (6,45 € per kg)
Available now!
Place your order within and we ship the goods the next working day.
Baking soda is also known as bicarbonate of soda. It's a real multi-talent. Food grade
---
---
Item no.: 0345
Content/amount: 1000 g
EAN: 4251097501314
Country of origin: Deutschland
Natural & certified ingredients
Carefully & conscientiously selected raw ingredients
Fair quality at fair prices
For over 10 years, healthy trust
developed and handcrafted with plenty of

❤

in Germany.
Sodium hydrogen carbonate is a sodium salt of carbonic acid and belongs to the group of hydrogen carbonates. The compound should not be confused with sodium carbonate (soda, molecular formula Na2CO3). Occasionally the obsolete and chemically incorrect trivial names sodium bicarbonate and sodium bicarbonate are also used for sodium hydrogen carbonate. The compound is also offered on the market under the names soda-ash, baking soda, soda-ash, as well as the brand names Bullrich-Salz and Kaiser Natron. Sodium hydrogen carbonate is a colourless, crystalline solid which decomposes above a temperature of 50 °C to sodium carbonate by splitting off water and carbon dioxide.
Recommendation
Sodium bicarbonate is used in foods as a raising agent and effervescent. To achieve this, baking soda is mixed with a solid acid such as citric acid. But it's also used in bath bombs and fire extinguishers. As well as to soften hard water. Sodium carbonates include soda (sodium carbonate), baking soda (sodium bicarbonate) and sodium sesquicarbonate, which is a double salt of sodium bicarbonate and sodium carbonate. While soda is mostly used to regulate the acidity of drinking water and to fuse cacao and milk protein, baking soda is mostly used in baking. Sodium carbonate is broken down through contact with acids. This releases carbon dioxide. This is what makes your bakes rise - they get bigger and fluffier.
Raising agent for home-baked muffins, baking powder
A pinch of baking soda in a pan of boiling water makes peas, lentils and beans soften more quickly and reduce the bloating effect of various cabbages
Can be used to soften water (e.g. when making tea or coffee)
Can be used to soften food residue on plates
Add to a cheese fondue to make it lighter and easier to digest
Can be used to neutralize odors such as waste pipes, smelly shoes, fridge, litter tray, hamster cages
Excess acid in food is neutralized or weakened by sodium bicarbonate. This is important in the preparation of jams made from very sour fruits (sea buckthorn or rhubarb), for example, as this gives them a milder taste and therefore less sugar has to be used. Even vinegar or lemon juice accidentally overadded to a dish can be neutralised by sodium bicarbonate. When sodium hydrogen carbonate is added, calcium and magnesium ions are precipitated from hard water as carbonates. The softer water can then be separated from the carbonates by pouring it off or by filtering it beforehand.
Sodium carbonates are generally permitted for foodstuffs without quantitative restrictions (quantum satis). The only exceptions are untreated foods and foods which, according to the legislator, should not be modified by additives. qs = quantum satis (literally: sufficient quantity). A maximum quantity is not prescribed. However, only as much may be used as is absolutely necessary for the desired effect. Keep out of the reach of children. In case of contact with eyes, rinse immediately with plenty of water and seek medical advice. If swallowed, seek medical advice immediately. Irritating to eyes.
It's a real multi-talent.
Nutritional values
per 100 g
Calorific value
0 kJ / 0 kcal
- of which saturated fats
0 g
Packaging: Doypack / stand-up pouch made of kraft paper with pressure closure, resealable
Content / quantity: 1000 g
Country of origin: Germany
EAN: 4251097501314
Manufacturer: vitalundfitmit100 GmbH, Siemensstr. 10, 41363 Jüchen
Why can not I find information on the mode of action of this product? Click here