Quercetin powder 180 g
Food supplement with the secondary plant substance quercetin, obtained from the flowers of the Japanese cord tree. Gentle preparation, GMO-free and vegan.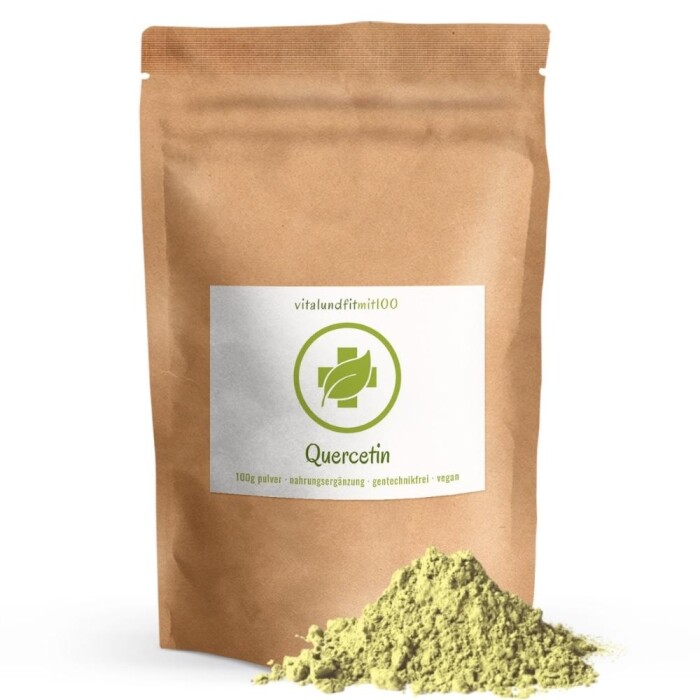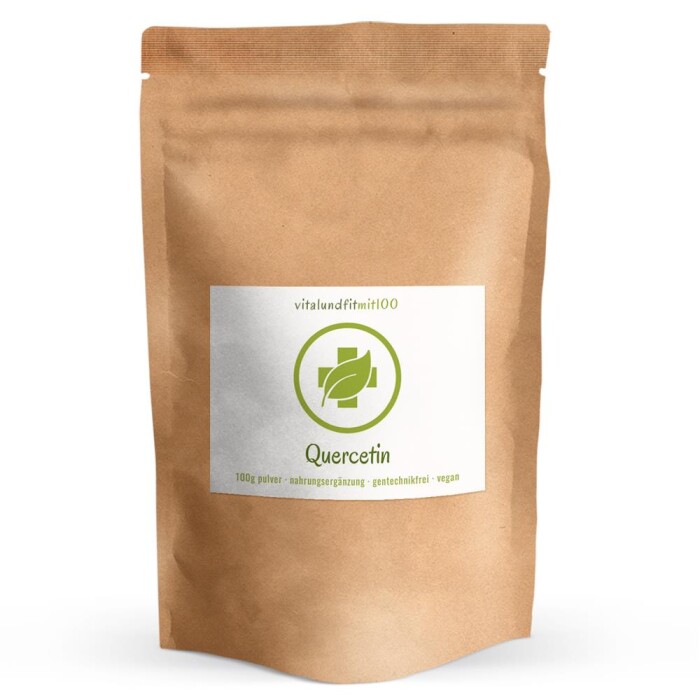 My advantages
Natural & certified ingredients
Carefully & conscientiously selected raw ingredients
Fair quality at fair prices
For over 10 years, healthy trust
developed and handcrafted with plenty of

❤

in Germany.
Shipping information
Place your order within and we ship the goods the next working day.
Delivery status: Available now!

Shipping time: 1 - 2 workdays**
You need the goods guaranteed the next working day? For a surcharge, we send the goods gladly with DHL Express. No delivery by DHL Express on a Saturday
Food supplement with the secondary plant substance Quercetin.
Quercetin is a flavonoid, an important secondary plant substance obtained from the cord tree. It is a yellow dye found in a variety of plant seeds, nuts, flowers, barks and flowers, as well as in the peel of many consumed foods such as tea, cabbage vegetables, onions, citrus fruits, apples and berries. Since we often spoil these, large amounts of quercetin are lost.
The Japanese cord tree is a medium-sized, deciduous tree that reaches a height of up to 20 metres. It is several hundred years old, resistant to heat and drought, which speaks for its robustness.
Our quercetin is an extract and is extracted from the flowers of the Japanese cord tree (Sophorae japonica). For further processing, our powder is gently finely ground so that the valuable ingredients are preserved in the best possible way. /p>
Special features of our Quercetin powder:
  100% vegan
  obtained from the flowers of the Japanese cord tree
  gentle preparation of the powder
  GMO-free
  finely ground
  without the use of artificial chemicals and additives
Contents: Contains 100% pure quercetin powder
Ingredients: Quercetin Dihydrate Powder from Japanese cord tree extrat
Recommendation for use: Give 1 x 1000 mg powder or 1 x 2 vital measuring spoon (enclosed) in plenty (200 - 300 ml) of liquid and drink daily. Preferably with a meal.

The recommended daily intake must not be exceeded. Food supplements do not replace a healthy, varied and balanced diet.
Storage instructions:
Store the product in a dry place away from light and in a cool place. Keep out of the reach of small children.
Food specific substances
per daily portion (1000 mg)
%NRV*
* Reference nutrient values NRV (%) according to Regulation (EU) No 1169/2011 Annex XIII NRV: Nutrient Reference Values.
** No recommendation available
Packaging: Doypack / stand-up pouch made of kraft paper with pressure closure, resealable
Content / quantity: 180 g
Country of origin: Japan
EAN: 4251097504377
Manufacturer: vitalundfitmit100 GmbH, Siemensstr. 10, 41363 Jüchen
Why can not I find information on the mode of action of this product? Click here
This might also interest you