Montmorillonite bentonite powder (Ph. Eur.) 100g
Fine, homogeneous Montmorillonite/Bentonit powder in pharmaceutical quality, filled in resealable kraft paper bag. Pure natural product without nanoparticles, Ph. Eur. 7.0, montmorillonite content > 80 %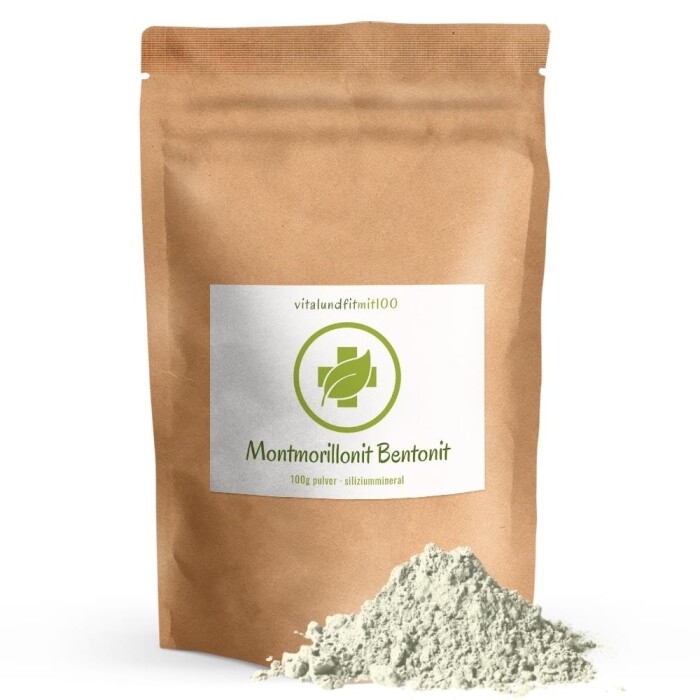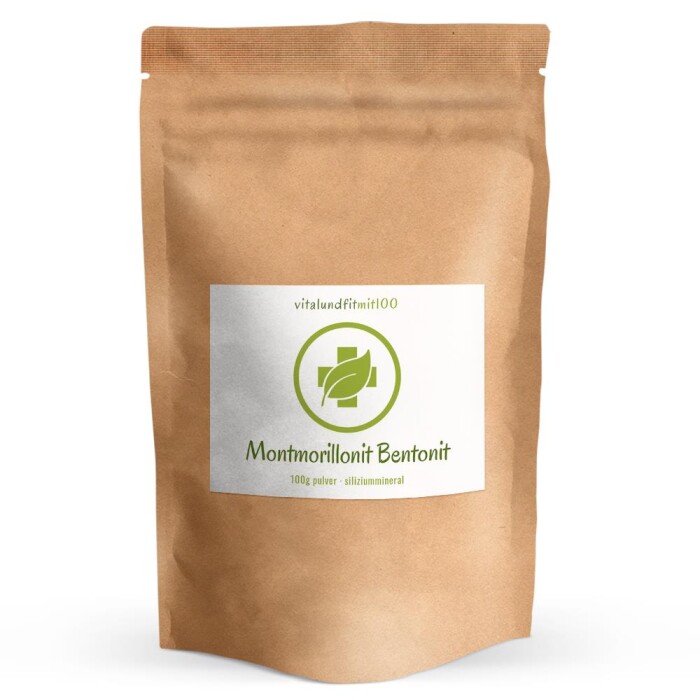 My advantages
Natural & certified ingredients
Carefully & conscientiously selected raw ingredients
Fair quality at fair prices
For over 10 years, healthy trust
developed and handcrafted with plenty of

❤

in Germany.
Shipping information
Place your order within and we ship the goods today.
Delivery status: Available now!

Shipping time: 1 - 2 workdays**
You need the goods guaranteed the next working day? For a surcharge, we send the goods gladly with DHL Express. No delivery by DHL Express on a Saturday
Montmorillonite is a natural clay with a high content of montmorillonite, a water-containing aluminium silicate of natural origin. Complies with European Pharmacopoeia, Ph. Eur. 7.0 of 2011 and British Pharmacopoeia 2011, BP 2011, monograph "Bentonite".
 Fine
 Homogeneous
 Ph. Eur. 7.0
 Montmorillonite content > 80 %
Note: The very large, negatively charged surface gives the bentonite an unusually high absorption capacity for pollutants. Therefore, it is often used for soil improvement, aquaristics and in ponds.
Chemical analysis:
SiO2 approx. 70.0 %
MgO approx. 2.7 %
Fe2O3 approx. 1.3 %
K2O approx. 1.0 %
Al2O3 approx. 16.0 %
Na2O approx. 2.7 %
CaO approx. 1.1 %
Loss of heat approx. 5.0 %
Ingredients: Contains 100 % montmorillonite/bentonit powder in pharmaceutical quality
Repräsentative values: Montmorillonite content > 80 % pH value (KCl) 10 %, water content 8 - 10 %
Storage instructions: Keep product out of light, dry, cool and out of the reach of young children.
Packaging: Doypack / stand-up pouch made of kraft paper with pressure closure, resealable
Contents / volume: 100 g
Country of origin: Germany
EAN: 4251097500164
Pharma central number (PZN): 13510346
Manufacturer: vitalundfitmit100 GmbH, Siemensstr. 10, 41363 Jüchen
Why can not I find information on the mode of action of this product? Click here
This might also interest you