Petroleum G179, purified (Oleum Petrae album rectif.) 250 ml
Purified petroleum G179 in top quality. Filled in a 250 ml amber glass bottle with child safety cap.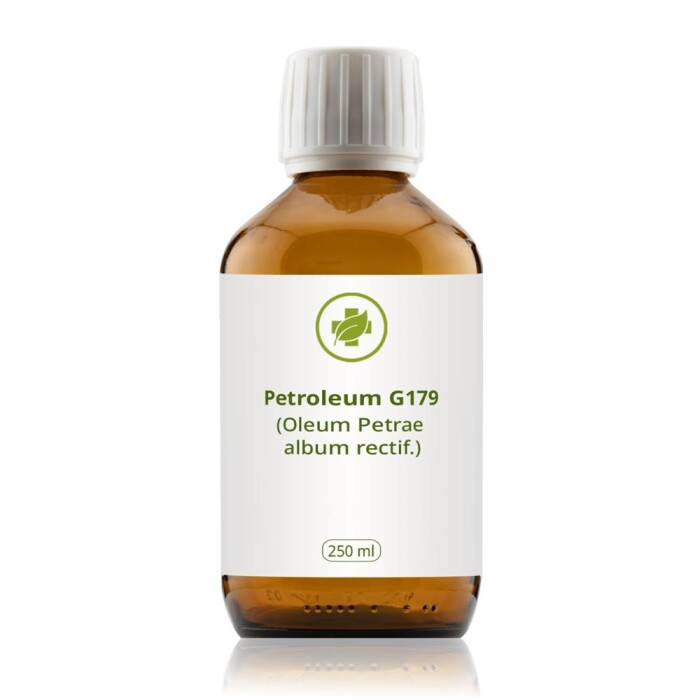 My advantages
Natural & certified ingredients
Carefully & conscientiously selected raw ingredients
Fair quality at fair prices
For over 10 years, healthy trust
developed and handcrafted with plenty of

❤

in Germany.
Shipping information
Delivery status: item not available

You need the goods guaranteed the next working day? For a surcharge, we send the goods gladly with DHL Express. No delivery by DHL Express on a Saturday
PETROLEUM CLEANED
Our purified petroleum G179 is a transparent pretoleum with a huge number of applications.
Form: liquid
Color: colorless/clear
Always in best quality, bottled in pharmaceutical amber glass bottle.
Distillation range: 170-240°C
CAS number: 8008-20-6
EG number: 232-366-4
EG index number: 649-404-00-4
Storage class: 3
UN number: 1223
Storage note: Store upright. Keep product out of the reach of young children.
Danger phrases (H phrases): H304 - May be fatal if swallowed and enters respiratory tract.
Legal Notices: No Food or Nutritional Supplements
Safety Precautions (P phrases): P301 + P310 - IF CHOOSED: Call a POISON CENTER or doctor immediately, P331 - DO NOT induce vomiting, P102 - Keep out of the reach of children
Signal word: Danger
Packaging: Pharmaceutical amber glass bottle with lid
Contents / volume: 250 ml
EAN: 4251097504476
GHS Marking:

Country of origin:
Deutschland
Manufacturer:
vitalundfitmit100 GmbH, Siemensstr. 10, 41363 Jüchen
Why can not I find information on the mode of action of this product? Click here
This might also interest you