Organic grape seed oil (cold-pressed) 100 ml
100 ml finest organic grape seed oil, organic - fresh from the mill and gently cold-pressed. Obtained from the seeds of the grapes. 100% vegan, pure and free of animal protein.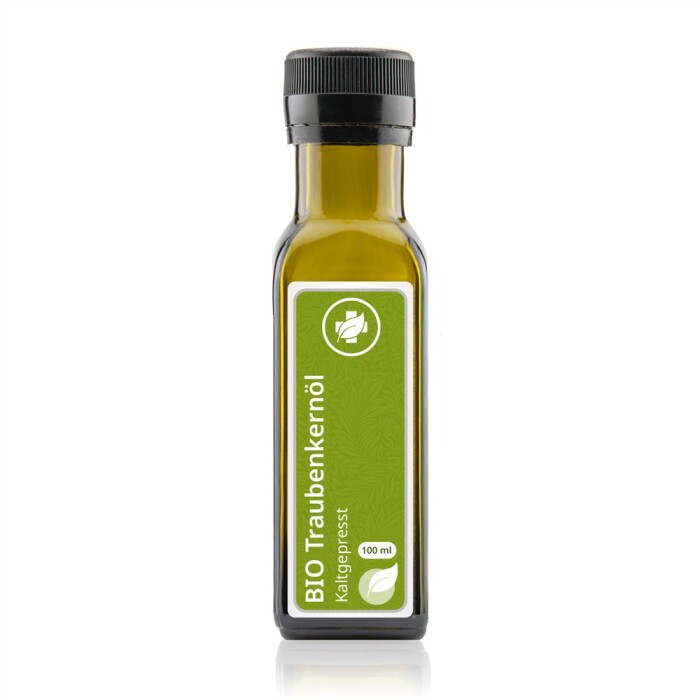 My advantages
Natural & certified ingredients
Carefully & conscientiously selected raw ingredients
Fair quality at fair prices
For over 10 years, healthy trust
developed and handcrafted with plenty of

❤

in Germany.
Shipping information
Delivery status: item not available

You need the goods guaranteed the next working day? For a surcharge, we send the goods gladly with DHL Express. No delivery by DHL Express on a Saturday
100% high-quality organic grape seed oil, without further additives, produced by mechanical cold pressing and filtration.
Natural food / foodoil
Many other application areas.
Looks: green - yellow
Odor: Typical, no foreign odor
Taste: Artypical, no foreign odor
Consistency: Liquid
Raw material origin: Türkei
Fresh from the mill here in Germany gently cold-pressed
Our grape seed oil is made exclusively from pure raw material and is free of animal protein.
This product has not been tested on animals, it is of pure vegetable origin, therefore vegan and does not pose a risk of BSE/TSE.
Storage: cool and dry, protected from light and tightly closed
Storage life: In original container at least 12 months
average energy and nutrient content
per 100 g
Calorific value
3700 KJ/ 900 kcal
fats hydrogenated therefrom
12.8 g
simple unsaturated fats
19.2 g
multiple unsaturated fats
68.0 g
The indicated values are subject to the usual fluctuations of natural products.
Contents / quantity: 100 ml
Öorganic farming: DE-ÖKO-039
Country of origin: Spain
EAN: 4251097503745
Manufacturer: vitalundfitmit100 GmbH, Siemensstr. 10, 41363 Jüchen
Why can not I find information on the mode of action of this product? Click here