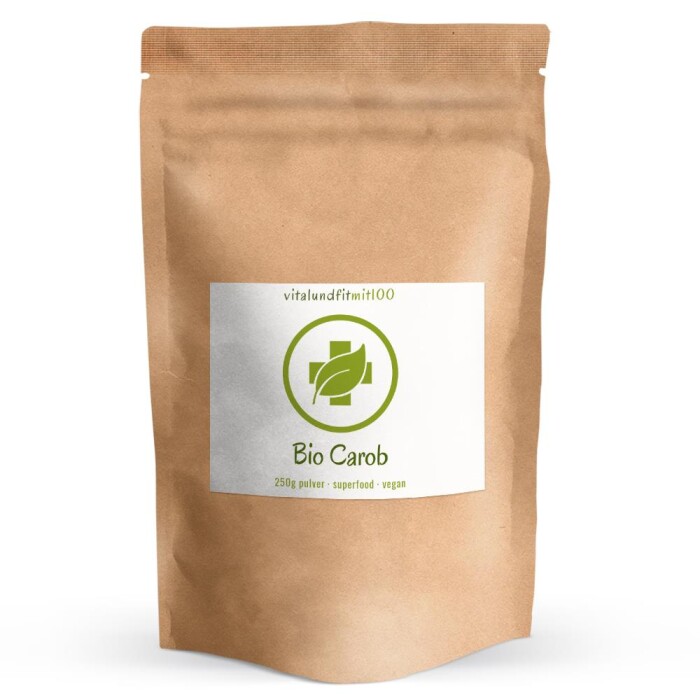 Organic carob powder 250g
Base price
19,80 € per 1 kg
See Best Offers
From 2: 4,45 € (17,80 € per kg)
From 3: 3,95 € (15,80 € per kg)
From 5: 3,45 € (13,80 € per kg)
Available now!
Place your order within and we ship the goods the next working day.
Our vegan and finely ground Carob powder from controlled organic cultivation is suitable for cooking and baking. Excellent substitute for cocoa or chocolate. To be used like cocoa powder for drinks and desserts.
---
---
Item no.: 0908
Content/amount: 250 g
EAN: 4251097503042
Country of origin: Italien
Natural & certified ingredients
Carefully & conscientiously selected raw ingredients
Fair quality at fair prices
For over 10 years, healthy trust
developed and handcrafted with plenty of

❤

in Germany.
Carob powder - a calorie-friendly alternative to cacao
Carob is the name given to the flesh of the chocolate-brown Hüslenfrucht, which comes from the all-year green carob tree (Ceratonia siliqua), also known as the Karubenbaum or Karobbaum. Carob trees grow mainly in the Mediterranean region and the Near East, but can also be found in Central and South America.
Carob is used as a substitute for cocoa or chocolate because it has a natural, sweet taste. Like cocoa powder, Carob powder can therefore be used in many different ways in drinks and desserts.
The legumes we use for our organic carob powder come from Italy. After they have been crushed, dried and pitted, the pulp is milled to preserve the nutrients. The raw food quality of our Carob powder is retained.
Special features of our carob powder:
100% Organic, vegan & pure
Gluten-free
Lactose-free
No artificial additives
Raw quality
Organic farming. DE-ÖKO-039
Optimal solubility
Cacao alternative
Country of origin: Italy
Ideal ingredient in smoothies and desserts
Guaranteed quality - MADE IN GERMANY!
Carob powder can also be used in drinks and sweet treats in the same way you would use cacao. It tastes delicious as a milk drink. Simply add around 2 tablespoons of carob powder to 1/4 liter of milk - you can also use rice milk. Ideal for baking and making desserts.
Contains: Contains 100% pure carob powder
Storage: This product should be kept in a dry, dark place out of the reach of children.
Nutritional values
per 100g
- of which fatty acids
0.09g
Packaging: Doypack / stand-up pouch made of kraft paper with pressure closure, resealable
Type: Superfood
Content / Filling quantity:
150 g
Organic farming: DE-ÖKO-039
Country of origin: Italy
EAN: 4251097503042
Manufacturer: vitalundfitmit100 GmbH, Siemensstr. 10, 41363 Jüchen
Why can not I find information on the mode of action of this product? Click here