Niacin powder (with FLUSH) 100 g
Niacin powder with flush! Filled in a resealable kraft paper bag.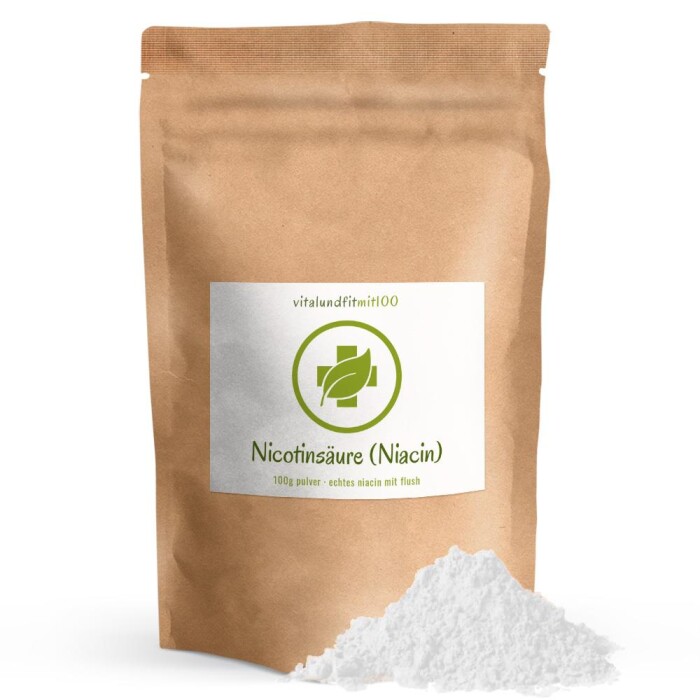 My advantages
Natural & certified ingredients
Carefully & conscientiously selected raw ingredients
Fair quality at fair prices
For over 10 years, healthy trust
developed and handcrafted with plenty of

❤

in Germany.
Our product is nicotinic acid, which means real niacin with FLUSH. This product may cause redness on contact with the skin, the so-called flush. Flush" refers to the dilation of the blood vessels and the increase in blood volume for a short time. One measuring spoon contained in the product corresponds to 460 mg.
The use of pure niacin, also called nicotinic acid, is very versatile.
Form: Powder
Colour: white
Odour: odourless
CAS number: 59-67-6
EG number: 200-441-0
Storage advice: Keep product out of the reach of small children.
Legal information: No food, food supplements or medicines..
Hazard statements (H phrases): H319 - Causes severe eye irritation.
Safety advice (P phrases): P305+P351+P338 - IN CONTACT WITH EYES: Rinse gently with water for several minutes. Remove any contact lenses if possible. Continue rinsing.
Packaging: Doypack, resealable
Content / filling quantity: 100 g
EAN: 4251097504940
GHS Marking:

Manufacturer:
vitalundfitmit100 GmbH, Siemensstr. 10, 41363 Jüchen
Why can not I find information on the mode of action of this product? Click here
This might also interest you