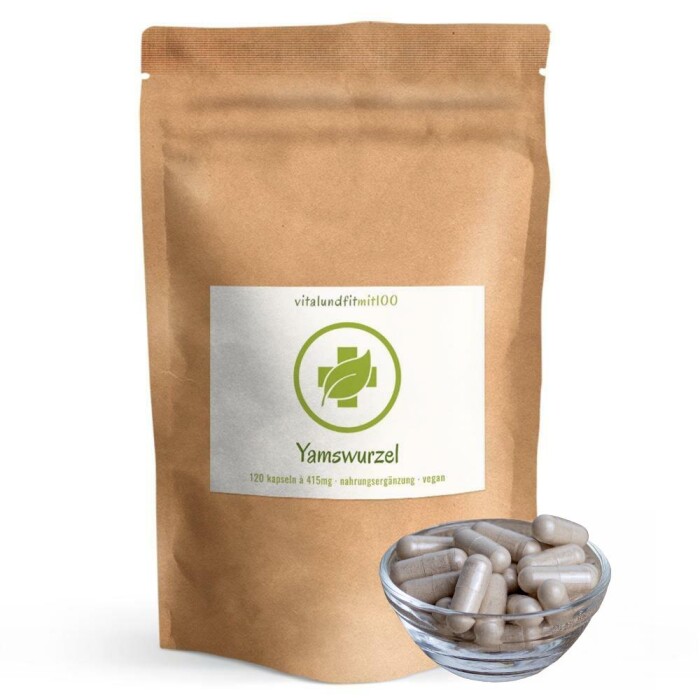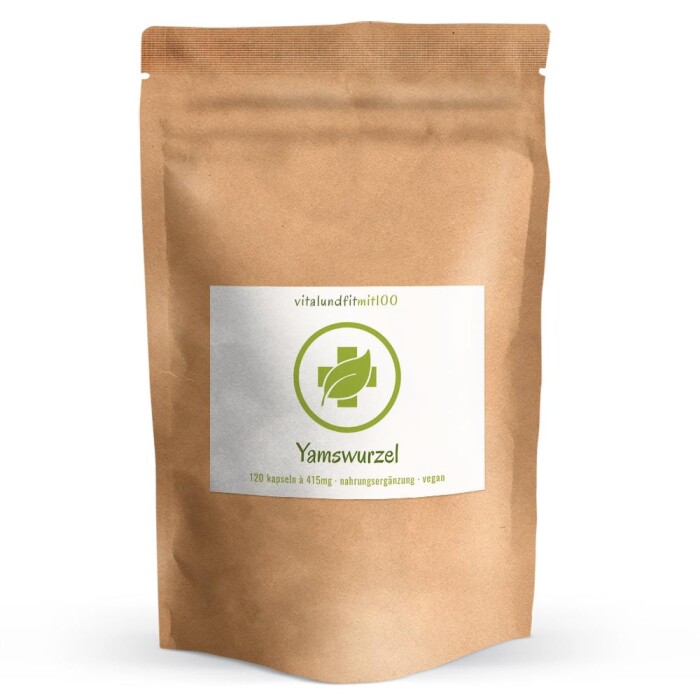 Mexican Wild Yam Yam Capsules 120 peaces à 415 mg
Base price
30,02 € per 100 g
See Best Offers
From 2: 14,45 € (29,02 € per 100 g)
From 3: 13,95 € (28,01 € per 100 g)
From 5: 13,45 € (27,01 € per 100 g)
Available now!
Place your order within and we ship the goods today.
Original Mexican Wild Yams with a remarkably high diosgenin content. Our vegan yam root capsules, obtained from the whole root (no extract!), are treated very gently.
---
---
Item no.: 1091
Content/amount: 49.8 g
EAN: 4251097504391
Country of origin: Mexiko
Natural & certified ingredients
Carefully & conscientiously selected raw ingredients
Fair quality at fair prices
For over 10 years, healthy trust
developed and handcrafted with plenty of

❤

in Germany.
Original Mexican Wild Yams with a remarkably high diosgenin content.
The yam root (Dioscorea villosa) is a climbing plant with green, heart-shaped flowers and originates from the Atlantic North and Central America. In many cultures it is used as a useful plant for consumption. Today the plant from the Dioscorea family can be found all over the world. The Mexican yam root stands out due to its high content of diosgenin from other varieties growing in Africa and Asia.
Füfor our Yam root capsules the pure, whole root is used and no extract. Our capsules are made with HPMC (Hydroxypropylmethylcellulose). HPMC is water soluble against cellulose (vegetable capsule material).
Special features of our yam root capsules:
  100% vegan & pure
  gluten-free/lactose-free
  no extract!
  treated very gently
  vegan capsules (hydroxypropylmethylcellulose, HPMC for short)
  without any artificial additives and preservatives
Contents: Contains 100 % pure Yam root powder in capsule form
Ingredients: One capsule of MEXICAN WILD YAM contains 415 mg Mexican Wild Yam plant powder from the Yams root tuber from Mexico (2.5 mg glycoside diosgenin content). Mexican Wild Yam* (Dioscorea Villosa) Plant powder* from wild collection, capsule lle: hydroxypropylmethylcellulose (vegan) *temperature-controlled ground below 35°.
Recommendation for use: Take 1 x 2 capsules daily with a glass of water at mealtime.
The recommended daily intake must not be exceeded. Food supplements cannot replace a healthy, varied and balanced diet.
Storage instructions: Keep the product dry, out of the reach of small children and away from light.
Food specific substances
per daily dose (2 capsules)
%NRV*
Yam root (Wild Yams)
830 mg
**
* Reference nutrient values NRV (%) according to Regulation (EU) No 1169/2011 Annex XIII NRV: Nutrient Reference Values
** No recommendation available
Packaging: Doypack / stand-up pouch made of kraft paper with pressure closure, resealable
Contents / quantity: 120 vegetarian capsules à 415 mg (61.2 g)
Country of origin: Mexico
EAN: 4251097504391
Manufacturer: vitalundfitmit100 GmbH, Siemensstr. 10, 41363 Jüchen
Why can not I find information on the mode of action of this product? Click here