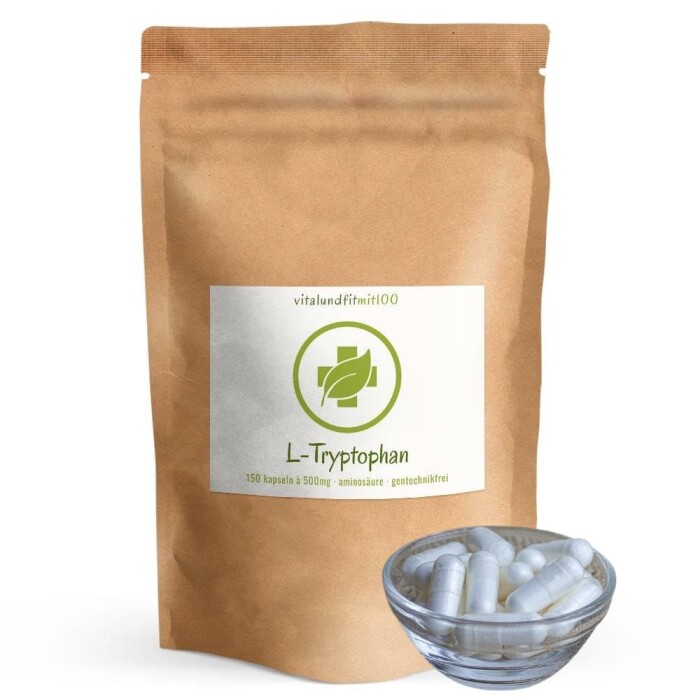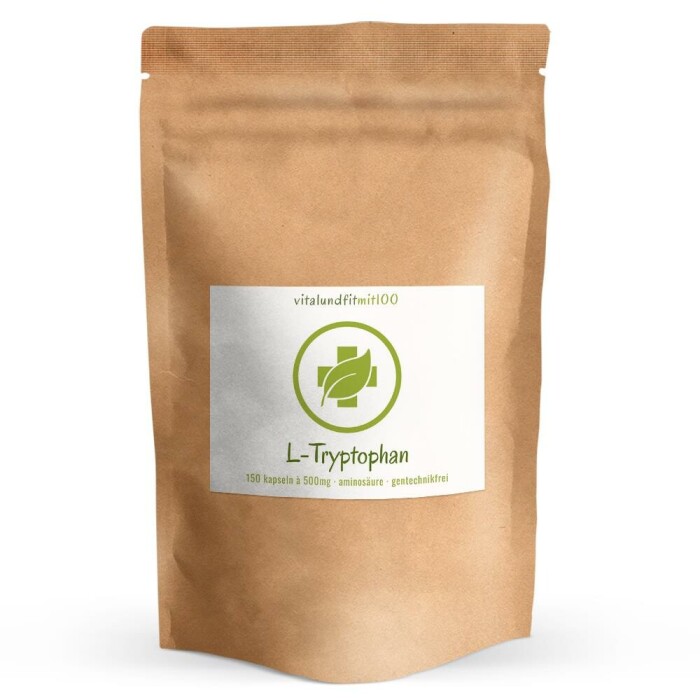 L-tryptophan capsules - 150 pieces à 500 mg
Base price
30,60 € per 100 g
See Best Offers
From 2: 22,45 € (29,93 € per 100 g)
From 3: 21,95 € (29,27 € per 100 g)
From 5: 21,45 € (286,00 € per 1 kg)
Available now!
Place your order within and we ship the goods the next working day.
L-tryptophan is one of the essential amino acids and is of purely vegetable origin, obtained by fermentation. Our high-quality, vegan capsules in tested quality are GMO-free and without any additives, filled in resealable pouches,
---
---
Item no.: 1115
Content/amount: 75 g
EAN: 4251097504674
Country of origin: Deutschland
Natural & certified ingredients
Carefully & conscientiously selected raw ingredients
Fair quality at fair prices
For over 10 years, healthy trust
developed and handcrafted with plenty of

❤

in Germany.
L-tryptophan - necessary for the production of proteins
L-tryptophan is a essential aminoäure that cannot be made from the human body. Therefore, it must be ingested in appropriate amounts through food. This protein L-tryptophan is present in fish, meat, potatoes, peas, eggs or nuts, but especially in milk and dairy products such as cheese. Here L-tryptophan occurs in high concentrations in the form of lactalbumin.
The essential amino acid plays an important role in many physical processes. L-tryptophan is the precursor of the neurotransmitter serotonin and the hormone melatonin. Tryptophan also plays an important role in supporting niacin synthesis. Niacin is also known as vitamin B3.
Our L-tryptophan is obtained from natural vegetable fermentation. Our capsules are produced with HPMC (Hydroxypropylmethylcellulose). HPMC is water soluble against cellulose (vegetable capsule material).
Special features of our L-Tryptophan capsules:
  100% vegan & pure
  gluten-free / lactose-free
  GMO-free
  vegetable fermentation production
  vegan capsules (hydroxypropylmethylcellulose, HPMC for short)
  especially suitable for vegans and vegetarians
  without artificial additives
  Guaranteed top quality
Contents: Contains 150 vegetarian capsules (75 g)
Additives:
L-tryptophan, vegan capsule lle (HPMC)
Recommended intake: Take 2 x 1 capsule daily with sufficient (200-300 ml) fluid.
The recommended daily intake must not be exceeded. Food supplements do not replace a healthy, varied and balanced diet. Keep out of the reach of small children.
Storage instructions: Keep the product dry, away from light and out of the reach of small children.
Food specific substances
per capsule
%NRV*
>
* Reference nutrient values NRV (%) according to Regulation (EU) No 1169/2011 Annex XIII NRV: Nutrient Reference Values
** No recommendation available
Other properties of our L-Tryptophan capsules
Content / Filling quantity:
150 vegetarische Kapseln à 500 mg
packing:
Doypack / stand-up pouch made of kraft paper with pressure closure, reclosable
Country of origin:
Deutschland
Why can not I find information on the mode of action of this product? Click here