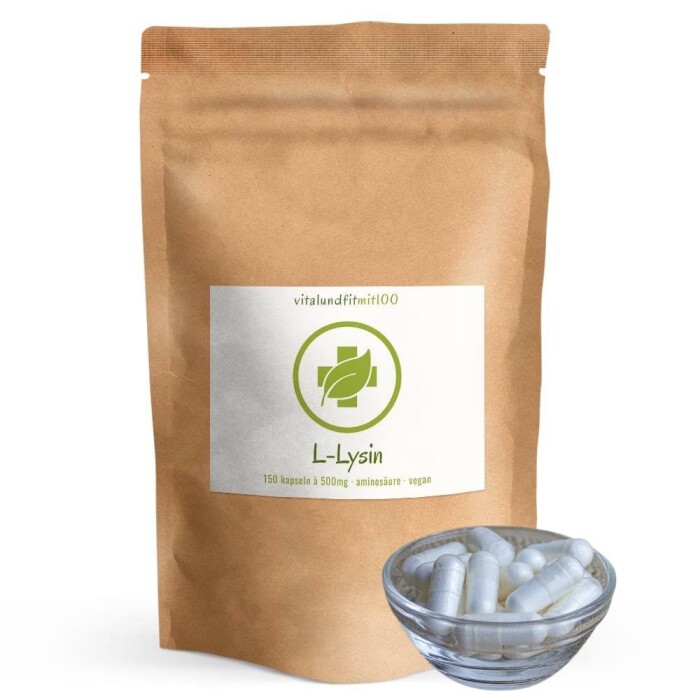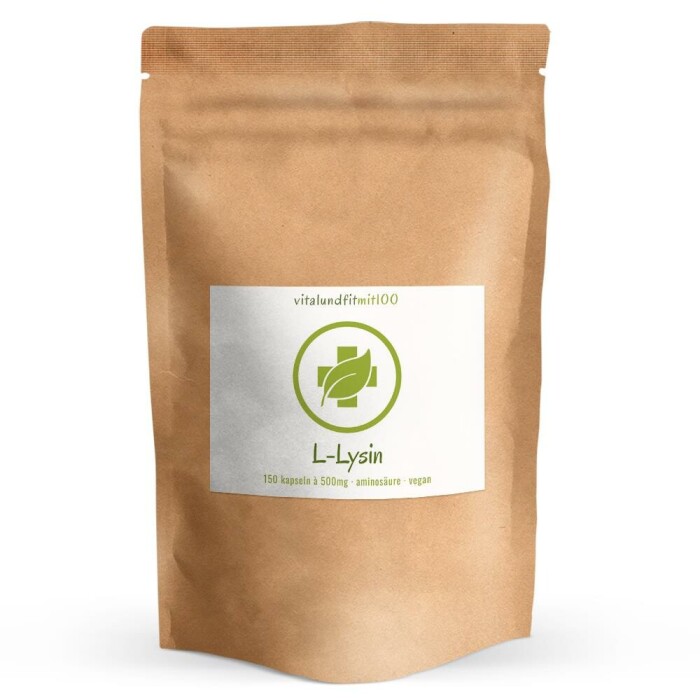 L-Lysine 150 capsules à 500 mg
Base price
21,27 € per 100 g
See Best Offers
From 2: 15,45 € (20,60 € per 100 g)
From 3: 14,95 € (19,93 € per 100 g)
From 5: 14,45 € (192,67 € per 1 kg)
Available now!
Place your order within and we ship the goods the next working day.
Essential amino acid L-lysine: for targeted supply in case of increased demand. No extract! Our high-quality, vegan capsules in tested quality are vegan, gluten- and lactose-free. Available in resealable kraft paper bag.
---
---
Item no.: 1089
Content/amount: 75 g
EAN: 4251097504339
Country of origin: Deutschland
Natural & certified ingredients
Carefully & conscientiously selected raw ingredients
Fair quality at fair prices
For over 10 years, healthy trust
developed and handcrafted with plenty of

❤

in Germany.
Amino acid L-lysine: for targeted supply in case of increased need.
L-lysine is an essential amino acid found predominantly in animal foods. L-lysine cannot be produced by the body itself and must therefore be ingested with adequate diet.
The amino acid L-lysine plays an important role in the synthesis of carnitine and supports the action of arginine as well as the absorption of calcium. Thus lysine has the same significance among the amino acids as vitamin C among vitamins.
Special features of our L-lysine capsules:
  100% vegan
  gluten-free/lactose-free
  no extract!
  vegan capsules (Hydroxypropylmethylcellulose, HPMC for short)
  no additives and preservatives
Contents: Contains 100 % pure L-lysine powder in capsule form
Ingredients: L-lysine, microcrystalline cellulose, cellulose capsule HPMC
Recommendation for use: Take 2 x 1 capsules daily with a glass of water at mealtime.
The recommended daily intake must not be exceeded. Food supplements do not replace a healthy, varied and balanced diet.
Storage instructions: Keep the product dry, away from light and out of the reach of small children.
Food specific substances
per capsule
per daily dose (2 capsules)
NRV*
L-Lysine
500 mg
1000 mg
**
* Reference nutrient values NRV (%) according to Regulation (EU) No 1169/2011 Annex XIII NRV: Nutrient Reference Values.
** No recommendation available
Packaging: Doypack / stand-up pouch made of kraft paper with pressure closure, resealable
Contents / Capacity: 150 capsules á 500 mg (75 g)
Country of origin: Germany
EAN: 4251097504339
Manufacturer: vitalundfitmit100 GmbH, Siemensstr. 10, 41363 Jüchen
Why can not I find information on the mode of action of this product? Click here