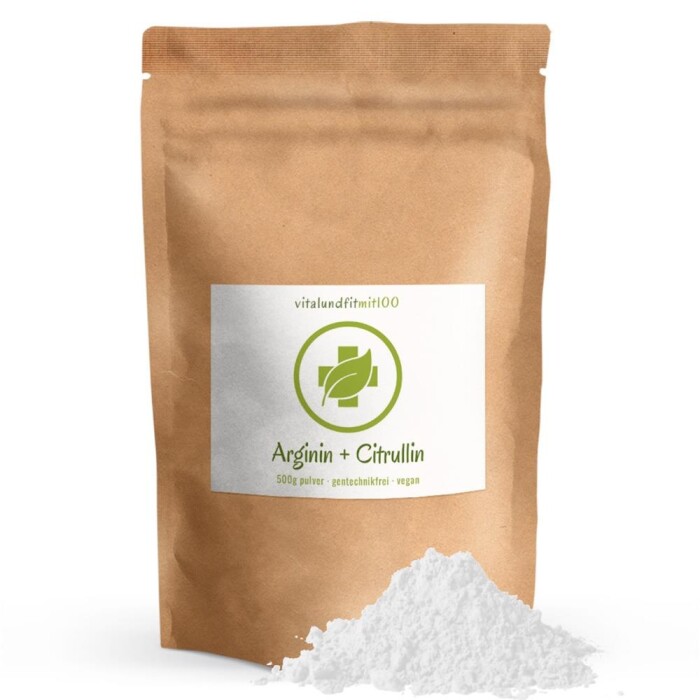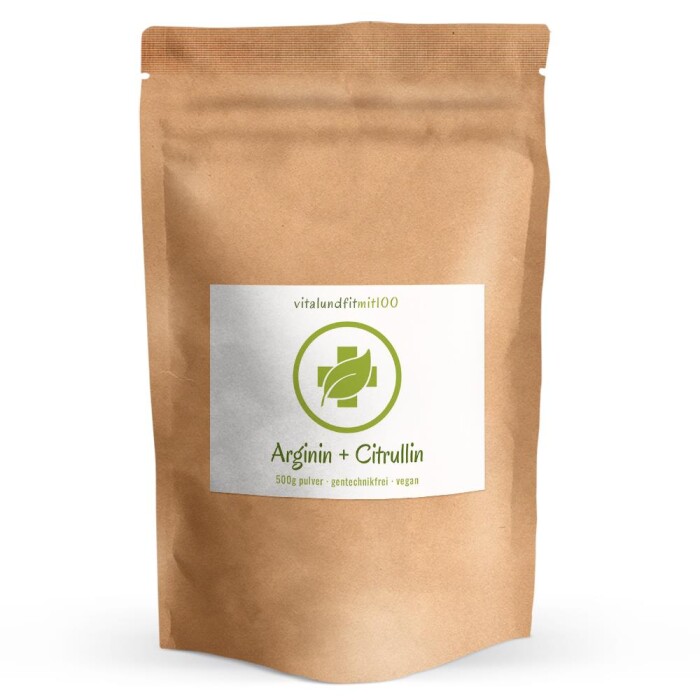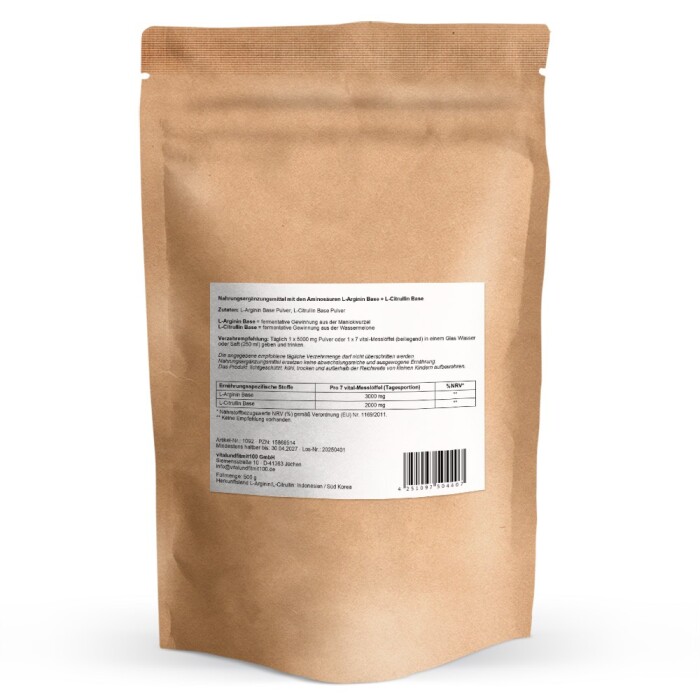 L-Arginine Base + L-Citrulline Base Powder (300 g Arginine, 200 g Citrulline) 500g
Base price
57,80 € per 1 kg
See Best Offers
From 2: 28,40 € (56,80 € per kg)
From 3: 27,90 € (55,80 € per kg)
From 5: 27,40 € (54,80 € per kg)
Available now!
Place your order within and we ship the goods today.
Set offer: High purity L-Citrulline Base powder in combination with L-Arginine Base powder in premium quality. Fermentation recovery. Citrulline is not a malate. A total of 500 g vegan powder filled in resealable kraft paper bags.
---
---
Item no.: 1092
Content/amount: 500 g
EAN: 4251097504407
Country of origin: Deutschland
Natural & certified ingredients
Carefully & conscientiously selected raw ingredients
Fair quality at fair prices
For over 10 years, healthy trust
developed and handcrafted with plenty of

❤

in Germany.
High purity L-Citrulline Base Powder in combination with L-Arginine Base Powder in Premium Quality
L-Arginine and L-Cirtulline is a very strong amino acid combination. Both are among the most important amino acids of all that play an important role for our body.
The non-essential amino acid L-arginine has the highest nitrogen mass fraction of all proteinogenic amino acids and is involved in the body's production of nitric oxide. L-Arginine is obtained by the fermentation of pure plant raw materials.
Our quality of the L-Arginine powder is available as free flowing micronized powder and can be dissolved very well.
Our powder is not L-Citrulline Malate!
Special features of our L-Arginine + L-Citrulline powder
  100% vegan and pure
  free from gluten and lactose
  Premium quality
  finely ground
  optimum solubility
  without artificial auxiliaries and additives
  Fermentation recovery in both cases
  no malate in L-citrulline
  Guaranteed quality - MADE IN GERMANY!
Contents: Contains 100% pure L-Arginine powder (300g) and 100% pure L-Citrulline base powder (200g)
Ingredients: Mixture of L-Arginine Base Powder (300g) and L-Citrulline Base Powder (200g)
Recommended dosage: Drink 1 x 5 g powder or 1 x 7 vital measuring spoon (enclosed) mixed with water or juice.
The recommended daily intake must not be exceeded. Dietary supplements do not replace a healthy, varied and balanced diet.
Storage instructions: Store the product in a dry place away from light and small children.
Food specific substances
per 7 vital measuring spoons (daily portion 5 g)
NRV*
L-Arginine Base Powder
3 g
**
L-Citrulline Base Powder
2 g
**
* Nutrient reference values NRV (%) as defined in Regulation (EU) No 1169/2011 Annex XIII NRV: Nutrient Reference Values
** No recommendation available
Packaging: Doypack / stand-up pouch made of kraft paper with pressure closure, resealable
Type: Food Supplements
Contents / quantity: 500 g
Country of origin: Germany
EAN: 4251097504407
Manufacturer: vitalundfitmit100 GmbH, Siemensstr. 10, 41363 Jüchen
Why can not I find information on the mode of action of this product? Click here