Grape Seed Extract OPC Capsules 60 Capsules à 370 mg
Strong natural antioxidant: pure vegan OPC - grape seed extract capsules of proven quality, extracted from the seeds of French grapes. Allergic free, residue controlled, gluten and lactose free.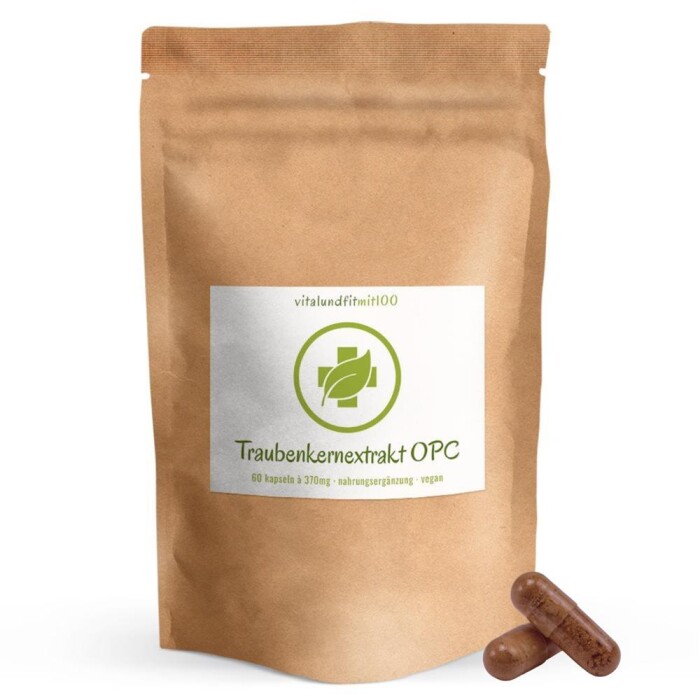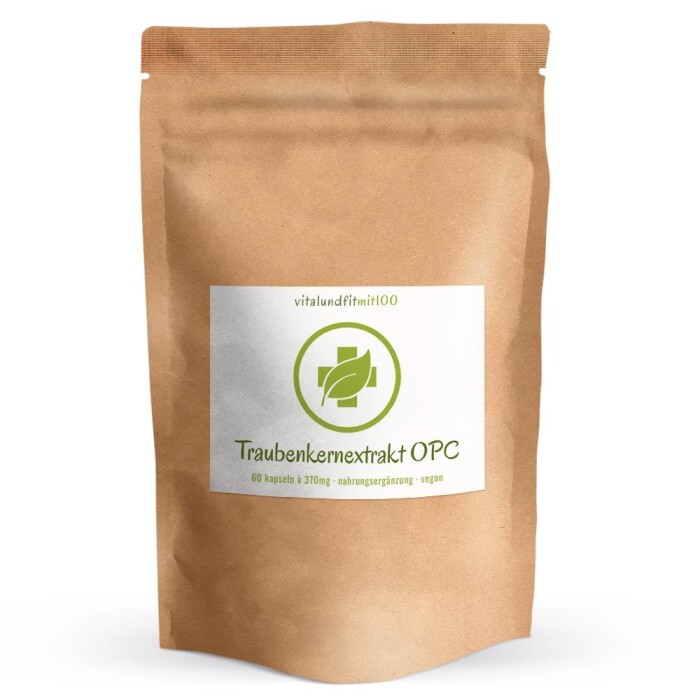 My advantages
Natural & certified ingredients
Carefully & conscientiously selected raw ingredients
Fair quality at fair prices
For over 10 years, healthy trust
developed and handcrafted with plenty of

❤

in Germany.
Shipping information
Place your order within and we ship the goods today.
Delivery status: Available now!

Shipping time: 1 - 2 workdays**
You need the goods guaranteed the next working day? For a surcharge, we send the goods gladly with DHL Express. No delivery by DHL Express on a Saturday
Pure vegan OPC - Grape Seed Extract Capsules
OPC stands for the abbreviation "oligomeric proanthocyanidins" and are secondary plant compounds naturally occurring in plants that belong to the group of flavanols. The valuable plant substance OPC is extracted from the seeds of French grapes. In addition to grapes, there are a number of other sources that also contain OPC. These include green tea, blueberry, strawberry, apple, pine bark, banana, red peanut peel.
The OPC derived from grape seed extract (Vitis vinifera) is one of the strongest known natural antioxidants. .
Cold water extraction
At approx. 80° Celsius the extraction of the grape seeds takes place, whereby the use of organic or artificial solvents is avoided by conviction.
Polyphenol enrichment
With a solution of 70% water and 30% ethanol, the polyphenols are enriched / concentrated by membrane filtration. The active properties of the grape seeds, which are contained in our OPC extract, are preserved by the gentle and environmentally friendly production.
Special features of our OPC capsules:
  obtained from the seeds of French grapes
  strong natural antioxidant
  100% vegan
  allergen-free, gelatin-free, gluten-free, lactose-free and residue-controlled
  vegan capsules (hydroxypropylmethylcellulose, HPMC for short)
  without any artificial additives and preservatives
Contents: Contains 60 capsules á 370 mg (28.5 g)
Additives: Grape seed extract (77,9%), capsule shell (coating: hydroxypropylmethylcellulose)
Recommendation for use: Take 2 x 1 capsule daily with sufficient liquid (200 - 300 ml).
The recommended daily intake must not be exceeded. Food supplements cannot replace a healthy, varied and balanced diet.
Storage instructions: Keep the product dry, out of the reach of small children and away from light.
Nährstoffangaben
per capsule
per daily dose (2 capsules)
%NRV*
Grape seed extract
370 mg
740 mg
**
- of which OPC
148 mg
296 mg
**
* Reference nutrient values NRV (%) according to Regulation (EU) No 1169/2011 Annex XIII NRV: Nutrient Reference Values
** OPC = Oligomeric Proanthocyanidins
Packaging: Doypack / stand-up pouch made of kraft paper with pressure closure, resealable
Type: food supplements
Contents / quantity: 60 Vegi capsules á 370 mg (28.5 g)
Country of origin: France
EAN: 4251097504322
Manufacturer: vitalundfitmit100 GmbH, Siemensstr. 10, 41363 Jüchen
Why can not I find information on the mode of action of this product? Click here
This might also interest you