Fenugreek extract 120 capsules à 500mg
Our excellent fenugreek vegi capsules with high saponin content, without magnesium stearate, vegan, gluten- and lactose-free. Carefully manufactured in Germany with regular quality checks.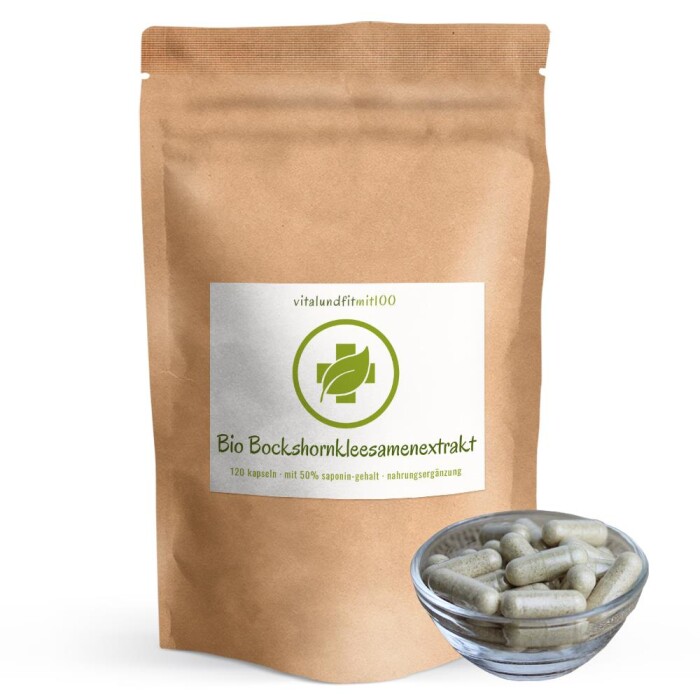 My advantages
Natural & certified ingredients
Carefully & conscientiously selected raw ingredients
Fair quality at fair prices
For over 10 years, healthy trust
developed and handcrafted with plenty of

❤

in Germany.
Shipping information
Place your order within and we ship the goods today.
Delivery status: Available now!

Shipping time: 1 - 2 workdays**
You need the goods guaranteed the next working day? For a surcharge, we send the goods gladly with DHL Express. No delivery by DHL Express on a Saturday
Fenugreek is a perennial plant belonging to the butterfly-flower family and native to the Mediterranean and Asia. The seeds of the plant contain valuable ingredients such as vitamin A, B and vitamin C, iron, magnesium, ascorbic acid, calcium and other proteins. The ground fenugreek clover seeds are also used to season various dishes.
When manufacturing our fenugreek capsules, our fenugreek is heated by a special process and thus "activated". Activated means that the fenugreek clover is microbiologically examined, treated and thermally treated before it is processed into powder or extract for capsule production. Thus, potentially toxic constituents in raw legumes (Hülsenfrüchte) such as fenugreek are made more enjoyable, tolerable and long-lasting by the most abundant of the seeds.
The sun-dried fenugreek seeds are finely ground in Germany and are subject to regular quality inspections. Our fenugreek capsules are tested for heavy metals, microbiology, moulds, E. coli, salmonella and other relevant test criteria and meet strict requirements.
Our fenugreek clover capsules are also particularly suitable for vegans and vegetarians, as our capsules are manufactured with HPMC (hydroxypropylmethylcellulose), which is water soluble against cellulose (vegetable capsule material).
Special Features of our Fenugreek Capsules:
  100% vegan, gluten-free/lactose-free
  contains 500 mg fenugreek seed extract with 250 mg saponins each (corresponds to 5000 mg fenugreek seed)
  with high saponin content (standardized to 50%)
  without magnesium stearate
  laboratory tested
  vegan capsules (hydroxypropylmethylcellulose, HPMC for short)
  especially suitable for vegans
  without any artificial additives and preservatives
  guaranteed quality
  carefully manufactured in Germany
Contents: Contains 120 vegetarian capsules of 500 mg fenugreek clover of fenugreek seed extract (71,40 g)
Ingredients: Fenugreek seed extract (Trigonella foenum-graecum) 10:1 with 50% saponins, vegetarian cellulose capsules HPMC
Recommendation for use: Give 1 x 1 capsule daily with a meal in plenty of (200-300ml) liquid and drink.
The recommended daily intake must not be exceeded. Food supplements cannot replace a healthy, varied and balanced diet.
Caution: Pregnant and breastfeeding women should consult their physician before taking fenugreek supplements.
Storage instructions: Keep the product dry, out of the reach of small children and away from light.
Nutritional values
per 100 g
per capsule
(daily portion)
%NRV*
Calorific value
1542 KJ/369 Kcal
8 KJ/2 Kcal
-
fats hydrogenated therefrom
0.03 g
<0,01 g
-
Carbohydrates
60.4 g
0.3 g
-
of which sugar
5,8 g
0,03 g
-
Bockshorn clover seed extract
-
500 mg
**
- of which saponins
-
250 mg
**
corresponds to fenugreek
-
5000 mg
**
* Reference nutrient values NRV (%) according to Regulation (EU) No 1169/2011 Annex XIII NRV: Nutrient Reference Values
** No recommendation available
Packaging: Doypack / stand-up pouch made of kraft paper with pressure closure, resealable
Contents / Capacity: 120 capsules à 5000mg
Country of origin: Germany
EAN: 4251097504643
Manufacturer: vitalundfitmit100 GmbH, Siemensstr. 10, 41363 Jüchen
Why can not I find information on the mode of action of this product? Click here
This might also interest you