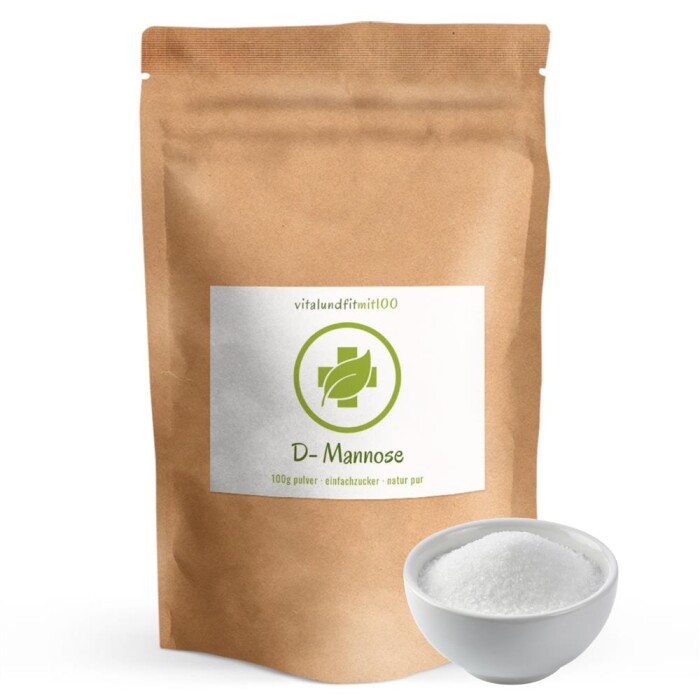 D-Mannose powder 100 g
Base price
22,95 € per 100 g
See Best Offers
From 2: 22,45 € (22,45 € per 100 g)
From 3: 21,95 € (219,50 € per 1 kg)
From 5: 21,45 € (214,50 € per 1 kg)
Available now!
Place your order within and we ship the goods the next working day.
The slightly different sugar: Single sugar D-mannose has no effect on blood sugar levels. Natural, vega, pure and finely ground. Suitable for allergy sufferers and diabetics. Filled in resealable kraft paper bag.
---
---
Item no.: 1037
Content/amount: 100 g
EAN: 4251097503684
Country of origin: Deutschland
Natural & certified ingredients
Carefully & conscientiously selected raw ingredients
Fair quality at fair prices
For over 10 years, healthy trust
developed and handcrafted with plenty of

❤

in Germany.
D mannose powder, the slightly different sugar
D-mannose is a naturally occurring simple sugar that is related to glucose. The powder is white and tastes slightly sweet when pure. However, unlike glucose, it is hardly metabolized in the body. Therefore, it is also suitable for diabetics.
The D-mannose powder is obtained in a gentle process so that its high quality is maintained. We use pure and natural D-mannose powder, which is obtained from corn. Our product is therefore also suitable for allergy sufferers and diabetics.
Special features of our D Mannose powder
  Without artificial additives
  No effect on blood sugar level
  absolutely natural
  Guaranteed Quality - MADE IN GERMANY!
Contents: Contains 100% D-mannose (from maize) natural
Recommendation for use: Daily give 1 x 2 g powder or 1 x 2 vital measuring spoons (enclosed) in plenty (200-300ml) of liquid and drink or stir into shakes or smoothies.
Storage instructions: Store the product in a dry place away from light and small children.
Nutritional values
per 100 g
per 2 vital measuring spoons
(daily portion 2 g)
Calorific value
1665 kJ / 398 kcal
33.3 kJ / 7.96 kcal
of which saturated fatty acids
0 g
0 g
* Reference quantity for an average adult (8400 kJ / 2000 kcal).
One bag (100 g) contains 50 daily portions.
This product is a food.
Packaging: Doypack / stand-up pouch made of kraft paper with pressure closure, resealable
Type: Superfood
Contents / volume: 100 g
Country of origin: Germany
EAN: 4251097503684
Manufacturer: vitalundfitmit100 GmbH, Siemensstr. 10, 41363 Jüchen
Why can not I find information on the mode of action of this product? Click here